Taylor Swift Calls Out Kim Kardashian West's "Name-Calling" on Opening Night of Reputation Tour
She wasn't a fan of those snake emojis.
---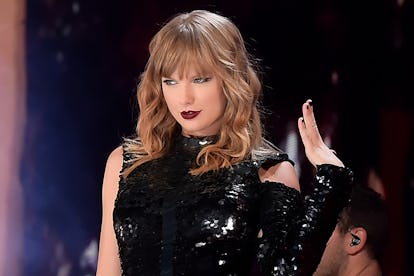 Kevin Winter/Getty Images
When Taylor Swift made her triumphant return to the spotlight with Reputation last year, she did so with the help of plenty of snake imagery. They slithered around her in music videos, popped up on her Instagram feed, and currently adorn sweatshirts, T-shirts, rings, and posters in her online store. The pop star's sudden fascination with the reptile was ostensibly her way of reclaiming the emoji that Kim Kardashian West purportedly used to describe her after releasing a controversial phone call between Swift and Kanye West via Snapchat in 2016; but while the New Taylor has clearly made the best out of a slimy situation, the Old Taylor was most definitely hurt by all the snake emojis in her mentions.
Swift said as much at the opening night of her Reputation Stadium Tour in Glendale, Arizona, on Tuesday. In a video captured by a fan, before launching into "Long Live," from 2010's Speak Now, the 28-year-old sat at a piano and ruminated on the dangers of social media, seemingly pointing to her clash with Kardashian as a prime example. "A couple of years ago, someone called me a snake on social media and it caught on. And then a lot of people called me a lot of names on social media. And I went through some really low times for a while because of it. I went through some times when I didn't know if I was gonna get to do this anymore," she said. "I guess the snakes—I wanted to send a message to you guys that if someone uses name-calling to bully you on social media and even if a lot of people jump on board with it, that doesn't have to beat you. It can strengthen you instead."
Though Swift's feud with the Kardashian Wests still appears to be going strong, she wrapped up another one "feud" on Tuesday. Before that night's show, Swift took to Instagram Stories to share a video of a literal olive branch sent to her by Katy Perry. "So I just got to my dressing room and found this actual olive branch. This means so much to me," Swift said in the photo, adding a few heart emojis to the clip for good measure. One feud squashed, only a few more to go.
Related: Taylor Swift Defends Hayley Kiyoko Over Misinterpreted Comments