The Secret to Getting Kate Middleton's Hair Is Much Simpler Than You Think
Rossano Ferretti, the man widely credited for the duchess's $1,000 haircut, shares his advice for having royal-wedding-ready hair every day.
---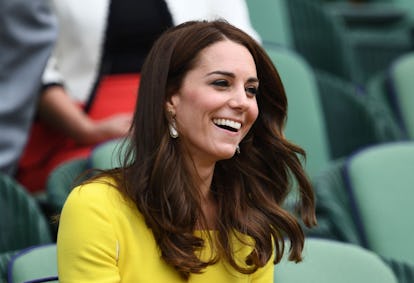 Glyn Kirk/Getty Images
Earlier this week, at around 1:15 p.m., I walked into the Madison Avenue salon of the hairstylist Rossano Ferretti with absolutely no idea that when I walked out an hour later, I would be leaving half my head of hair behind. I've been cutting my own hair since I was 13—which is to say, about half my life—and had simply expected a blowout in the style of Kate Middleton, a past client of Ferretti's, along with the likes of Mary-Kate and Ashley Olsen, Dakota Johnson, Jennifer Lawrence, Elle and Dakota Fanning, and Lady Gaga. If there was anyone to entrust with chopping off my hair, it seemed it should be Ferretti.
Ferretti grew up in a family of hairdressers and barbers in a small village outside of Parma, which he left behind for London's fashion scene after a year at the hairdressing school he enrolled in when he was just 14. From there, he hit it off with the late Italian Vogue editor Franca Sozzani, who soon tapped him to fill in for a hairstylist at Giorgio Armani's shows in Milan. After Ferretti, then 17, finished one model's hair, the designer asked him to do all the others'—putting him on a similar path to success as Vidal Sassoon, whom he also worked with.
Chopping hair off is not exactly Ferretti's specialty; he's most known for pioneering the so-called "invisible haircut," which is essentially applying a bespoke approach to each person's hair, ensuring that it fits and respects their specific natural needs. "I never do big changes—I'm not that kind of person. Only when I really feel I'll do the best for the person in front of me," he said. Over the course of the next hour, I slowly learned that I was one of those few, and that when Ferretti repeatedly told me I had a face that needed to be shown off, it was in fact quite strategic—flattery designed to make me go along with what he thought was "best." When I spoke up upon hearing a big snip—which was him chopping my 10-inch long hair to just two—he assured me he wasn't cutting it "too short."
While it may have left me feeling rather manipulated, it never seemed to cross Ferretti's mind that there would be cause for concern, or even anything to justify: He considers a person's haircut to be paramount above all else, as well as the solution to practically any hair-related concerns, which automatically makes his work a gift. "A haircut is architecture, not just design. So if you know how to build the pillars, and the technology, it'll be very stable," he told me while snipping away. To continue with his metaphor, his technique, which he calls "The Method," then, is like scaffolding—instrumental without being obvious or ostentatious, and tailor-made for each specific design.
Ferretti doesn't like to talk specifics about his celebrity clients, other than simply stating, "I've been working with everybody." It's hard to argue with his reluctance to share details, though, when it's in his philosophy that "every client is a celebrity," and he insists that to him, a princess, an actress, or a plebeian like me "are the same." As he puts it, he "just like[s] hair," which seems to explain his reaction to my apology when I learned that he was stuck doing mine on his 58th birthday. "This is what I like to do."
17 of Kate Middleton's Best Hair Moments Over The Years
At the Charities Forum Event in London, Middleton unveils an even shorter version of her tousled lob paired with natural hint of blush on the cheekbones.

Samir Hussein
The Duchess of Cambridge debuted her newly chopped locks in her signature curls as she attends the first round on the opening day of Wimbledon 2017.

Photo by Getty.
Attending the Chelsea Flower Show press day in London in 2016, Middleton kept her hair in a tousled half up do.

Photo by Getty.
Wearing her hair in her signature blown out curls with a playful, braided headband, Middleton visits the Haida Heritage Centre in Canada in 2016.

Photo by Getty.
Attending a Christmas Day church service in King's Lynn, England, in 2015, Middleton wore her hair in a low bun with a soft smoky eye.

Photo by Getty.
Wearing her hair in a tousled high pony, Middleton attended the WW1 commemorative and Flying Day at Omaka Aviation Heritage Centre in New Zealand in 2014.

Photo by Getty.
Visiting the Christchurch City Council Buildings in New Zealand in 2014, Middleton wore her hair in a effortlessly tousled half do with a hint of blush on the cheeks.

Photo by Getty.
Attending the naming ceremony for the new Princess Cruises ship 'Royal Princess' in 2013, Middleton paired her tousled half up do with a chic black hat.

Photo by Getty.
Looking stunning at the official launch party for Team GB and Paralympics GB for the London 2012 Games, Kate Middleton's hairstyle pairs beautifully with her dark smoky eye.

Photo by Getty.
The Duchess of Cambridge wore her hair in natural waves while visiting the Tuvanipupu Island on their Diamond Jubilee tour in 2012.

Photo by Getty.
Arriving at the St. Andrew's School in Berkshire, England, in 2012, Middleton wore her brunette curls with side swept bangs and a nude lip.

Photo by Getty.
The Duchess of Cambridge looked radiant on her wedding day in 2011 wearing her hair in an elegant half up do with a hint of blush on the cheekbones.

Photo by Getty.
Celebrating her royal engagement to Prince William in 2010, Middleton wore her shiny, polished locks in soft curls with luminous skin.

Photo by Getty.
Wearing her brunette curls side-parted with a soft smoky eye, Middleton looked all done up at the wedding of Lady Rose Windsor and George Gilman in 2008.

Photo by Getty.
At the Cheltenham Festival in Gloucestershire in 2007, Middleton kept her look simple, wearing her tousled waves under a black beret.

Photo by Getty.
Attending the wedding of Laura Parker-Bowles and Harry Lope in 2006, Kate Middleton wore her brown hair in soft curls with a natural lip color.

Photo by Getty.
Kate Middleton at the premiere of 'A Street Cat Named Bob' in London, England, November 2016

Getty Images
Not entirely convinced, I asked Ferretti what would stop my hair from poofing out and getting frizzy like it does every time I cut it short. "If you have a great haircut, you don't have hair days—you have hair weekdays," he replied. As for those unable to get his haircuts, which cost around $200 when done by stylists at his salon, his advice was equally simple: "If a good hairdresser is a good hairdresser, your haircut should be super manageable and easy for you," he said. "Every morning, it should facilitate your life."
That's not to say that Ferretti is against products. On the contrary, he says that the best thing for those who can't find a quality hairstylist to check in with every two to three months is to make sure they have a hair regime, just as they do for skin and body, complete with shampoo, conditioner, masks, serum, and oil—of quality ingredients. Ferretti was, in fact, on a worldwide mission to find those for years, until he created his own products, which retail for around $40 to $100. "I was tired of what the market was offering in terms of ingredients and research"—particularly when there was so much research being put into the skincare industry. It was at that point that he became one of the first to make the case for the so-called "skin-tology of hair," meaning that his shampoos double as moisturizers, and his anti-frizz spray doesn't leave residue on your hands. (He even uses all of his own products on his own head, which has "no hair," since he shaves it every single day.)
So how exactly does all of this apply to you looking like Kate Middleton on the day of the royal wedding? According to Ferretti, all you need is to pay as much attention to your hair as you do to your skin, and, above all, make sure that you find a hairstylist who "understands how to customize every single client," and who knows that haircuts are "all about you as a person" rather than trends. The latter is a message that Ferretti's taken upon himself to spread, giving talks in between dropping in on his 23 salons around the world, including one in the Taj Mahal. "Everyone speaks about skincare, about color, about makeup, about fashion, but the hairdresser has always been in the corner," Ferretti said. "But the industry is excellent, and I'm an example of that—I come from nothing, a little village, no money, and I'm here, so it's possible."
Related: Kim Kardashian's Hairstylist on How to Get Beachy Summer Hair Without Sun Damage