Vanessa Hudgens and Austin Butler's Breakup Is Another Loss For the Hollywood Power Couple
For nine years, Hudgens and Butler were one of young Hollywood's most stable couples.
---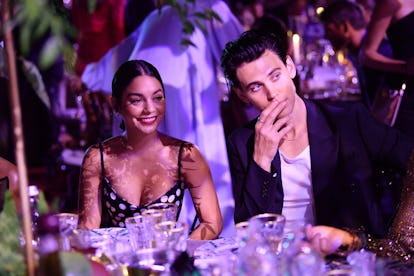 Getty Images
A moment of silence for Vanessa Hudgens and Austin Butler, who, according to reports, appear to have just ended their longtime romance.
Say what you will, but Hudgens and Butler were one of young Hollywood's most stable couples—participating in a relationship that spanned nearly nine years. (And in Hollywood years, that might as well be the equivalent of three decades.)
Since 2011, the quiet union between the two former Disney and Nickelodeon stars (with Hudson once being a mainstay of the former, and Butler of the latter) who carved out their own respective niches, convinced a generation that love was not at all a lie, and that longtime romance in Hollywood was still possible.
And the relationship between Butler and Hudgens, two actors whose star power was forged out of the contemporary versions of Hollywood's star and studio systems, seemed to suggest that if they kept on, and maybe even appeared on screen in a project together, they could have been the Bogey and Bacall, the Tracy and Hepburn, or even the Lucy and Desi of our time. But the idea of the celebrity power couple, at least as the archetype pertains to actors in Hollywood, is basically dead now anyway.
Before you start to think that maybe the end of the relationship between Butler and Hudgens signaling a larger cultural movement towards the death of the Hollywood power couple is too bold of a statement or too far of a stretch, consider this: around the same time that everyone decided to finally start taking Butler seriously as a performer (Hilton Als memorably said of Butler's 2017 Broadway debut in The Iceman Cometh that while "there are many performers" in the production, "There is only one actor, and his name is Austin Butler"), it seemed like the pair were on the path to A-List couple status.
Then, he appeared as Manson Family member Tex Watson in Quentin Tarantino's Once Upon a Time…In Hollywood last year, and beat out a slew of young leading men, from Harry Styles to Miles Teller, when he was cast as a young Elvis Presley in Baz Luhrmann's forthcoming biopic about the king of rock and roll, a role for which he nixed the blonde and began sporting a jet black pompadour, and secured his rising star power as a possibly formidable leading man.
Hudgens has been doing just fine with respect to her career, too. For someone who once said, "I always wanted to be the indie girl playing a drug addict or stripper," she has leaned just about as far into the mainstream as Hollywood will let her, but that isn't necessarily a bad thing, and she has remained booked and busy, on stage and on screen, post-High School Musical.
Not only has Hudgens received positive critical responses to her performances in two live TV musicals (Grease and Rent), she's occupied her own corner of the Netflix holiday rom-com genre, co-starred in a movie with Jennifer Lopez (which, sure, was not good, but was likely still a solid move for Hudgens's career), and will appear in this weekend's Bad Boys sequel with Will Smith and Martin Lawrence.
Hudgens and Butler's long-lived romance had this sort of mid-century, golden era of Tinseltown feel to it, whether they were out there looking like glamorous 1960s jet setters on vacation in Italy, or standing side by side at the annual Vanity Fair Oscars party. And who else, of their particular social stratum in Hollywood, could say they had been together for as long as they had? Miley Cyrus and Liam Hemsworth are the only ones who come to mind, and, well, that fizzled out quite dramatically near the end of last year. Something about Hudgens and Butler was quite sophisticated, yet still playful (their couples Halloween costumes over the years rivaled those of their peers and superiors, and they ruled Coachella summer after summer). And something about their breakup seems to either signal or be a symptom of the end of a certain type of Hollywood duo.
Related: Vanessa Hudgens Has Complicated Feelings About Flower Crowns and Her "Queen of Coachella" Title