What to Stream Over Memorial Day Weekend
A lot of new TV recently premiered on streaming platforms just in time for the holiday weekend. Here are our recommendations, from 'The Handmaid's Tale' to 'Master of None.'
---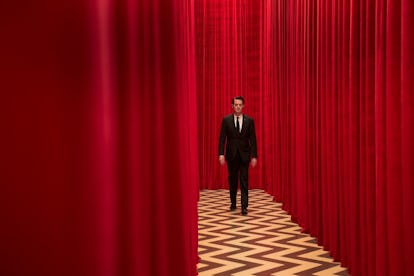 The gift before summer that is Memorial Day is here, and while that usually means beach and BBQ, it also means there's finally some time to attempt to delve into the Lynchian enigma that is Showtime's revival of Twin Peaks. Or spend your day off observing Aziz Ansari's Tinder follies in season two of Master of None, or marveling at the unsettling timeliness of Hulu's adaptation of The Handmaid's Tale, and finding out how Kimmy goes through her unexpected divorce in season three of The Unbreakable Kimmy Schmidt. Here is the best new TV to stream over the holiday.
Catastrophe (Amazon)
Rob Delaney and Sharon Horgan are still at it as the unlikely couple of Catastrophe. The Amazon sitcom is now in its (just released) third season of the fraught duo's struggles acclimating to coupledom after a one-night stand led to marriage. There are, as always, some newer problems to throw into the mix this time around, like alcoholism and Brexit. But the real star in the third season is the late Carrie Fisher, who you can appreciate one last glorious time in her role as Rob's delightfully cruel mother.
I Love Dick (Amazon)
Jill Soloway has somehow taken Chris Kraus's auto-fiction cult classic I Love Dick and managed to turn it into a raunchy romp of a TV show, starring an energetic Kathryn Hahn who just can't get enough Dick, a cowboy dude-artist in the form of Kevin Bacon, all tight jeans and belt buckle. Meanwhile, her husband, played by Griffin Dunne, flounders on in the small town of Marfa, Texas with his own distractions.
The Handmaid's Tale (Hulu)
Since the election, all you've heard is just how chillingly prescient Margaret Atwood's 1985 novel The Handmaid's Tale is. If you haven't read it, you still should—but Hulu's adaptation, which is faithful to the book while feeling contemporary, has plenty to recommend it on its own merits as brilliantly made TV.
Twin Peaks (Netflix)
David Lynch premiered the first two seasons of cult series Twin Peaks in 1990, but the show's also become especially timely as of late thanks to its revival, 26 years later, on Showtime—complete with most of the original, varyingly aged cast. In case you missed it the first time around, the show centers around the mysterious murder of the town sweetheart Laura Palmer in the small northwest town of Twin Peaks, where it soon turns that much more than the owls are not what they seem. Catch up on the original series on Netflix, which has the first two seasons.
Twin Peaks (Showtime)
And then we have the show's revival, which Showtime dropped four episodes of last weekend on its own streaming site (episodes three and four officially air this coming Sunday). The reboot is almost as frustratingly obtuse—and wonderfully weird and beautiful—as the original. Special Agent Dale Cooper is back, though he seems to have been possessed by a persistently pernicious entity, while the action expands from the town of Twin Peaks to North Dakota, New York City, and, as always, realms not quite of this world. (In case you need some help parsing through Lynch's latest, catch up on our recaps, here.)
Master of None (Netflix)
Following Twin Peaks's lead as one of the best foodie TV shows, the second season of Master of None sees Dev, the kinda-struggling actor created and played by the definitely-not-struggling actor Aziz Ansari, continue to mow his way through New York's restaurant scene, with no shortage of stops at hot spots like Roberta's and Carbone, as well as its Tinder field. (Spoiler: he finds the food more satisfying.)
The Unbreakable Kimmy Schmidt (Netflix)
The third season of Tina Fey's sitcom starring Ellie Kemper as Kimmy Schmidt, who's still adjusting to life above ground after being trapped in Jon Hamm's lair for 15 years, kicks off with Kimmy resolving to go to college after getting her GED—and then acclimating to its lack of recess, while dealing with her own unexpected divorce. (Tituss Burgess, for his part, soldiers on, doing his best to recreate the Pipilotti Rist-inspired scene in Lemonade.)
The Get Down (Netflix)
The Get Down, we hardly knew ye. After years and years of production, involving bicoastal shoots and rumors of shutdowns on set, Baz Luhrmann's much ballyhooed series—the most expensive to ever air on Netflix—following a group of hip-hop-crazed kids in the Bronx was cancelled after just one season, as announced this week. Still, that's not to say the series's two installments aren't worth appreciating: Use the long weekend to bid adieu to its enduringly memorable '70s styles, and take one long last look at Jaden Smith in an afro wig.
A Field Guide to Recognizing Your Favorite Twin Peaks Actors Now, 26 Years Later
Though Kyle MacLachlan has since starred in other cult series, even when he was Charlotte's impotent husband on Sex and the City and a murderer on Desperate Housewives, he'll always be known as Special Agent Dale Cooper, a man never too far away from a slice of cherry pie or cup of strong, black joe. (No word yet on whether Diane will be returning, too.)

CBS Photo Archive/Getty Images
Death be damned, Laura Palmer is coming back with a bang by starring in all 18 episodes of the new series—that is, unless Sheryl Lee, whose first post-Peaks role was Salome opposite Al Pacino, and who has since showed up in Winter's Bone and Woody Allen's Café Society, is simply reprising her role as Laura's suspiciously identical cousin, Maddy.

ABC Photo Archives/Getty Images
Dana Ashbrook has kept up acting with a steady roster of smaller films, including 2012's The Agression Scale with Ray Wise, aka Leland Palmer, and more than a few appearances on Dawson's Creek, presumably making him more than up to the job in reprising his role as the annoying ultimate bad boy Bobby Briggs—even now that his hair's gone gray.

CBS Photo Archive/Getty Images
Though she's now a long way from a schoolgirl, the ever flirtatious Audrey Horne may have a chance at getting together with Coop after all, especially since actress Sherilyn Fenn has been keeping up her acting chops on shows like Gilmore Girls and Shameless (not to mention appearing on the cover of Playboy in the '90s).

ABC Photo Archives/Getty Images
At 70, Peggy Lipton scarcely seems to have aged since she last played Norma Jennings, the owner of the Double R Diner, though she has since raised another actress, her daughter Rashida Jones.

ABC Photo Archives/Getty Images
Richard Beymer's eyes seem only bluer than ever since the now 79-year-old actor last turned up as Benjamin Horne, Audrey's father and the owner of the Great Northern Hotel (not to mention an appearance in West Side Story, which helped to earn him a Golden Globe for New Star of the Year that he shared with Warren Beatty). Not that viewers have been able to appreciate them: Twin Peaks is only Beymer's fourth on-screen appearance so far in the 2000s.

Sylvain Gaboury/Getty Images
From blue streaks to twin top knots, Kimmy Robertson seems to have as much appreciation for an out-there hairdo as Lucy Moran, her curly-haired secretary in the sheriff's office. Robertson has since lent her high-pitched voice to shows like Batman and The Simpsons, plus appeared onscreen on an episode of Drake & Josh—all good practice for appearing on all 18 episodes this season.

ABC Photo Archives/Getty Images
Like Leland Palmer, Laura's potentially murderous father, actor Ray Wise has since gone gray, a new look he's shown off in shows like Mad Men, Fresh Off the Boat, Gilmore Girls, 24, and How I Met Your Mother. That's range.

ABC Photo Archives/Getty Images
Another face who'll be showing up in the full series, Mädchen Amick has lately turned up on Riverdale, plus a host of cult shows like Mad Men, Gossip Girl, ER, Gilmore Girls, and Dawson's Creek. Fortunately for her character, the waitress Shelley Johnson, though, her abusive husband Leo won't be back.

CBS Photo Archive/Getty Images
Since playing Deputy Hawk, one of the most reasoned voices in the sheriff's office, Michael Horse has gone on to not only appear in shows like Malcolm in the Middle, but pick up a full-on artistic career as a jeweler and painter.

Steve Snowden/Getty Images
Though Michael Ontkean has maintained his curly head of locks since starring as Sheriff Harry S. Truman, the actor, who last showed up in The Descendants in 2011, has decided to leave Coop hanging and won't be returning to Twin Peaks.

ABC Photo Archives/Getty Images
Lara Flynn Boyle won't be returning to this season but she'll always live on as Donna Hayward, Laura's best friend of sorts who was never short on spectacular sweaters.

CBS Photo Archive/Getty Images
Russ Tamblyn's daughter Amber has since gone on to become an actor and even director herself, but Tamblyn has kept up an acting career of his own since playing the ever eccentrically-outfitted psychiatrist Dr. Lawrence Jacoby, recently picking up roles in films like Django Unchained.

ABC Photo Archives/Getty Images
Like the actor who plays fellow bad boy Bobby Briggs, James Marshall, aka James Hurley, Big Ed's nephew who can't get enough of riding his bike, has also gone gray, but still showed up on-screen with a few films and an appearance on CSI.

ABC Photo Archives/Getty Images
Like her on-screen daughter, Laura, the grief-stricken Sarah Palmer will be returning for all 18 episodes, although actor Grace Zabriskie has turned up in shows like Charmed and Big Love.

Tibrina Hobson/Getty Images
Fittingly, like her beau Sheriff Harry S. Truman, sawmill owner Josie Packard won't be returning to the series—like fellow mill worker Piper Laurie, aka Catherine Martell, David Lynch apparently never asked her back. But actor Joan Chen has been looking young as ever lately in shows like Netflix's Marco Polo.

ABC Photo Archives/Getty Images
See Laura Dern, Naomi Watts, Patricia Arquette, and Hailey Gates Open Up About Working with Legendary Director David Lynch: