Thigh-High Ugg Boots By Y/Project Are The Latest Addition to the Ugly Footwear Trend
They are truly something.
---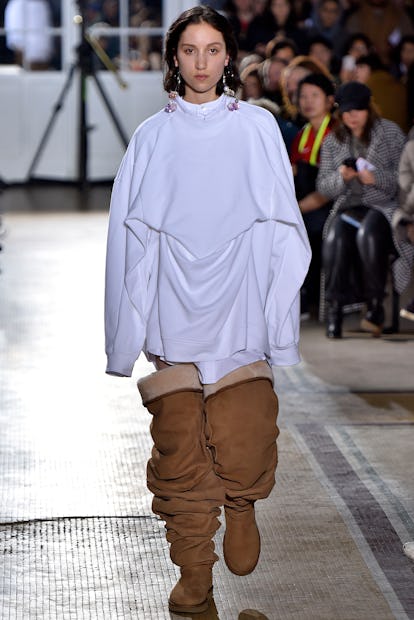 Victor VIRGILE/Gamma-Rapho via Getty Images
As far as fashion trends go, there are few as divisive as Ugg boots. It's been over a decade since the cozy winter staple was first popularized outside of their native Australia by aughts icons like Paris Hilton and the shoes have become no less controversial in that time. Just in December, for instance, one airline, Qantas, went as far as banning them from business class lounges. But at the same time, its in part their outlier status that has also drawn iconoclasts like Jeremy Scott and Kim Gordon to rally for Ugg boots. Now, however, the shoes might be more divisive as ever as Ugg has given their classic an updated look at the hands of Y/Project.
Thigh-high Ugg boots made their runway debut this week at the award winning French label's presentation for Paris Fashion Week Men's AW18. They're certainly something to behold, too. The brand's reconstructed take on Ugg boots ranges in height but share one commonality: slouchiness. That comfort factor — which isn't often the focal point of Fashion Week shows — was why creative head Glenn Martens chose to collaborate with Ugg.
"Putting on Uggs is like putting your foot in a warm pot of butter, and I thought why not elevate that and immerse your full legs," Martens told Vogue. "So we decided to design an Ugg boot that climbs up to the crotch and covers the whole leg."
Regardless of your thoughts on them, one thing is undeniable: the thigh-high Ugg boots certainly capture the sartorial zeitgeist. High-fashion takes on "ugly shoes" have never been more ubiquitous than they are for spring 2018, thanks to Balenciaga head Demna Gvasalia and Christopher Kane's fanciful spins on crocs, Rick Owens' goth Birkenstocks, and Loewe designer Jonathan Anderson's elf-like sneakers. But it might be the challenge of showing something previously thought of as "ugly" in a new light that has designers gravitating towards taboo styles. "I think it's very interesting, the definition of ugly," Gvasalia said last fall as Vogue notes. "I think it's also very interesting to find this line where ugly becomes beautiful or where beautiful becomes ugly. That's a challenge I like. I think that's a part of what fashion stands for and I like that people think my clothes are ugly; I think it's a compliment."
Related: Balenciaga Models Walked The Runway In Platform Crocs
The Craziest, Most Fabulous Shoes in 2017, from Elf Sneakers to Platform Crocs
Then again, the elf shoes at Loewe shouldn't have come as such a surprise given that Anderson had already debuted these mop-like, macramé-covered shoes at his eponymous label J.W.Anderson's fall 2017 show during London Fashion Week Men's.

Estrop/Getty Images
A trendsetter when it comes to the world of high-fashion Crocs, Christopher Kane returned once again to his favorite footwear, this time lining them with fur for his fall 2017 show during London Fashion Week.

Victor Virgile/Getty Images
Kane also kept things interesting at his fall 2017 show by throwing some kitchen sponges into the Croc pot.

Victor Virgile/Getty Images
Fret not—Kane once again kept Crocs in mind when it came time for his spring 2018 show during London Fashion Week, where he debuted a water shoe-like version of the footwear topped off with glittery gemstones.

Victor Virgile/Getty Images
These fuzzy slippers, which made their way down the runway at Dolce & Gabbana's fall 2017 show during Milan Fashion Week, might just be cute and cozy for us to forgive Stefano Gabbana for all his politically incorrect comments this year. (Emphasis on might.)

Estrop/Getty Images
The reunion of everyone's favorite supermodels wasn't the only showstopper at Versace's spring 2018 show during Milan Fashion Week: As part of Donatella Versace's tribute to her late brother Gianni, she also recreated prints from his era at the house, giving her customers to cover themselves in Marilyn Monroe's face from head to toe.

Victor Virgile/Getty Images
Thom Browne, imaginative as ever, made the case for ice skates as everyday walking shoes at his fall 2017 show at New York Fashion Week.

Estrop/Getty Images
Even those with absolutely no interest in fashion or footwear likely wouldn't be able to stop themselves from gawking at the collaboration between Balenciaga and Crocs that led to a platform edition of the shoe, which debuted at Paris Fashion Week in unapologetically bright in colors like yellow Pepto-Bismol pink, complete with pug faces and avocado accents.

Victor Virgile/Getty Images
Whether they were in hot pink, bright green or purple, the full-length boot-tights hybrids at Balenciaga's fall 2017 show during Paris Fashion Week that are no doubt difficult to slip off have also proven quite difficult to slip from your memory.

Victor Virgile/Getty Images
Though quite tame in comparison to the Crocs, these spiky stilettos that also showed up at Balenciaga's spring 2018 show during Paris Fashion Week are definitely not ones to wear on a crowded subway.

Victor Virgile/Getty Images
What appeared at first glance to be a battered old shin guard from your soccer days on the runway at Balenciaga's fall 2017 show during Paris Fashion Week Men's was in fact a logo-stamped, all-purpose boot hardy enough for those fashionistas who aren't afraid of going on a hike.

Victor Virgile/Getty Images
If there's anything Alessandro Michele has proven in his tenure at Gucci—besides, of course, giving an already storied house even more of a cult following—it's that he has never come anywhere near being a minimalist. These snake-skin boots at Gucci's fall 2017 show during Milan Fashion Week were just a minor detail in comparison to the rest of the collection, which included pearl-covered heads.

Estrop/Getty Images
With Crocs so on the industry's mind, it was only a matter of time before Tevas got a high-fashion, platform makeover, which came courtesy of Rick Owens at his spring 2018 show during Paris Fashion Week.

Victor Virgile/Getty Images
In addition to the show-stopping fur puff balls atop models's heads at Miu Miu's fall 2017 show during Paris Fashion Week, there were also some furry friends to be found on their feet, ranging from bright reds to greens.

Estrop/Getty Images