Dua Lipa Is a GCDS Fangirl at Milan Fashion Week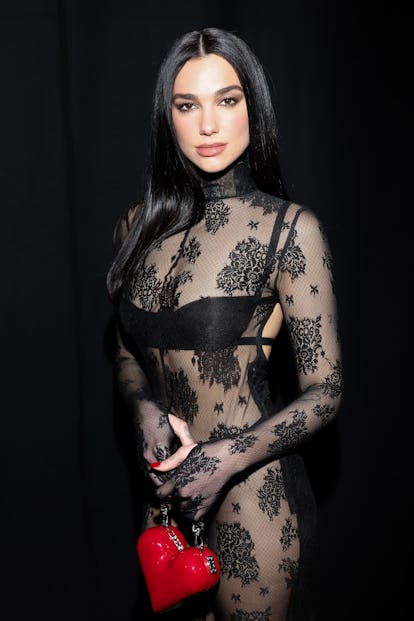 Arnold Jerocki/Getty Images Entertainment/Getty Images
No one loves GCDS more than Dua Lipa. Seriously, if you find someone who wears the brand more than the pop star—in the words of TikTok—"I gotta see her." It's fitting then, that when Giuliano Calza presented his fall 2023 ready-to-wear collection in Milan on Thursday, Lipa was front row, supporting her friend, and repping the brand.
The singer attended the show wearing quite the look—a completely sheer, lace jumpsuit, featuring a high neck, cutout in the back, long sleeves that turned into thumbless gloves, and a bootcut silhouette. Lipa wore a set of black underwear underneath and finished off the look with broken heart-shaped GCDS earrings, and their red, heart-shaped bag.
After the show, Lipa took some time to pose with and congratulate her "best friend" Calza, as she referred to him in her Instagram story. Lipa and Calza do seem to have a close relationship. The designer helped Lipa ring in her 27th birthday last August, and they often travel together. Lipa also wears Calza's designs almost constantly, unafraid to rock even his most out-there pieces. Last year, when the singer's Future Nostalgia tour arrived in Milan, Calza was there to support his friend, so it's fitting that Lipa has returned the favor.
But GCDS wasn't the only show Lipa attended on Wednesday. Before GCDS, Lipa was seen at the Prada fall/winter 2023 show, providing more credence to the ever-growing pantsless trend. The singer attended the show wearing a look from the brand's fall 2023 menswear collection. Well, at least part of it. Lipa wore a blazer over a pink knit shirt with an elongated patterned tan collar. On the bottom, she opted for sheer black tights, and a pair of loafers. Lipa then accessorized the look with yellow Prada pendent earrings, and the brand's padded mini bag.
It's nice to see Lipa out and about as the singer has spent much of her time tucked away in the studio lately. Last March, the singer told Elton John on her At Your Service podcast that her third album was halfway done, but Lipa told Variety in November that since then, the album has "taken a complete turn," and it's finally "starting to sound cohesive." That being said, she's still busy working. "I'm going to keep writing in the early months of the new year and see where that takes me," she said.