Gabrielle Union & Zaya Wade Share a Stylish Mother-Daughter Moment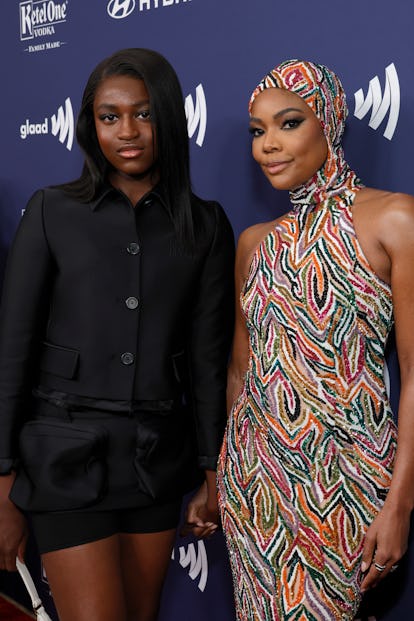 Frazer Harrison/Getty Images Entertainment/Getty Images
Gabrielle Union has mastered the art of a family red carpet moment. So we know we were in for a treat when Union stepped out with her stepdaughter, Zaya Wade, at the GLAAD Media Awards on Thursday night.
While sometimes the Union-Wades coordinate their looks on the red carpet, on Thursday the duo decided to go in their own, individual directions. That meant budding Miu Miu girl Wade found herself in the brand, fitting as she walked the runway for Miuccia Prada earlier this month. The 15-year-old wore a look from the spring/summer 2023 collection, a show at which she made her front row debut. The outfit was classic Miu Miu, featuring a tailored, cropped button-up jacket and a matching mini skirt with two large cargo pockets on the front. Black shorts poked out underneath, and white sandal-style boots and a pocket bag completed the ensemble.
Since Wade was in black and white, it was up to Union to bring the color, and she was absolutely up for the task. The actress wore a hooded column dress from Moschino, covering her from head to toe in a colorful, sequined pattern. The dress fit squarely into the realm of what we've come to expect from Union on the red carpet—walking works of art, intricate beaded, gorgeous patterns.
While on the red carpet, Union spoke briefly about the importance of attending such an event with Wade. "For her to be able to see so many members of her community—of our community—that she's looked up to, that have inspired her, that have held her down, had her back, is pretty huge and there's not too many moments where as a parent I get to deliver that in this kind of way, so I'm pretty thrilled," she told Billboard.
Union, as well as her husband, Dwyane Wade, have been very outspoken about LGBTQIA rights lately, especially the need for the Black community to support trans people. At the NAACP Awards last month, the couple took the stage and gave a moving speech on the subject.
"Will we fight for some, or will we fight for all of our people?" Union asked. "The intersection of black rights and the rights of the LGBTQIA, trans, and gender nonconforming people continues to be rough...Even as we demand equality at the top of our lungs, we consistently fail to extend our advocacy to protect some of our most vulnerable among us."
She continued, saying, "Black trans people are being targeted, terrorized, and hunted in this country every day, everywhere, and there's rarely whisper about it. We honestly don't approach this work as activists or leaders as much as we do this as parents. Parents who love our children and will do whatever the hell we can to keep them seen and secure and safe...So we are humble and hopeful for the future. We are hopeful that we may witness a real shift in the fight for justice. The moment the movement makes room for everyone."