Adwoa Aboah Opens Up About Her Suicide Attempt on World Mental Health Day
The 26-year-old model's words have already caught the attention of Gigi Hadid and Naomi Campbell.
---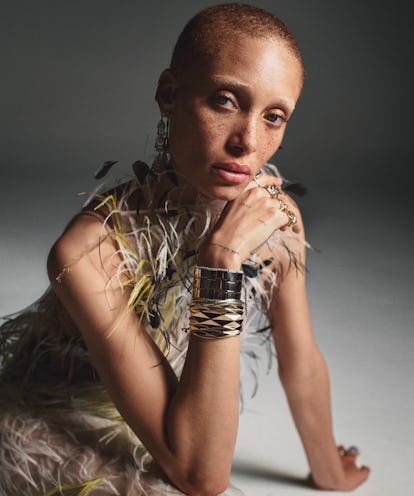 Photograph by Mario Sorrenti, Styled by George Cortina; Hair by Akki at Art Partner; Makeup by Francelle for Lovecraft Beauty at Art + Commerce; Manicures by Honey for Marc Jacobs Beauty at Exposure NY.
It's ordinary for a model to post a gallery of photos of themselves, but the ones that 26-year-old Adwoa Aboah uploaded to Instagram on Wednesday weren't from a fashion editorial, nor even obviously flattering; in fact, the model described herself as looking and being "broken" and "exhausted," without any light in her eyes. But that was the point: The post, she continued, was in honor of World Mental Health Day, and featured photos Aboah's that then-boyfriend took of her just weeks after she attempted suicide, almost exactly four years ago.
"I look at these photos and my heart breaks, I mourn the girl I once was, it's almost as if I'd like to jump into the photo, kiss away the tears, hug her forever and tell her that she's not alone, tell her that many others suffer with mental health problems but that there is light at the tunnel, tell her that this to shall pass, it will return but it will pass," Aboah wrote in the accompanying caption, echoing Lady Gaga's words about World Mental Health Day, which the Guardian published the previous day under the eye-catching headline, "800,000 people kill themselves every year. What can we do?"
Four years ago also happens to have been when the British model's career first took off; Aboah landed her first-ever Vogue cover just months after she tried to kill herself, an attempt that resulted in a days-long coma. She has, of course, only become more popular since. The British Fashion Council named her 2017's Model of the Year—no small title, given that she beat out not just runway queen Kaia Gerber, but also both Bella and Gigi Hadid. Gigi was in fact one of the first to comment on Aboah's post, writing, "You give hope to so may more than you know. Love you so much and am so grateful to have you on this planet," along with three prayer hand emojis.
Within just a few hours after she uploaded it, the comments section of Aboah's post was already flooded with expressions of love and support from—to name a few—Ashley Benson, Kate Bosworth, Amber Valletta, Sasha Lane, Lily Aldridge, Taraji P. Henson, Karen Elson, Erykah Badu, and Aboah's agency, DNA Models. Naomi Campbell, who said she's known Aboah since she was a "little girl," also added that she was "so proud of the woman [Aboah has] become."
This isn't the first time Aboah, who's also an activist and cofounder of Gurls Talk, an online community for young women that describes itself as a "safe space to share and listen without any judgement or stigma," has gotten candid about her mental health and suicide attempt. Two years ago, when she was 23, she discussed both extensively in a video with StyleLikeU, along with her belief that she "was born slightly sad" and more about her depression, self-hatred, past drug use, current sobriety, and struggles with self-esteem, the latter of which she said modeling has exacerbated. She returned to those topics again last year, in a video campaign promoted by the mental health charity that Kate Middleton spearheads along with Princes William and Harry, and clearly plans to continue doing so: "For the rest of my life I promise to shine light on this illness that so many times is forgotten, I promise to give the unheard a voice whenever I can," Aboah continued in her comment.
Photos: Real Talk With Model Activist Adwoa Aboah
Adwoa Aboah wears Chloé top and pants; Chanel earrings; Rosa de la Cruz London ring (middle finger, throughout); Miu Miu boots; all other rings, her own (throughout).

Photographer: Olivia Malone Stylist: Deborah Afshani Stylist: Sam Milner
Altuzarra top and skirt; Erickson Beamon earrings.
Hair By Maranda for Kerastase at The Wall Group; Makeup by Kali Kennedy for Dior at Art Department; Manicure by Whitney Gibson for Formula X at Nailing Hollywood; digital technician: Dustin Edwards; photography assistant: Brook Keegan; fashion assistant: Kirsten Layne Alvarez.
Roberto Cavalli blazer; 3.1 Phillip Lim dress; Proenza Schouler bag; Maria La Rosa socks; Jimmy Choo shoes; her own bracelets (throughout).

Photographer: Olivia Malone Stylist: Deborah Afshani Stylist: Sam Milner
Aboah with her boyfriend, the photographer Tyrone Lebon, in the California desert, 2015.
Courtesy of Aboah
Adwoa Aboah and Cara Delevingne in "Ladies of London" photographed by Alasdair McLellan, styled by Jane How; W magazine October 2014.
Aboah also isn't the first top model to speak so candidly about such issues: Last year, her close friend Cara Delevingne shared her own experience with depression and suicidal thoughts, and earlier this year, Keeping Up With the Kardashians even documented Kendall Jenner having an anxiety attack. As if to underline Aboah's reminder that "you are not alone," it was just a matter of weeks ago that Gisele Bündchen reflected on her early twenties, which definitely weren't all glamour: In fact, she spent much of that time in her life confronting her own struggles with suicidal ideation and panic attacks.
If you or someone you know is contemplating suicide, call the National Suicide Prevention Hotline at 1-800-273-8255 or text Crisis Text Line at 741-741.
Related: Mariah Carey Opens Up About Having Bipolar II Disorder: "I'm Hoping We Can Get to a Place Where the Stigma Is Lifted"