Beyoncé Pushed Courtside Style to New Extremes at a Houston Rockets Game
This is how you dress for an occasion.
---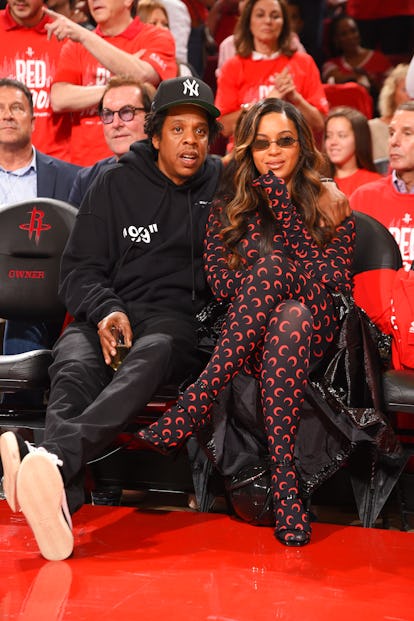 Bill Baptist/Getty Images
When you're as much of a basketball fan as Beyoncé Knowles and you attend a game for your home team, you get your own walk-on music. And when you're as much of a basketball fan as Beyoncé Knowles and also you're Beyoncé Knowles, you have to dress for the occasion.
On Friday night, entering with husband Jay-Z (the artist formerly known as Jay Z, formerly known as Jay-Z), Beyoncé strolled across the court to the tune of their duet "Crazy in Love," taking a seat in the front row. (Game of Thrones actor Emilia Clarke was also there, coffee cup in hand.) Beyoncé showed up in a head-to-toe Marine Serre look: a set of skin-tight top, leggings, and gloves in the same all-over red crescent print on a black background—the Houston Rockets team colors—so that barely an inch of skin was showing. All that was missing was the matching balaclava that walked the runway during the designer's Fall 2019 show. She paired the intense look with heeled sandals and a black trench; Jay-Z, at her side, wore an Off-White "99" hoodie and New York Yankees snapback.
Basketball basically runs in the Knowles-Carter family: Earlier this year, pro player Kobe Bryant recalled playing one-on-one with Knowles patriarch Matthew Knowles in the days of Destiny's Child; Jay-Z is a part-owner of the Brooklyn Nets. At one point, Beyoncé was reportedly eyeing buying a share of her hometown team, and she's obviously passionate about college athletics. But courtside seats at basketball games are also something of a status symbol for celebrities—and Los Angeles-residing ones, especially. Bella Hadid, Justine Skye, Kendall Jenner, Chrissy Teigen, and Drake all love taking in the occasional game, and Rihanna's perhaps the only one who can rival Beyoncé's courtside style (and energy).
Anyways, despite Beyoncé basically showing up as their mascot, the Rockets still managed to lose, but the singer clearly did her part for the team.
Related: Why You Should Be Paying Attention To Marine Serre, Paris's Hottest Young Designer
Beyoncé Always Makes a Statement on the Red Carpet
Beyonce made her presence known on the red carpet of the 9th Annual MTV Movie Awards in an asymmetrical tie-dye slip dress paired with long blonde wavy locks.

WireImage
A year later, Beyonce returned to the 2001 MTV Movie Awards in a yellow sheer and embellished midi dress that accentuated her petite waistline and long legs.

WireImage
Beyonce wore this bohemian-inspired suede dress, designed by her mother Tina Knowles, to the MTV Video Music Awards.

WireImage
Beyonce celebrated her first film role in the Austin Powers film Goldmember by dressing the part for the premiere.

WireImage
Beyonce wore a strapless denim patchwork dress, fitted Yankees hat and Manolo Blahnik Timberland boots during her performance with Jay-Z on MTV's TRL.

WireImage
Beyonce didn't always get it right–this fur-trimmed corset and broken satin ball skirt at the VHI Big in '03 event was a miss.

WireImage for VH-1 Channel – New York
Beyonce was a stylish glamazon at the Billboard Music Awards in an intricately beaded gold mini frock. She completed the look with gold metal sandals and oversized pendant earrings.

Getty Images
Beyonce was all about the glam at the 2004 Brit Awards. She showed of her phenomenal shape by keeping her look simple in a spaghetti-strapped gold printed slip dress with bare wrists and neck.

WireImage
At the 2004 MTV Video Music Awards, Beyonce paired Farrah Fawcett-inspired curls with a playful gold short suit.

FilmMagic
The singer looked sophisticated at the 2005 Academy Awards in a strapless vintage Atelier Versace gown and bold diamond chandelier earrings.

FilmMagic
Beyonce is the master of glamour in an exquisite champagne mermaid-shaped embellished gown at the 2005 Cipriani Wall Street Concert Series.

WireImage
At the 48th Annual Grammy Awards, the singer wore another fitted strapless gown. And, again, it was gorgeous.

Getty Images
At the 48th Annual Grammy Awards, the gorgeous singer appeared in yet another fitted strapless mermaid-styled gown.

FilmMagic
In this glitzy Dolce & Gabbana and metal corset belt, Beyonce was the queen of the 2007 BET Awards, where she won the award for Best Female R&B Artist and the number one spot on every best dressed list.

Getty Images
Beyonce looked stunning at the 2007 Movies Rock Event in this emerald green satin Zac Posen dress.

WireImage
Beyonce arrived at the 2008 Grammy Awards in a chic sunshine yellow sweetheart gown with a matching neck scarf.

FilmMagic
At the 2009 Academy Awards, Beyonce posed in a Tina Knowles House of Dereon original design. This bold embroidered, figure-hugging floral gown fit like a glove.

WireImage
The singer showed off her curves on the 2009 MTV Video Music Awards red carpet in a futuristic, metallic Atelier Versace strapless gown.

Getty Images
Beyonce wore a rose-colored satin Stephane Rolland gown to the 2010 Grammy Awards. The plunging neckline, embroidered tribal designs, matching talons and structured shoulder paddings was the perfect semi-formal look for the occasion.

FilmMagic
At the 2011 Met Gala, Beyonce turned heads in a black and gold Emilio Pucci cut-out fishtail gown paired with a sleek middle-part ponytail hairstyle.

FilmMagic
Beyonce revealed her baby bump at the 2011 MTV Video Music Awards in this orange one-shoulder Lanvin gown.

FilmMagic
The singer attended the 2012 Met Gala in a show-stopping sheer Givenchy couture gown, which was detailed with crystal embellishments, black lace and a ombre feathered train.

FilmMagic
Beyonce wore a neon-colored Stephane Rolland gown to the 2012 BET Awards. The large gold metal geometric belt was the perfect accessory to accentuate her waistline and curves.

Getty Images For BET
For the release of her self-titled visual album 'Beyonce', the singer wore a Tom Ford black sheer and embellished mini dress paired with the matching thigh-high peep-toe boots.

WireImage
Wearing a custom ivory Michael Costello sheer floral print gown to the 56th Grammy Awards, Beyonce leaves little to the imagination.

WireImage
Playing into the 'Charles James: Beyond Fashion' theme at the 2014 Met Gala, the star chose a gothic-inspired, sheer and embellished Givenchy gown.

Getty Images
Just when she'd showed it all on the red carpet, Beyonce arrived to the 2015 Met Gala in a jaw dropping see-through Givenchy custom embellished gown with glittering colored rhinestones in all the right places.

WireImage
Beyonce rocked a high ponytail and a seductive maroon dress at the Tidal X:1020 event.

WireImage
NEW YORK, NY – MAY 02: Singer Beyonce attends the "Manus x Machina: Fashion In An Age Of Technology" Costume Institute Gala at Metropolitan Museum of Art on May 2, 2016 in New York City. (Photo by Dimitrios Kambouris/Getty Images)

Getty Images
Nominated for 11 awards at the 2016 MTV Video Music Awards, Beyonce wore an appropriately regal gown by Francesco Scognamiglio on the red carpet. The dress featured a feathery neckline that extended out and around the back, giving it the illusion of wings.

WireImage