Beyoncé Unveils Sequined Vivienne Westwood Bodysuit at OTR 2 Tour
She shines in smoldering silver.
---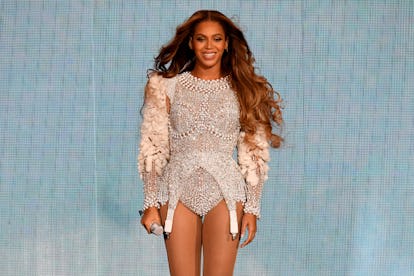 Kevin Winter/PW18
Whatever the arena, Beyoncé can do no wrong. But even though this is widely accepted, she still continues to shock us with how incredible she is, especially when it comes to style.
During the latest stop of her On the Run 2 concert tour with Jay-Z this weekend at the Levi's Stadium in Santa Clara, California, Beyoncé revealed a late addition to her tour wardrobe that was worth the wait: a silver Vivienne Westwood bodysuit covered in sequins. The look in and of itself is stunning, but on the Lemonade singer it's otherworldly. When the 37-year-old musician appeared onstage, she looked like a heavenly superhero with her hair flowing into the air over the bodysuit's cascading cape. Queen Bey also accessorized her concert look with micro-sunglasses.
According to the Daily Mail, later that evening she swapped looks for a Victorian rose-gold gown with nude fishnets and layered chiffon and then a pair of jean shorts, a tank top, and red boots.
While Beyoncé wore a slew of Burberry by Riccardo Tisci looks on tour, she opted to work with another British house for her stage outfit this weekend. However Burberry and Vivienne Westwood share another connection: The couture brands just revealed an exclusive collaboration with environmentally conscious nonprofit Cool Earth.
Throughout her 2018 live dates, Beyoncé debuted a Balmain dress from the brand's Resort 2019 collection, latex bodysuits, a leopard bustier, a minidress with a purple cape, and several pairs of over-the-knee matching boots.
The end of the Carters' On the Run 2 tour is approaching. The final show will take place in Seattle on October 4. Of course, the couple deserve some much-needed time off, but maybe we'll finally get a much-needed follow-up to 2016's Lemonade. Though we're not sure anything could actually top that release.
All the Celebrity Couples Who've Escaped to the Coast of Italy This Summer
In between touring the world for On the Run II, Beyoncé and Jay-Z stopped off in Lake Como for some color-coordinated R&R.

Courtesy of @beyoncetribeitalia
Seriously color-coordinated, as seen when they headed for land and casually took the streets of Lake Como in a convertible.

Courtesy of @kingbeyhive
Jennifer Lopez and A-Rod have been trying their own hand at being a casual, color-coordinated couple while closing out the summer in Capri.

Courtesy of @jlo
And, like Bey and Jay, J.Lo and A.Rod also made sure to spend some time off land.

Courtesy of @jlo
Ricky Martin and his chesty new husband Jwan Yosef were among those like Emily Ratajkowski who jetted off to Sardinia this week to party for UNICEF.

Courtesy of @jwanyosef
Tom Hanks and Rita Wilson managed to actually pass as your everyday American tourists while on vacation in Portofino.

Courtesy of @blast
At least until Hanks got carried away with the photo ops, anyway.

Courtesy of @tomhanks
He may not be pictured here in , but rest assured that famously camera-shy 43-year-old Leonardo DiCaprio is still dating 21-year-old actress and model Camila Morrone. The pair seem to have made it something of a mission to have the ultimate summer vacation.

Courtesy of @camilamorrone
Steve Harvey actually had a video montage made of his getaway with his wife Marjorie Harvey, which included both gondolas and yachts.

Courtesy of @iamsteveharveytv
Before the pair very messily called it quits, in July, Kourtney Kardashian and Younes Bendjima spent much sunnier times out on the water in Portofino.

Courtesy of @kourtneykardash
To celebrate wrapping five months of shooting Gemini Man with Ang Lee, Will Smith and his "life partner" Jada Pinkett-Smith brought the kiddies on a family vaycay to the Amalfi Coast.

Courtesy of @willsmith
Heidi Klum and her boyfriend Tom Kaulitz, of the band Tokio Hotel, also joined Ricky Martin and his hubby in Sardinia to party for the kids.

Anthony Ghnassia