Emily Ratajkowski, Michelle Rodriguez, and Jordan Barrett Are Living Their Best Summer Lives in Italy
The pair's hangout in Capri with friends is wanderlust-worthy.
---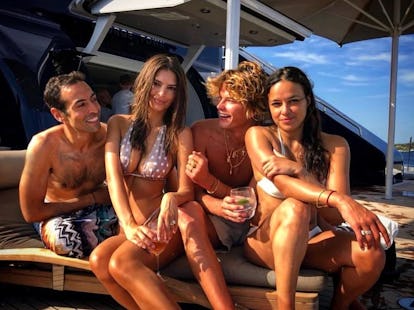 instagram.com/mrodofficial
If you're famous and you weren't in Italy this summer, do you even count as a celebrity any more? Emily Ratajkowski and Michelle Rodriguez are the latest stars to be clogging their followers' feeds with pictures from their Italian summer. The duo have been posting wanderlust-worthy photos from their hangouts in Capri and Positano.
A few nights ago, Rodriguez and Ratajkowski attended UNICEF's Summer Gala, alongside Heidi Klum, Ricky Martin, Rita Ora, Jasmine Sanders, and a handful of Victoria's Secret Angels. Their partying didn't stop there, though. Ever since, they've been working on their tans under the Italian sun, while yachting from coast to island. They've had company too. Rodriguez and Ratajkowski have been spending time with the 22-year-old model Jordan Barrett—Rodriguez's rumored boyfriend—and the music producer Mohammed Al Turki. Rodriguez shared a picture of the foursome on Instagram, along with a devil and lightning emoji.
Al Turki also shared a few snaps from their trip, of him, Barrett, and Rodriguez in Positano, having a laugh.
And lounging.
"Things could be worse," he captioned one photo of himself and Ratajkowski.
"THE END #HAPPILYEVERAFTER!!!," he wrote in the caption of a dreamy photo of Rodriguez and Barrett taking in the sunset.
Meanwhile, Barrett shared photos as well, including one of him and Ratajkowski on a yacht, showing off their tans.
And one of them hitching a ride along the road in Capri. "'Not a barefoot walk of shame' @emrata," he wrote in the caption.
As for Ratajkowski, she didn't miss the opportunity to share photos from her trip with her 19 million (and counting) followers. "Helmet? Y/N," she wrote, sharing one of herself on a Jet Ski.
Her interior photos, however, were the most visually arresting, including one she took in an incredible pink marble bathroom. "Never enough marble," she wrote.
The most self-aware photo she shared, though, happened to be yet another one of her on a boat. (Last summer, she seemingly lived in one off the coast of Italy.) Ratajkowski's jokey caption? "Loves a boat have you noticed?"