Frank Ocean's Newly Public Instagram Is a Thirst Trap Gold Mine
Not to mention style inspo.
---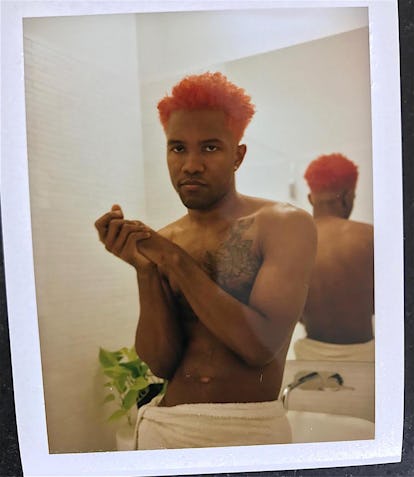 Courtesy of @blonded
The ever elusive artist Frank Ocean may not have released an album since 2016, but this week shared a different type of content: never-before-seen shirtless pics, style inspo, and pretty much everything else you'd expect to find on his Instagram, @blonded, which he just made public. By the looks of it, Ocean has embarked on something of a mission to spread some holiday cheer; less than a week ago, he also released his first Blonded Radio episode in more than a year. (Of course, he still remains surprisingly prolific on Tumblr.)
It might have been just over 24 hours since he unlocked the gates to his account, marking the milestone by posting a shirtless selfie captioned simply "Welcome," but it's easy to see why Ocean already has more than 500,000 followers: there's a veritable gold mine of unabashed selfies, as well as some very delightful, "very gay" content. (Though not all of his fans are so easily distracted; a photo he posted of a zoned-out E.T., for example, elicited the comment "me waiting for your new album.")
Ocean, for his part, follows only less than 300 lucky people in return. Among them are Senator Kamala Harris, the CGI influencer Lil Miquela, the artist Toyin Ojih Odutola, and celebrities including Oprah Winfrey and Timothée Chalamet. (Brad Pitt doesn't have an Instagram, but make no mistake: Ocean still loves Brad Pitt!)
A quick scroll though his feed makes it no surprise that he also follows fashion label Vetements and the designer Virgil Abloh; he has quite the eye for fashion, and particularly accessories, himself. (At least when he isn't wearing NYU sweatpants.)
And then, of course, there's his hair, which hasn't just been blond but also red, neon yellow, and pastel pink—the latter of which he pulled off so well that at least one fan around the world felt inspired enough to copy him.
Here's hoping the next album sees him give hotel slippers the same musical treatment that he gave "Nikes."
Even earlier this year, Ocean has proven so reluctant to appear in the public eye that he sent his mom, Katonya Breaux, in his stead to collect a plaque from the Recording Industry Association of America certifying Blonde as platinum. (She doesn't seem to have noticed that he's stolen his Grammy Awards back from her.) Naturally, seeing as she's also accompanied him everywhere from the White House to Paris Fashion Week, she's also been there all along with him on Instagram, where she has 13,000 followers of her own—even though he's neglected to tag her.
Yes: despite Ocean's misbehaving, Breaux, who's in her fifties, has no hint of wrinkles whatsoever. And, yes, before you ask: We do know the secrets to her skincare routine.
Related: Listen to Frank Ocean's Mom When It Comes to Your Seasonal Beauty Routine