Dear James Bond Filmmakers, Gigi Hadid Would Like to Put In Her Bid to Be the Next 007
"If you want a girl, hit me up."
---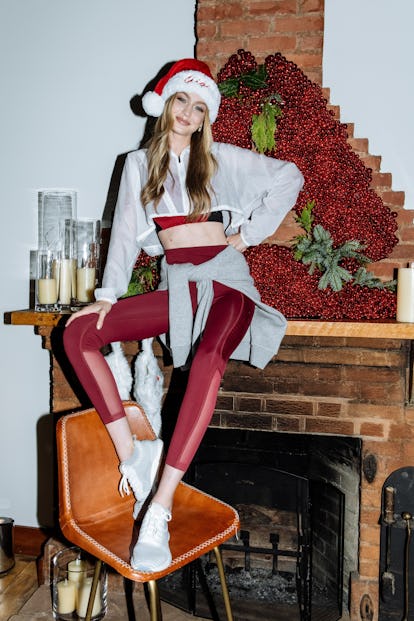 Courtesy Reebok
Several years ago in Dubai, Gigi Hadid jumped out of a plane. But thrill-wise, that was nothing, she said, compared to scuba diving—which she did for the first time earlier this month "because it scared me," she said during a recent panel discussion hosted by Reebok. "Scuba diving kind of goes against everything that you naturally want to do underwater," she said, "like, go to the surface, breathe—but you have to stay down and just accept the fact that you are not in control of anything and just be at peace with your breathing." (Surrendering a sense of control, it seems, was a major theme for Hadid's 2017—and probably for the rest of us, too.)
Before she got into the water, Hadid's instructor informed her he was going to find an octopus during ther dive. "I was like, 'Alright, no, we're not,'" she said—but they did, and, since she was already focused on her breathing, she posited, "It could feel my energy and it knew that it was safe, and it, like, totally chilled, wanted to hang—and then I was like, 'Okay, this is a bit close.'"
But it wasn't just a matter of challenging her nerve—Hadid has bigger things in mind for her newfound skill. "I also think there should be a female James Bond," she said, spelling it out "J-A-Y-M-E-S," "So in my mind, I was like, this is me training for my female James Bond film."
"I don't know who owns the rights to James Bond," she added, "but if you want a girl, hit me up."
Of course, Hadid is not the only one to put in a bid to be the next 007. Daniel Craig, a notoriously reluctant Bond, is about to complete his contract with the franchise; though he once said he would "rather break this glass and slash my wrists" than reprise the role, he eventually walked back the remark and announced he would appear in one final film. Craig has now appeared as Bond for more than a decade now, and his departure will leave a gulf that any number of actors, including Idris Elba, Tom Hiddleston, and our personal favorite, Charlize Theron, are already vying to fill. Though Helen Mirren said over the summer that she's "too old" to play the role, she admitted she would have been pleased by the prospect of a woman Bond "in my youth"; Halle Berry, a former Bond girl herself, would tend to disagree. "That series is steeped in history," she told EW this summer. "I don't think you can change Bond to a woman."
If Gigi Hadid has anything to say about it, though, you absolutely can.
Definitely Not "Bond Girls": Meet the Most Badass Women Who've Starred Alongside—and Tried to Kill—James Bond
A former fighter pilot in the Soviet Air Force, Famke Jenssen's Xenia Onatopp becomes an assassin, in part motivated by the fact that killing apparently gives her sexual satisfaction. That much is clear in 1995's GoldenEye when, after crushing an admiral to death with her thighs during sex, she steals a helicopter and then the controls to a Cold War-era Soviet satellite weapon and kills the center's staff—all before she kidnaps the film's Bond girl, Natalya Simonova, and finally even meets Bond in the first place.

Metro-Goldwyn-Mayer Studios Inc.
As a child, Léa Seydoux's character Madeleine, whom we meet in 2015's Spectre, once shot and killed an intruder looking to kill her father, which led to her reticence when it comes to guns. In adulthood, she pursues medicine and works for Doctors Without Borders before she ends up meeting Bond—and threatens to kill him, too, if he touches her in her sleep.

Metro-Goldwyn-Mayer Studios Inc., Danjaq, LLC and Columbia Pictures Industries, Inc.
Karin Dor's character Helga Brandt is supposedly a secretary in 1967's You Only Live Twice, but before Bond knows it, she has him tied up in her room, where she questions him and threatens to torture him, plastic surgery implement in hand. The two end up consensually having sex, though Dor flees after they're finished, leaving Bond locked up in a private plane.

Metro-Goldwyn-Mayer Studios Inc.
Bond couldn't have done his job in 1967's You Only Live Twice without Akiko Wakabayashi's Aki, the Japanese secret service member and expert driver who both helps Bond on his mission and rescues him twice, with more than a few car chases along the way.

Metro-Goldwyn-Mayer Studios Inc.
Once Aki dies in You Only Live Twice, accidentally swallowing a poison intended for Bond, Mie Hama steps in as Kissy Suzuki, an agent chosen for her diving skills to help Bond stay undercover in Japan, which she also does by pretending to marry him. She later helps him uncover Spectre's hidden headquarters in a fake volcano—and enjoys the view of it exploding with him, after they both invade it and escape.

Metro-Goldwyn-Mayer Studios Inc.
After decades of being ceaselessly in-your-face about his masculinity, Bond was forced to answer to a woman from 1995 to 2012, once Judi Dench became the first woman as M, Bond's boss and the head of the British Secret Service. She squeezed plenty of chastising of the agent in in that time, starting with her very first Bond film, GoldenEye, when she calls the agent "sexist, misogynist dinosaur, a relic of the cold War."

Francois Duhamel, Danjaq LLC, United Artists Corporation, Columbia Pictures
The Second Officer in the Women's Royal Naval Service, and the helpful asssistant to M, the head of the British Secret Service who's also Bond's boss, Miss Moneypenny is not your ordinary secretary—especially when played by Samantha Bond in GoldenEye, Tomorrow Never Dies, The World Is Not Enough, and Die Another Day. Though other iterations of Moneypenny openly flirt with Bond, Samantha Bond's openly spurns 007; in 1999's The World Is Not Enough, she asks Bond if he brought her back any souvenirs from his mission in Spain, and promptly throws his gift of a cigar away.

Metro-Goldwyn-Mayer Studios Inc.
Finally, after decades, Miss Moneypenny gets a first name—and, played for the first time ever by a person of color, Naomie Harris, also adds M16 field agent to her accomplishments as well as secretary. In Skyfall, Harris's Moneypenny does get romantic with Bond, but the film actually starts with her shooting him—a revenge won for all Bond girls throughout the years, even if it was accidental.

Francois Duhamel, Danjaq LLC, United Artists Corporation, Columbia Pictures
Daniel Craig made his debut in the Bond movies opposite Eva Green, who almost steals the show in 2006's Casino Royale as the foreign liaison agent—and secret double agent—Vesper Lynd. After she saves his life with a defibrillator, Lynd later sacrifices her own life to betray Bond, which she does while the pair are on a supposed romantic getaway.

Danjaq, LLC and United Artists Corporation
Bond makes it his mission at the beginning of 1999's The World Is Not Enough to protect Sophie Marceau's Elektra King, a wealthy heiress who once went so far in colluding with a terrorist named Renard to steal her family's fortune that she cut off a chunk of her ear and sent it to her father. Her biggest move, though, comes later: She eventually kidnaps M, and manages to both torture and seduce Bond before he kills her.

Keith Hamshere/Getty Images
Halle Berry was criticized even before she appeared in 2002's Die Another Day, thanks to the film's marketing: Some 007 fans were upset that she was being treated as a costar of the film, thereby stealing the spotlight from Bond, then played by Pierce Brosnan. The film, though, definitely shows she deserves that status: As Jinx, Berry is an NSA operative and Bond's partner in tracking down the North Korean agent Zao, with Jinx taking down the M16 double agent Miranda Frost along the way.

Keith Hamshere, Danjaq LLC, and United Artists Corporation
After being introduced to Bond by none other than Madonna, who plays her fencing instructor, Verity, Rosamund Pike's Miranda Frost works alongside him as M has requested, not knowing that, in addition to being an Olympic gold medal winner, she's also a double agent—and the one who betrayed Bond years earlier in North Korea, leading to over a year of imprisonment and torture.

Keith Hamshere, Danjaq LLC, and United Artists Corporation
Camille Montes, played by Olga Kurylenko, became the first lead "Bond girl" not to have sex with Bond with the release of Quantum of Solace in 2008. Instead of "love scenes," which Kurylenko said she was "so glad" weren't included, the Bolivian Secret Service agent spends the film teaming up with Bond to get revenge on the man who raped and murdered her family.

EON Productions