What Color Is Bella Hadid's Hair Now?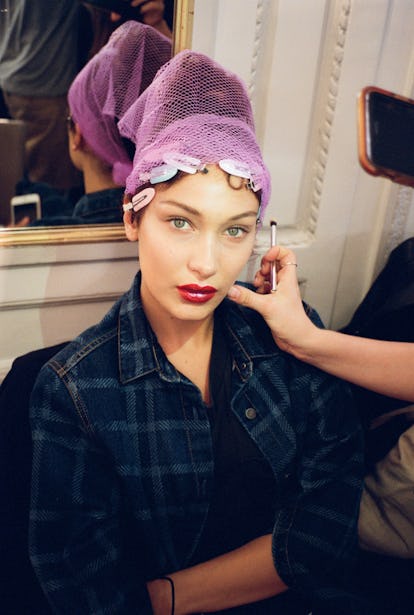 Photograph by Kendall Jenner for W
For a model like Bella Hadid constantly changing her appearance is essentially her job description. Of course, Hadid isn't just any old model; she's an established one, meaning that she can also carry that practice over to her personal life. It's only recently, however, that the 22-year-old has taken advantage of that perk: In late March, she posted a dispatch from Cappadocia, Turkey sharing that she'd gone "back to dirty blonde," aka "back to [her] roots."
Ordinarily, her millions of followers would have enjoyed plenty of beauty-related updates since. But Hadid has been laying relatively low over the past few months, making her latest hair-related update, buried amidst several horses in a gallery that she posted on Sunday something of a rarity. Without further ado:
As you may have noticed, to continue to describe Hadid's hair as "dirty blonde" would be pushing it. And yet, what color is Hadid's hair? Light brown? Auburn? Strawberry blonde? Scarecrow chic? Or is it that elusive, indefinable enigma known as "bronde"?
Alas, the world may never know. Hadid provided another hint on Tuesday, in the form of the several behind-the-scenes Instagram Stories from her photo shoot with V magazine, but the photos only ended up muddling the matter even further. While Hadid's hair appears to have barely changed over the course of the past two days, her latest prompted a sudden deluge of headlines claiming that she's now "fully blonde," and thereby now resembles her older sister, Gigi Hadid. But should we really start calling them the Brondë sisters? Not so fast:
Still, this isn't the first time the Hadids have (debatably) had people claiming to see double. "Everyone thinks I'm Bella," Gigi, who was disguised in enormous white eyelash extensions and a sequined skull cap at the time, told the New York Times at the Met Gala this past May. "It's kind of great."
Related: Billie Eilish's Slime Green Hair, Beyoncé's Braids, and More of This Week's Best Beauty on Instagram
Celebrities With Bleached Eyebrows: A Visual History
When Adriana Lima debuted her new look on Instagram Stories this June, for a project she refuses to elaborate on just yet, the model was prepared to shock. Judging from the overwhelming results of her poll on Instagram, asking if she could keep her brows bleached, her followers might be disappointed to learn that they're growing on her.

Courtesy of @adrianalima
A Saint Laurent show in 2016 is far from the only occasion that Lady Gaga has appeared brow-less; when she appeared backstage at the Marc Jacobs show later that month, where she joined Kendall Jenner and the rest of the cast in another round of bleaching, she told Vogue that she bleaches her eyebrows every day.

Axelle/Bauer-Griffin/Getty Images
Of course, before Gaga, there was Madonna, who admittedly stood out at the release party for her book Sex in 1992 more because of her companion that evening, rather than her facial hair.

Ron Galella/Getty Images
When Jaden Smith shaved his eyebrows last summer, reactions were not exactly positive. Since then, though, he's grown them back a bit and turned it into something of signature look.

Noam Galai/Getty Images
A few weeks after she turned up on the red carpet of the 2019 Met Gala with her brows painted orange, yellow, and white, Kristen Stewart went all in, fully bleaching them ahead of her appearance at a Chanel show in Seoul.

Han Myung-Gu/WireImage/Getty Images
When it comes to eyebrow bleaching, Kendall Jenner is nothing if not outspoken. "They literally fall OUT! It's bad—I really hate getting a bleach," she wrote on her website in 2016—though that didn't stop her from bleaching them from Marc Jacobs that same year, just as she did in the above instance, in 2014.

Randy Brooke/Getty Images
The fact that Cara Delevingne's bushy brown eyebrows were still her first and foremost claim to fame only made it more daring when she, like Kendall Jenner, bleached them for Givenchy in 2014.

Victor Virgile/Getty Images
And while Cara Delevingne had moved on from the look when she ran into Kim Kardashian a few months later, the latter was just trying it out for herself. Kardashian, too, made the sacrifice for fashion, as she made clear via the hashtagged disclaimer "#ItsForAPhotoShoot."

Courtesy of @kimkardashian
A month after she bleached her brows for a Prada campaign, Gigi Hadid reprised the look in Milan, along with the rest of the cast that walked the house's show for fall/winter 2019.

Andreas Rentz/Getty Images
Jared Leto began making ghost-like appearances, such as the above, in 1998, while filming Fight Club. In recent years, he's made similar sacrifices—to the point that he's said they don't grow back as quickly as they used to.

Jim Smeal/Getty Images
This cursed image not only memorializes the time that Kanye West bleached his brows in 2016, but also his infamous visit to Trump Tower.

Timothy A. Clary/Getty Images
According to Katy Perry, her last minute to bleach her brows before stepping onto the red carpet of the 2016 Met Gala gave her stylist "a panic attack." And according to her date that night, Derek Blasberg, "everyone" told her the idea was "horrible."

John Shearer/Getty Images
It should come as no surprise that Chloë Sevigny was ahead of the trend. The above photo is from a 2003 red carpet appearance, but at that point, she'd already given bleached brows a go for her 1997 film Gummo.

Jon Kopaloff/Getty Images