Kristen Stewart's Bleached Eyebrows Are Her Latest Risky Beauty Move
They're currently on a world tour, from the Met Gala to Seoul.
---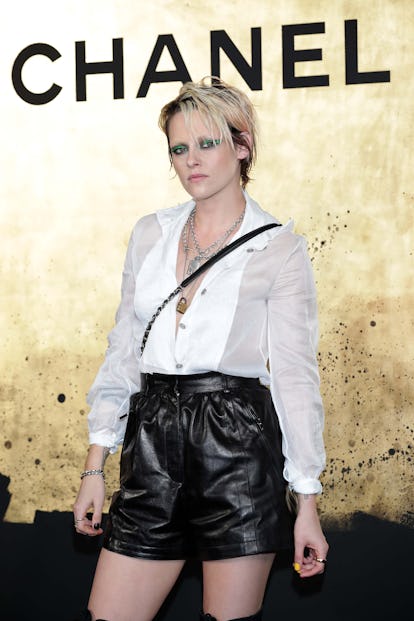 Han Myung-Gu/WireImage/Getty Images
The red carpet at this year's Cannes Film Festival was relatively lackluster—and no wonder, with the absence of its rulebreaker-in-chief, Kristen Stewart, whose acts of rebellion against the festival's infamously staid organizers have included kicking off her heels to walk the red carpet barefoot and accessorizing with a braided rattail. But by Tuesday, just a few days after this year's edition came to an end, Stewart had already made up for it on another red carpet, at Chanel's Métiers d'Art show in Seoul, South Korea, where she turned up wearing, naturally, head-to-toe Chanel.
But it wasn't her sheer blouse, mismatched nail polish, or even the thigh-high boots that made Stewart stand out. It was her eyebrows, or apparent lack thereof. Whereas three weeks ago, on the red carpet of the 2019 "camp"-themed Met Gala, she'd gone with David Bowie–esque orange-, white-, and yellow-striped brows, this time, she went all in: Her fully bleached brows were prominently on display, emphasized by swaths of contrasting neon green eyeliner.
After more than a decade's worth of experimenting with her hair, it seems only natural that Stewart would explore a new frontier. She isn't the only celebrity to do so, though she's already shown more commitment than most: Kim Kardashian tried out the look with the hashtagged disclaimer "#ItsForAPhotoShoot" in 2014—the same year that bleached brows turned up on Kendall Jenner, when she walked the runway for Marc Jacobs, and Miley Cyrus, when she appeared on the cover of W.
As usual, though, Stewart's former costar Chloë Sevigny was miles ahead of the rest. She tried out the look on the red carpet of a premiere of Seabiscuit all the way back in 2003, when Stewart was just barely 13.
Celebrities With Bleached Eyebrows: A Visual History
When Adriana Lima debuted her new look on Instagram Stories this June, for a project she refuses to elaborate on just yet, the model was prepared to shock. Judging from the overwhelming results of her poll on Instagram, asking if she could keep her brows bleached, her followers might be disappointed to learn that they're growing on her.

Courtesy of @adrianalima
A Saint Laurent show in 2016 is far from the only occasion that Lady Gaga has appeared brow-less; when she appeared backstage at the Marc Jacobs show later that month, where she joined Kendall Jenner and the rest of the cast in another round of bleaching, she told Vogue that she bleaches her eyebrows every day.

Axelle/Bauer-Griffin/Getty Images
Of course, before Gaga, there was Madonna, who admittedly stood out at the release party for her book Sex in 1992 more because of her companion that evening, rather than her facial hair.

Ron Galella/Getty Images
When Jaden Smith shaved his eyebrows last summer, reactions were not exactly positive. Since then, though, he's grown them back a bit and turned it into something of signature look.

Noam Galai/Getty Images
A few weeks after she turned up on the red carpet of the 2019 Met Gala with her brows painted orange, yellow, and white, Kristen Stewart went all in, fully bleaching them ahead of her appearance at a Chanel show in Seoul.

Han Myung-Gu/WireImage/Getty Images
When it comes to eyebrow bleaching, Kendall Jenner is nothing if not outspoken. "They literally fall OUT! It's bad—I really hate getting a bleach," she wrote on her website in 2016—though that didn't stop her from bleaching them from Marc Jacobs that same year, just as she did in the above instance, in 2014.

Randy Brooke/Getty Images
The fact that Cara Delevingne's bushy brown eyebrows were still her first and foremost claim to fame only made it more daring when she, like Kendall Jenner, bleached them for Givenchy in 2014.

Victor Virgile/Getty Images
And while Cara Delevingne had moved on from the look when she ran into Kim Kardashian a few months later, the latter was just trying it out for herself. Kardashian, too, made the sacrifice for fashion, as she made clear via the hashtagged disclaimer "#ItsForAPhotoShoot."

Courtesy of @kimkardashian
A month after she bleached her brows for a Prada campaign, Gigi Hadid reprised the look in Milan, along with the rest of the cast that walked the house's show for fall/winter 2019.

Andreas Rentz/Getty Images
Jared Leto began making ghost-like appearances, such as the above, in 1998, while filming Fight Club. In recent years, he's made similar sacrifices—to the point that he's said they don't grow back as quickly as they used to.

Jim Smeal/Getty Images
This cursed image not only memorializes the time that Kanye West bleached his brows in 2016, but also his infamous visit to Trump Tower.

Timothy A. Clary/Getty Images
According to Katy Perry, her last minute to bleach her brows before stepping onto the red carpet of the 2016 Met Gala gave her stylist "a panic attack." And according to her date that night, Derek Blasberg, "everyone" told her the idea was "horrible."

John Shearer/Getty Images
It should come as no surprise that Chloë Sevigny was ahead of the trend. The above photo is from a 2003 red carpet appearance, but at that point, she'd already given bleached brows a go for her 1997 film Gummo.

Jon Kopaloff/Getty Images
Related: Kristen Stewart Compares Dating to Eating Grilled Cheese Sandwiches