Let Joan Smalls, Supermodel and Professional Jetsetter, Break Down How to Properly Pack for the Holidays
Safe to say the supermodel has racked up a lot of frequent flyer miles—and packing tips—over the years.
---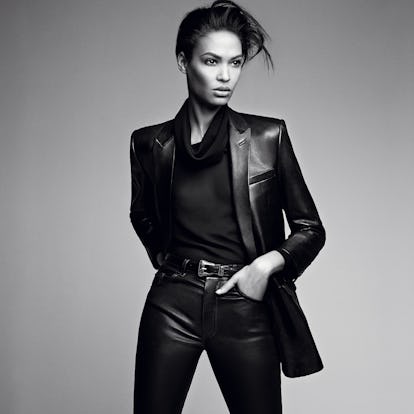 As one of the world's most in-demand supermodels for almost a decade, Joan Smalls has been just about everywhere in the world for photo shoots, runway shows, and just about everything in between. Earlier this year, W Hotels tapped into that globetrotting expertise, naming Smalls their first Global Fashion Innovator, a role that sees her help to shape the hotel chain's fashion imprint at all of their many locations around the year. Most recently, Smalls has teamed with Creative Director Sarah Easley on a new project, called the "Off Duty" Closet, a selection of 25 items inspired by Smalls's enviable style that will be available exclusively through W Hotels The Store. Items up for grabs, which were all specially created for W Hotels, include a leather jacket by Veronica Beard, jewelry from Brooklyn-based brand K/LLER Collection, and sunglasses from Krewe, with prices ranging from $78 to $1,495. Additionally, Smalls will be donating her royalties from the project to Unidos For Puerto Rico, to support the ongoing relief efforts in her home country. Here, Smalls breaks down her personal style, offers holiday packing tips, and shares her biggest fashion regret.
Has your style changed over the years?
I've had my moments where I want to be super girly or super boyish, but it stays around the same energy.
What are your staples for when you are traveling?
A good jean; a pair of heels that are black or nude because it goes with anything; and neutral colors are the safest way to go: greys, blacks, blues, whites. It is easy to mix and match.
Have you ever had any packing disasters?
I'm sure. I've forgotten makeup. I've under-packed underwear—you know how you are supposed to count and bring an extra two pairs? I've lost luggage, but got it at the end of the day, so it wasn't that crazy.
Have you learned any helpful packing tips over the years?
I try not to check luggage and keep everything in one piece, so then I don't have to wait for luggage when I land. And it's important to think out a look. If you are going out at night, think out a look and everything that goes with it.
Do you take polaroids of all of your looks, a la Kim Kardashian?
No. Well, I have taken some on my phone, especially if it is not a look that I would normally wear. If it is something thought out and requires tights or a certain shoe or if I need to add an accessory, I'll take a picture so that I don't forget. Otherwise I'm like, "Damn, I was supposed to wear a hat and that was going to complete the look."
How do you approach packing for an extended trip, like fashion month?
That is really hard. It is difficult because I'll go through my closet and forget things that I already have. It's kind of like shopping, and you become so excited, especially since I don't shop that much anymore. I'm a firm believer in not getting too much in excess. During fashion week, if I get a new piece, I'll put it with old pieces I have.
Do you have any big fashion regrets?
When I started doing couture, they bleached my brows completely. It was for Givenchy, and then Roberto Cavalli did it, so it was for a bunch of shows and I couldn't go back to brown in-between. In pictures and backstage, it looks cool, right? It's a look. There was an event and I was like, I'll just keep rocking my bleached brows. Those red carpet pictures came out, and I was like, "What the hell was I thinking?" It looks like you have no expression. You look like an alien. Never again.
What are your tips for cold weather dressing?
I'm not very good at layering. I'm into anything oversized, warm, and comfy, and make sure it covers a bit of my bum. Pretty simple, with jeans and sneakers.
Do you have any travel plans coming up?
I'm going to Paris, and then Mexico for Thanksgiving. It will be hot hopefully, so packing bikini, shorts, and flip-flops. Very minimal. When you travel somewhere warm, you realize you are basically just using the same things every day. The most you need is bikinis. Or if you want to curate for your Instagram, then you actually need to pack more, but realistically, you don't need to.
Related: Joan Smalls' Tips for Good Shopping and Bargaining in India
Kit Harington Gets No Attention With a Birthday Right After Christmas