Justin Bieber, Thespian, Shows Up For Acting Lessons with Margot Robbie's "Secret Weapon"
Is he gunning for a role on the next season of "13 Reasons Why"?
---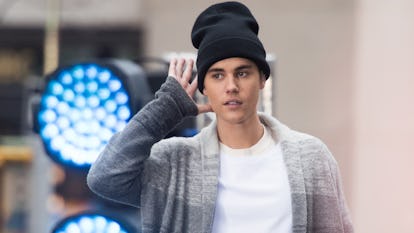 Noam Galai/Getty Images
On Wednesday, two months after getting dinner with Adam Sandler and David Spade, Justin Bieber took a step further in breaking into the industry by showing up to what the Daily Mail called a "popular acting studio" in Hollywood, dutifully carrying a handful of papers and instructions that upon closer inspection read things like "Good morning JB!" with the address of his "acting lesson" and what appeared to be a (quite short) script.
Bieber, at least according to TMZ, is taking the classes just for fun, but it seems like no accident that he chose the studio, Nancy Banks, where everyone from Rachel McAdams to Emma Stone and Forest Whitaker has gone for training. (Banks's website even reports that Margot Robbie has credited the acting coach as her "secret weapon.")
In fact, perhaps to impress his once return girlfriend, Selena Gomez, who's become an executive producer of the Netflix show 13 Reasons Why since they last dated, it seems Bieber is getting even more serious about working on his acting chops—even though Sandler later said that their dinner was not about Bieber getting advice on the industry as had previously been reported. (And even though Dustin Hoffman had been set to come along, but then "said no.")
With or without his Hollywood pals's help, though, Bieber has already managed to put together a not too shabby IMDb page all on his own: In the past, he's appeared on two episodes of the eleventh season of CSI: Crime Scene Investigation as the serial killer and serial bomber Jason McCann, arguably making him the trendsetter behind the string of former Disney stars, including Zac Efron, who've lately been trying their hands at serial killer roles. Undeterred by the fact that the basketball film he was planning with Mark Wahlberg in 2012 never came to fruition—at least, not yet—Bieber has still kept at it, appearing in an uncredited role as an alien in Men in Black 3 and most recently as himself in 2016's Zoolander 2.
Indeed, after Sandler testified that Bieber is "funny as hell," the pop star now seems to be doing his best to reach out to more comedians in the industry, too. Later on Wednesday, he posted an Instagram dedicated to Jim Carrey and his new very meta movie about the process of becoming absorbed in a role, thanking his fellow Canadian for "teaching [him] so much."
Bieber has got to do something with his time, after all, now that he's temporarily turned away from his musical career—reportedly to rededicate himself to god—though he's definitely been finding other ways to do that, too: After his acting lesson, and apparently watching Carrey's film Jim & Andy, Bieber also made it to the dance studio to practice his somersaults.
Related: Selena Gomez Opens Up About Justin Bieber With a Very Zen Answer
Chris Pine's First Audition Was for "Gilmore Girls":