Meet Kye, the Up-and-Coming Korean Fashion Designer Who Dresses Everyone from CL to Kourtney Kardashian
Kathleen Kye talks about her most recent collection, which just debuted at Seoul Fashion Week.
---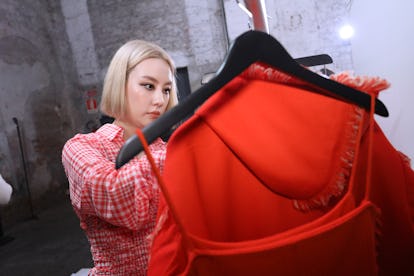 Elisabetta Villa
Just over a month before the runway debut of her Fall 2018 collection, designer Kathleen Kye posted a video, in which she obsessively, meticulously edited a pair of velour trousers into an image from the accompanying lookbook, to her Instagram. The caption read, "#CyberPants," and the post was time-stamped 3:29 a.m.
This snapshot is a small indicator of Kye's relentless drive, which has, in part, helped her star rise—both in Seoul and beyond. The designer's brand is stocked at Opening Ceremony and VFiles; was nominated for the LVMH Prize in 2014; and, earlier this year, competed for the International Woolmark Prize after winning the regional award for womenswear for Asia in late 2017. (Kye included some pieces from her Woolmark collection in the Fall 2018 show.) The brand's catalog of collaborations includes lines with Shu Uemura and Adidas, and last month Kourtney Kardashian was photographed in a head-to-toe Kye look. The designer herself counts some of the Korean arts scene's biggest international stars among her closest friends, including model Irene Kim, rapper G-Dragon, and former 2NE1 frontwoman CL.
But despite her international acclaim, Kye has no plans to leave Seoul. Born in Detroit, she came to the South Korean capital at age three. She then moved abroad for university, studying menswear at Central Saint Martins—"I always wanted to do fashion but I didn't know if I could make a career out of it," said, "so I guess I just decided if I could get into the school, I would pursue this"—and, with her body parts–themed graduate collection, she returned to Seoul to establish her brand. (That collection also formed the basis for the Kye logo, its block-capital lettering spelled out with disembodied fingers.)
Seoul's fashion community has proved to be inspiring for Kye. "We're really hardworking," she added, "and when I was studying when I lived in Europe, it was really good, because they had craftsmanship and those kind of things, but when I wanted to get something done, it took forever." (In contrast, Seoul Fashion Week shows are notoriously punctual, and notoriously long—it's not uncommon for even a small designer's presentation to include some 40 looks.) Given the relentless pace of the international fashion calendar, the speed with which she and her peers design and produce garments works to her advantage—for example, it was just less than three months ago that Kye presented a separate collection as part of her bid for the International Woolmark Prize in Florence, and at the end of April she will unveil the new collection for her younger, more accessible ready-to-wear line, Eyeye.
This unremitting momentum forward, in part, also offered inspiration for her Fall 2018 collection, which was presented on a brisk spring evening in March after "two months of really intense preparation" to a rapturous audience that included the K-pop star Ha:tfelt and Kim. "As life is becoming more and more convenient, it is also becoming more tiring," Kye wrote in the show's notes. "By all means, the collection is out once again, and it must look better than ever." This sentiment showed up in the fringed edges and strategic asymmetrical ruching that adorned the collection, subtle, peripheral hints at how an anxious designer might cope with the stress. ("I tend to tear things apart," Kye admitted. "But the general theme is, even though I am stressed out, I don't want to show it to the general audience.") But despite the pressure, this season also offered a more elegant take on the streetwear principles that have anchored her brand since she founded it in 2011, with high-necked, bias-cut dresses and skirts (still in velour and adorned with her logo), corseted blazers, and shearling- and fur-trimmed coats.
"I wanted it to feel more formal and refined," said, sitting in an emptied-out lounge in the Dongdaemun Design Plaza, a futuristic orb of architecture that is the central locus for Seoul Fashion Week; the thud of music from the last show of the evening, the runway debut of cult streetwear brand Thisisneverthat, permeated the space. "More mature."
For Kye, remaining in Seoul isn't only about the work ethic—it's also rooted in a sense of ownership of the Korean fashion community. (She's positioned herself as the "prodigal daughter" of Seoul Fashion Week, as one Seoul-based editor put it recently.) Her runway shows and lookbooks have acted as launch pads for Korean models who have since risen to international renown, including Bae Yoon-young and Jung Hoyeon ("my all-time favorite," Kye said), and her brand's semiannual presentation, as well as that of Bajowoo's 99%IS, is one of the biggest events on the Seoul Fashion Week calendar. And now that her brand is all grown up, she's paying it forward.
"Seoul Fashion Week needs some designers who can make Seoul Fashion Week strong," she said. "This is my home ground."
Related: TVXQ, the Godfathers of K-Pop, on Returning After a Three-Year Break With a New Album, a New Look, and New Instagram Accounts