Kendall Jenner's Latest Gig As the New Face of Adidas Is a Case Study in Kardashian Family Politics
As the new face of Adidas, the model silently declares that when it comes to sneakers, she's more Kanye than Kylie.
---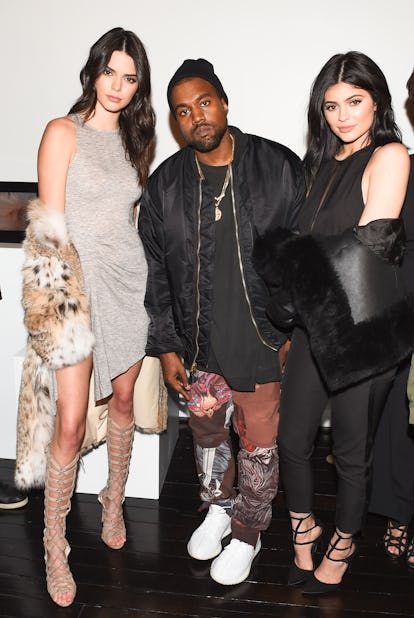 If there is one thing the Kardashian clan is not lacking (besides, say, Instagram followers and Internet headlines), it's family drama. It's a tangled web they weave; take, for example, the mind-boggling case of Tyga, Blac Chyna, Kylie, and Rob, a interconnected quartet that truly takes focus to unravel. Factor in business deals, and things get really complicated.
Today, Kendall Jenner announced on Instagram, of course, that she would be joining Adidas as an official ambassador for the brand—a seemingly run-of-the-mill advertising deal, until you consider the Kardashian-ness of it all. Our saga, like so many others, begins with Kanye West, who famously has a partnership of his own with Adidas, the juggernaut behind his incredibly popular Yeezy line. All seemed peachy in Calabasas, with all six sisters frequently outfitted in the brand's gear, until last year, when Kylie, the youngest of the bunch, signed a deal with rival athletic brand, Puma.
As rumors swirled that the deal might be coming to fruition, West took to Twitter, proclaiming, "1000% there will never be a Kylie Puma anything. That's on my family! 1000% Kylie is on Yeezy team!!!" It was quickly followed by, "Puma we gone give you your measly million dollars back!!! Never try to divide the family!!!" Kris Jenner, apparently, felt otherwise. Just a week later, the ink was dried and the partnership official.
West and wife Kim were less than pleased, as a later episode of Keeping Up With the Kardashians would reveal. "Kanye had Kylie walk in his first two Yeezy shows. He really believed in her as a part of his brand," Kim said in a testimonial. "That was, like, a conflict of interest." Confronting Jenner, who had brokered the deal, Kim said, "Sometimes when you're dealing with family, it's not really about a business decision."
Kendall certainly took heed, and is staying in Kanye's good graces. Also worth noting: Kylie's most recent Puma campaign received backlash—whether warranted or not is up for debate—for showing the non-athlete wearing athletic clothes in vaguely athletic poses. Kendall herself, of course, is no stranger to advertising controversy, following this year's Pepsi debacle.
But just a few hours into this new deal, Kendall remains scandal-free. Her announcement has even received warm wishes from fans, including Karlie Kloss, herself an Adidas girl. "Welcome to the fam @kendalljenner!!" the model captioned a photo of the two, face obscured by the Snapchat dog filter. But even this kind gesture has drama-tinged implications.
Over the weekend, Kim appeared on Andy Cohen's Watch What Happens: Live, while in addition to spilling some tea on the Monica Rose firing, she also fielded an audience question about Taylor Swift: "I have a question about what was the best night of my life, when you exposed Taylor Swift on Snapchat. So, after you did that, was it awkward between you and Kendall, or Kendall and Taylor, because Kendall was part of Taylor's squad at the time?" Kim responded with an expert amount of shade, saying, "I don't know if Kendall was a part of her squad. I don't think she was. So I don't think it was awkward."
Kloss, however, most definitely is a Swift bestie, so there definitely is a direct line there, and with this Adidas deal, the pair may be spending even more time together. Watch out, Adidas, you may just have earned yourself a track on the next Taylor Swift album.
Related: Kendall Jenner, Performance Artist, Channels Icons Like Marina Abramovic and Yoko Ono