Kim Kardashian Ends Fragrance Feud by Wearing Vintage Jean Paul Gaultier
She wore Jean Paul Gaultier, following their fragrance-related drama in April.
---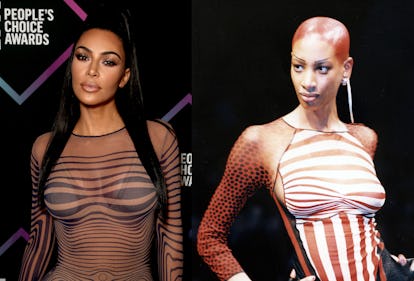 Getty Images
More than 250,000 people have received evacuation orders since wildfires began to rage across California last week—including one Kim Kardashian, who left behind her home in Calabasas on Thursday. But that apparently hasn't stopped Kim from carrying right on with being Kim, most recently on Sunday night, when she managed to stick to her normal routine of making public appearances, wearing vintage, addressing gun violence, and even apparently addressing some Instagram drama.
All that took place while in the company of her mom, Kris Jenner, and sisters Kendall, Kourtney, and Khloé, who showed up in full force to the E! People's Choice Awards in Santa Monica to accept the Favorite Reality TV Show award for Keeping Up with the Kardashians. Appropriately enough, since according to her, she edits and approves each and every episode, Kim stole the show, delivering an acceptance speech on her family's behalf.
"Thank you guys so much—it's been a really rough week in our home in Calabasas, Hidden Hills, and [for] our neighbors in Thousand Oaks and Malibu. Our hearts are broken from the horrific shootings and those who have lost their lives and homes, as well as the hundreds of thousands of us that have been evacuated from the devastating fires that are currently burning," she said, referencing the mass shooting that left 12 people dead in Thousand Oaks last week. Kardashian then went on to dedicate the "honor" of an award for reality TV to "all of the firefighters, law enforcement, and first responders"—as well as make a more relevant and logical show of support by asking those in the audience to donate to the organizations that have been caring for those affected by the fires.
Of course, this being Kim, she also stole the show with her ensemble: a mini Ariana Grande–style ponytail and a high-fashion take on the naked dress, whose curved navy lines circled around her belly button and delineated a thigh gap. It's the latest piece that she's pulled from the archives for her recent ongoing revival tour of '90s fashion controversies, which has seen her repurpose looks like Chanel's infamous microbikini to assert her fashion knowledge and cred. The 1996 design she wore on Sunday night, however, also pointed toward a much more recent controversy: It was designed by Jean Paul Gaultier—aka the designer who publicly appeared to accuse her of copying his designs earlier this past April.
Following Kardashian's release of her KKW Body fragrance in a bottle molded after her naked torso, Gaultier Instagrammed a photo of a bottle that bore an uncanny resemblance to Kardashian's—except that it was in fact more than two decades older, belonging to the Classique scent that he released in 1993. (He kept it rather lighthearted by refraining from tagging Kardashian, simply captioning his post "Keeping up with the fragrance's news!") Kardashian, for her part, responded by telling Cosmopolitan that she was indeed aware of Gaultier's design: "It's iconic and celebrates the woman's body," she said, while suggesting there wasn't a need for controversy. "But my inspiration was a statue. I wanted [mine] to be really personal with my exact mold, but I've always loved the Gaultier bottles."
Was Kardashian's choice in ensemble, then, an attempt at reconciliation, by giving credit where credit is apparently due? She refrained from naming Gaultier by name this time, so it's unclear, though Gaultier has yet to Instagram any praise—or, for that matter, further shade—just yet.
Related: Kim Kardashian Apparently Edits and Approves Every Keeping Up With the Kardashians Scene
9 Times the Kardashians Wore Vintage Clothes, From Gucci to Versace
Kylie Jenner wore a shortened vintage Gucci dress for her 21st birthday party in Las Vegas in August 2018. The original Tom Ford for Gucci dress appeared on the spring/summer 2000 runway.

Photo by @kyliejenner.
At her family's annual holiday gathering in December 2017, Kim Kardashian wore a vintage Christian Dior dress, from the John Galliano for Dior Fall/Winter 1997 ready-to-wear collection.

@ryanseacrest/Getty Images
On a trip to Japan in March 2018, Kourtney Kardashian wore a vintage denim two-piece from the Alexander McQueen "The Eye" Spring/Summer 2000 collection.

Photo by @kourtneykardash.
Kim Kardashian wore a gold vintage Versace maxidress to the premiere of The Promise in April 2017.

Tara Ziemba
Kendall Jenner wore a vintage Chanel 1990s tweed suit during an appearance on The Tonight Show Starring Jimmy Fallon in February 2017.

Theo Wargo/Getty Images
In May 2018—just days after stunning in a vintage black Versace minidress for a 2018 Met Gala afterparty—Kim Kardashian wore another vintage gold Versace gown from the Spring 1995 collection to a dinner for Business of Fashion in New York.

Condé Nast Archives; Dimitrios Kambouris/Getty Images for the Business of Fashion
Kourtney Kardashian tossed on a vintage button-up Chanel blouse during her Italian summer getaway in 2018.

Photo by @kourtneykardash.
Kim Kardashian showed up to the 2010 White House Correspondents Dinner wearing a vintage Valentino gown that used to belong to her mother, Kris Jenner.

MANDEL NGAN/Getty Images
Kim Kardashian opted for a vintage gold (there's a pattern) Balmain dress with a matching Judith Leiber phone-shaped clutch in July 2018 at Pusha T's wedding.

Photo by @kimkardashian.