Why Tel Aviv Is the Ultimate Beach City, According To Kisuii Designer Leora Eltiuv
The swimwear designer makes the case for her home town.
---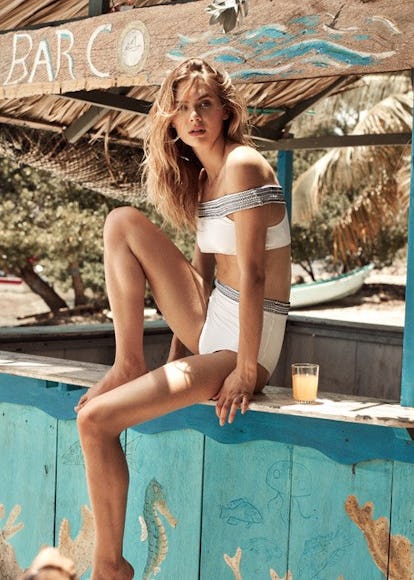 When it comes to packing your bag for a weekend away, look no further than New York-based swimwear brand Kisuii. Designer Leora Elituv offers swimwear, light and breezy separates, jumpsuits and dresses—just about all you need for a quick summer getaway. It makes sense, then, that Elituv's intention in launching the brand was to help a woman streamline the summer wardrobe; today, her motto is quality over quantity. While simple in silhouette and design, Elituv swim is covered in florals, smocking embroidery, and mismatched prints making the pieces playful and perfect for a day at the beach. Here, the designer shares her tips for an endless summer.
What is your favorite beach?
I have visited Tel Aviv every summer for as long as I can remember, and consider Alma beach my favorite. The atmosphere is so low-key, real and unpretentious. It also boasts an incredible view of the old port in Jaffa. There's also something so special about the simplicity—white sands and clear blue water. I have so many great memories and I know the city like the back of my hand; which makes me feel very relaxed and at home when going to the beach. All of the beaches are full of energy and culture, the crowds are super eclectic with both tourists and locals. There is just so much character.
What is your insider secret?
I love to paddle board, which is something I learned while living in Tel Aviv. Sitting on a paddle board in the middle of the ocean is like meditation to me – it's so peaceful and relaxing. I fell in love after a close friend took me on a paddle board excursion in the Mediterranean Sea, just north of Herzliya. The water was so clear and transparent that we could see ancient Apollonian ruins on the ocean floor. There was a green sparkle in the water from the seaweed, and we watched manta rays and other fish swimming through the ruins – it was so magical!
What is your favorite thing to do pre- and post- beach?
I love going for a quick work out before going to beach, it automatically makes me feel so confident in my bikini! After a day at the beach, I love grabbing a fresh watermelon juice to rehydrate and reenergize.
Do you prefer the pool or the beach and why?
I'd pick the beach any day! I love to travel. I think one of the best parts of experiencing a new place, is spending a day at the beach. I love taking in the beauty and newness of my surroundings – the view, people, conversations—regardless of whether I understand the language—and culture. That being said, during my last visit to Tel Aviv, I stayed at the Norman and their rooftop pool was absolutely incredible with panoramic views of the entire city and beach.
What do you always bring to the beach?
A great book and pair of sunglasses, of course. My Elta MD Skincare UV Clear Broad-Spectrum SPF 46 sunscreen for my face and Hamptons Sun SPF 35 to apply on my body. I always have a By Terry De Rose lip balm to put on periodically throughout the day. Finally, for my post beach day, I'll always carry my Natura Bisse The Cure Sheer Oil Free Fluid, Muji blotting paper to balance my skin's after-beach shine, and Oribe's Apres Beach Shine spray to freshen up my beach curls in my beach bag.
How does your favorite beach inspire your work?
I started developing Kisuii while living in Tel Aviv. I drew a lot of my inspiration from its fashion, energy, culture, and of course the warm weather. Tel Aviv is a true beach city – where on any given day, the beach is only one component of your day, thus transitional and light resort wear are a necessity. Kisuii is my response to the nomadic luxe woman's travel needs—classy, feminine and fashionable pieces that can be worn from beach to brunch, city to dinner; these are all part of her day. Our Adrianna smocked bandeau can be worn after the beach as a bralette and layered under a dress or a white button down. Similarly, our Gaia silk wrap dress can be worn open with a bathing suit, but then you can fasten it and throw on a pair of jean shorts and set out to explore a new city.
How would you style your swimsuit from the beach to a night out?
I wear our Terez bikini top as a crop top and pair it with a high-waisted skirt or pants.
What is your ultimate do's and don'ts at the beach?
I think the most important do for the beach is to find a swimsuit that works for your body. Since I have curves with a small waist and bust, I focus more on silhouettes that compliment my shape more so than trends or specific designers. A major don't for me are tan lines, especially when you have a special night planned. There is nothing worse than putting on that perfect strapless dress and seeing two glaring tan lines.
What are you reading this summer?
I just finished reading Breakfast at Tiffany's by Truman Capote for the second time. I just ordered The Neapolitan novels by Elena Ferrante for my upcoming trip to Capri.
What are three songs on your summer playlist?
Right now I am listening to "Music is My Boyfriend" by Skye Sweetham, the remix of "Dancing on My Own" by Tiesto and Calum Scott, and the Ryan Riback remix of "Call on Me."
Related: Swimsuit Model Amilna Estevao Hails from the Beaches of Angola, Wears Sunglasses at Night
Watch W's Top Videos, Here:
The Ultimate Guide to Summer's Best Swimsuits