Kylie Jenner, the Kardashian Family Hipster, Wore a Pixies Shirt to Her Nieces' Birthday Party
What goes better with a band t-shirt than a $275K red Rolls-Royce?
---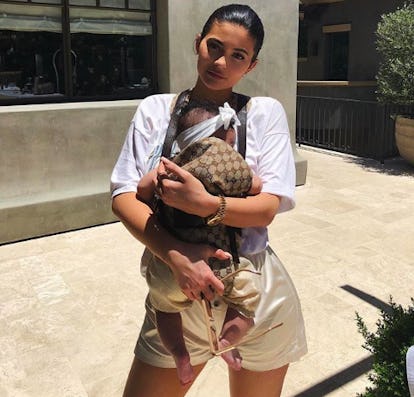 instagram.com/kyliejenner
After 20 years, Kylie Jenner has emerged as the Kardashian family hipster. The youngest Kardashian-Jenner announced this by wearing a Doolittle-era Pixies t-shirt to the birthday party for her nieces, North West and Penelope Disick. Jenner didn't comment on her outfit choice; instead she posted a video of herself wearing it while bopping to rap music in her Rolls-Royce. What goes better with a t-shirt for an album about environmental catastrophe than a $275,000 car?
The Pixies t-shirt Kylie wore appears to be the same one she paired with her beige shorts and $625 Gucci carrier for her daughter, Stormi Webster. If you're going to splurge on your ride and your baby's ride, you may as well skimp on the rest of your outfit. Just kidding — as if.
Despite rumors that Jenner would be returning from her secretive pregnancy as a "mommy blogger," Jenner's cool stock seems to be higher than ever. After all, she's "not a regular mom," she's a "cool mom," as she proudly quoted Amy Poehler's Mean Girls character when debuting neon pink hair for Coachella.
Let's be real, though, Kylie Jenner doesn't need an aging band of mostly white men (no shade to Kim Deal) to align herself with to seem cool. For better or worse, she's already more influential than the Pixies. Not only does Jenner have a cosmetics empire that's on track to reach $1 billion by 2022, she's shaping pop culture — specifically music — on her own.
Just last January, it was revealed that making it onto the soundtrack of Jenner's Snapchat has a measurable effect on musicians. In one instance, when Jenner played Ramriddlz's "Hey Mr. RamRod" as background ambience, searches for the song skyrocketed by 194,200% on Genius. Dubbed "The Kylie Bump," Jenner also inspired a 15,333% in searches on Genius for Harry Hudson's "Stop."
Outside of wearing a Pixies t-shirt, Jenner has been championing artists in the fashion industry, lately, like Phoebe Philo's final collection for Céline from which she wore a swirly dress last month. She also wore custom Alexander Wang to this year's Met Gala when she appeared alongside her boyfriend and the father of Stormi, Travis Scott. Though, her Pixies t-shirt may be her most unforgettable look yet.