Cole Sprouse and Lili Reinhart Join Celebrity PDA Spree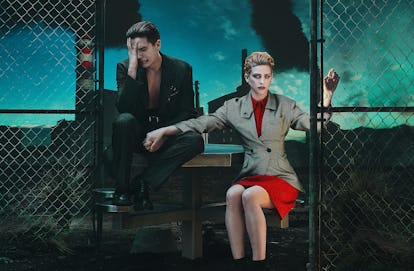 Photograph by Steven Klein; Styled Arianne Phillips.
Riverdale co-stars Cole Sprouse and Lili Reinhart–who have spent a good chunk of the summer under public scrutiny of their exact relationship status–are cutely celebrating Reinhart's birthday. In honor of his girlfriend's born day (which is not only Friday the 13th but the release of her film Hustlers) Sprouse shared a series of adorable, affectionate photos of the two on Instagram. "Lil @lilireinhart was born on a Friday the 13th and haven't I just been so lucky since," he captioned the photos. Aw!
Sprouse's photos come on the heels of some widely-publicized celebrity makeouts. First Timothée Chalamet and Lily-Rose Depp broke the internet with paparazzi photos featuring the two open-mouth kissing aboard a yacht in Italy, and then Shawn Mendes and Camila Cabello unleashed whatever this thing is upon the world. We are grateful for Sprouse and Reinhart's restraint.
In a recent interview with Coveteur, Reinhart confirmed that despite breakup rumors, she and Sprouse were together. She dropped the bomb casually, while chatting about Halloween costumes. "I think I'm leaning in towards a character for Halloween," she said. "I think I'm going to do it with my boyfriend, Cole. I don't want to spoil it if it's not going to happen, but it's a TV duo."
When interviewed for his W cover, Sprouse roundly praised Reinhart. "Lili is an incredibly talented individual who speaks for herself and deserves her own voice box in every single way," he said. "That alone is justification enough for me to do it like this. I don't think we're weaving two different narratives here."
Reinhart also spoke candidly about their relationship with W. "At first, I didn't want things private," she said. "Now that I'm X amount of years in, I do appreciate the privacy we have, that he's encouraged me to take. No one knows how long we've been together, and no one will until we're ready to say it. No one knows how we fell in love, except for our close friends and us. It's really special."
A Visual History of Gross Celebrity PDA That We Can Never Unsee
Perhaps the originators of the celebrity PDA game, Tommy Lee and Pamela Anderson once had a symbiotic relationship between themselves, their tongues, and the paparazzi.

James Aylott/Getty Images
Perhaps the most PDA Emma Stone and Andrew Garfield ever displayed happened to occur on live television when they both appeared on Saturday Night Live to spoof their own Spider-Man characters.

Photo courtesy of NBC/Saturday Night Live
When your husband is known for sticking his tongue out abnormally far, then maybe this sort of red carpet PDA moment should be expected.

Steve Granitz/Getty Images
Kissing your wife in the middle of a Halloween party is one thing, but to make out with her while your mom is mere inches away? That just seems wrong.

Johnny Nunez/Getty Images
The psychosexual game the Kiss Cam asks its subjects to play in front of an arena full of spectators is nothing to be scoffed at, but this moment between Justin Timberlake and Jessica Biel captured at the Staples Center in 2012 is just plain awkward.

Kevork Djansezian/Getty Images
Looking at Nicole Kidman bend down to kiss Keith Urban on the Paddington red carpet feels about as awkward as accidentally sneaking a peek at your mom and dad smooching. At least this romantic gesture was nowhere near as grand and sweeping as the one that convinced Kidman to marry Urban (he showed up on her New York City stoop and swept her upstate on his motorcycle).

Fred Duval
PDA caught on camera is certainly not excluded to smooches—just look at Kanye West's hand placement on his wife Kim Kardashian .

VALERIE MACON/Getty Images
Though she may be a bit camera shy now, Angelina Jolie and her then-husband Billy-Bob Thornton, were the talk of the town as far as Hollywood smooches go, all the way back in 2000.

Frank Trapper/Getty Images
This is a tame display of affection for these two, but it's not exactly the kiss between Behati Prinsloo and Adam Levine that makes this photograph awkward—it's her inexplicable hand position.

Noel Vasquez/Getty Images
Turning a paparazzi shot of yourself and your wife kissing into minor album promo is nothing short of gauche, but what else do you expect from Spencer Pratt and Heidi Montag?

Philip Ramey Photography, LLC/Getty Images
Mark R. Milan/Getty Images
Adjusting your man's sweater while seated next to one another at a sporting event may seem innocuous, but when you remember that age difference (roughly 23 years), catching this action on camera just feels dark.

FRANCK FIFE
Bella Hadid and The Weeknd could barely make it across the street before making out in front of their bodyguard last fall.

Raymond Hall/Getty Images
When Justin Long and Drew Barrymore dated from 2007 to 2010, one smooch in Central Park was caught on camera to immortalize the relationship.

Christopher Peterson/Getty Images
Not even Lindsey Vonn could resist laughing at Jason Biggs and Jenny Mollen hamming it up for the kiss cam at the U.S. Open in 2015.

Jean Catuffe/Getty Images
The pair meant it as a joke, but we still can't unsee it.