Poppy Delevingne's 2018 Met Gala Dress Took 350 Hours to Embroider, and Was Inspired By the Pope
Here, Delevingne shares her Met Gala dos and don'ts, and some of her favorite memories from Met Galas past.
---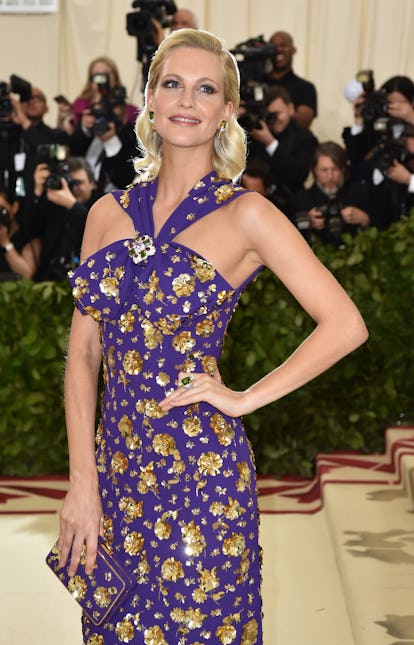 HECTOR RETAMAL
Poppy Delevingne is a Met Gala pro. The actress, who is currently starring on season two of the Emmy-nominated series Genius, has been attending the social event regularly since 2015, and this year attended as a guest of Michael Kors.
Delevingne headed to the carpet with pals Karen Elson and Alexa Chung, as Chung documented the trio singing to Oasis's "Wonderwall" on the car ride over, but her prep had begun well before that moment of impromptu carpool karaoke. Delevingne shared she'd been working on the look "for a week or so" alongside stylist Elizabeth Saltzman. In the end, it certainly paid off, as she slipped into a violet gown covered in gold flowers that took over 350 man-hours to embroider. Here, Delevingne shares her Met Gala dos and don'ts, and some of her favorite memories from Met Galas past.
What was the inspiration behind your Met Gala look this year?
We were inspired by the Pope, and that shade of purple that he wears, hence the color of the dress, with gold embellishment, as gold makes you think of all things angelic & churches.
How did you take the theme into account with your look?
We wanted to give a nod to the theme, but also stay authentic and true to myself. Timeless elegance is what we wanted which is always something that I associate with the Met.
When did you first meet Michael Kors?
Quite a few years ago. I fell in love with his energy and his amazing sense of humor. When I wear Michael Kors, I know I'll have a smile on my face that night.
How did you decide on the finishing touches?
David Webb has always had the most exquisite jewelry and we saw this as the perfect opportunity to use some of their pieces. I'll be wearing not one but two of his beautiful broaches, both Maltese crosses.
How did hair and makeup factor in?
I've worked with Florrie & Earl for some time now, and they wanted to do something that was beautiful and elegant, with a touch of gold. They really are the dream team.
What are some of your favorite memories from Met Galas past?
The year that Rihanna performed. She was sensational, and I wore a Marchesa gown covered in red poppies…
What are some of favorite Met Gala fashion moments, both that you've worn and seen other people wear?
The silver beaded gown I wore two years ago was a firm favorite, [also] by Marchesa. Anything that Beyoncé wears is pretty magical. And Gisele. She always looks like a goddess.
What is your beauty prep leading up to the Met Gala?
A class at Ballet Beautiful, followed by a facial by Teresa Tarmey. I also see Tracie Martyn a few days before for that added glow. And a bowl of French fries before I leave, for the soul.
What are the biggest dos and don'ts for someone attending the Met Gala?
Don't be late. Do take pictures; they're memories you'll cherish forever.
You're currently starring in the series Genius: Picasso. How did that come to be and what about the role attracted you to it?
I play Marie-Thérèse Walter, Picasso's muse and lover for almost a decade. I had studied Picasso a bit at a school, not his personal life, but his art, and my favorite painting of his still to this day is called *La Rêve," which is of my character. The day I got sent the audition, I knew who my character was due to this painting, which was also my screen saver at the time. I knew it was meant to be….
What were your favorite things about working on this series and with this cast?
The generosity and kindness of the cast, the wonderful team at NatGeo, getting to wear these incredible costumes and work with artists themselves in hair and makeup. The list is endless…and the producers and showrunner, Ken Bille, Brian Grazer, Ron Howard [are] all legends in my eyes.
What projects do you have in the works, and what type of acting roles are you looking for at the moment?
I've just signed on to a new TV show that starts at the beginning of June. But for now it's a secret, you'll have to wait and see….
Met Gala 2018: See What Celebrities Wore on the Red Carpet
Rihanna at the 2018 Met Gala. Photograph by Benedict Evans for W Magazine.

Benedict Evans
Cardi B at the 2018 Met Gala. Photograph by Benedict Evans for W Magazine.

Benedict Evans
Lily Collins at the 2018 Met Gala. Photograph by Benedict Evans for W Magazine.

Benedict Evans
Donald Glover at the 2018 Met Gala. Photograph by Benedict Evans for W Magazine.

Benedict Evans
Selena Gomez at the 2018 Met Gala. Photograph by Benedict Evans for W Magazine.

Benedict Evans
Katherine Langford at the 2018 Met Gala. Photograph by Benedict Evans for W Magazine.

Benedict Evans
Jasmine Sanders at the 2018 Met Gala. Photograph by Benedict Evans for W Magazine.

Benedict Evans
Rosie Huntington Whiteley at the 2018 Met Gala. Photograph by Benedict Evans for W Magazine.

Benedict Evans
Kate Upton at the 2018 Met Gala. Photograph by Benedict Evans for W Magazine.

Benedict Evans
Winnie Harlow at the 2018 Met Gala. Photograph by Benedict Evans for W Magazine.

Benedict Evans
Alek Wek at the 2018 Met Gala. Photograph by Benedict Evans for W Magazine.

Benedict Evans
Zendaya at the 2018 Met Gala. Photograph by Benedict Evans for W Magazine.

Benedict Evans
Priyanka Chopra at the 2018 Met Gala. Photograph by Benedict Evans for W Magazine.

Benedict Evans
Migos at the 2018 Met Gala. Photograph by Benedict Evans for W Magazine.

Benedict Evans
George and Amal Clooney at the 2018 Met Gala. Photograph by Benedict Evans for W Magazine.

Benedict Evans
Lena Waithe at the 2018 Met Gala. Photograph by Benedict Evans for W Magazine.

Benedict Evans
Ariana Grande at the 2018 Met Gala. Photograph by Benedict Evans for W Magazine.

Benedict Evans
Kim Kardashian at the 2018 Met Gala. Photograph by Benedict Evans for W Magazine.

Benedict Evans
Travis Scott and Kylie Jenner at the 2018 Met Gala. Photograph by Benedict Evans for W Magazine.

Benedict Evans
Blake Lively at the 2018 Met Gala. Photograph by Benedict Evans for W Magazine.

Benedict Evans
Bella Hadid at the 2018 Met Gala. Photograph by Benedict Evans for W Magazine.

Benedict Evans
SZA at the 2018 Met Gala. Photograph by Benedict Evans for W Magazine.

Benedict Evans
Kendall Jenner at the 2018 Met Gala. Photograph by Benedict Evans for W Magazine.

Benedict Evans
Janelle Monae at the 2018 Met Gala. Photograph by Benedict Evans for W Magazine.

Benedict Evans
Emily Ratajkowski at the 2018 Met Gala. Photograph by Benedict Evans for W Magazine.

Benedict Evans
Daniel Kaluuya at the 2018 Met Gala. Photograph by Benedict Evans for W Magazine.

Benedict Evans
Gigi Hadid at the 2018 Met Gala. Photograph by Benedict Evans for W Magazine.

Benedict Evans
Katy Perry at the 2018 Met Gala. Photograph by Benedict Evans for W Magazine.

Benedict Evans
Paris Jackson at the 2018 Met Gala. Photograph by Benedict Evans for W Magazine.

Benedict Evans
Madonne and Nicki Minaj at the 2018 Met Gala. Photograph by Benedict Evans for W Magazine.

Benedict Evans