How a Former Winemaker Ended Up Making Gwyneth Paltrow's Go-To Serum
Why you should ditch your six step skin care routine right now and use this celebrity-approved serum.
---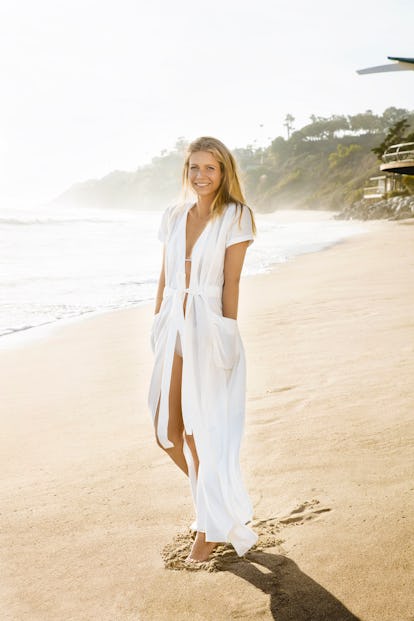 Brigitte Sire
Five years ago, winemaker April Gargiulo, had tired, acne-prone, problem-ridden skin. "I had tried everything under the sun, from expensive products, to drug store ones," begins Gargiulo. "I wanted that one product that was the foundation of skincare, something multi-correctional, high quality, and non-toxic, but I couldn't find it." With no previous experience in skincare and a background in fine wine making from growing up on her family's vineyard, Gargiulo committed the next two years to sourcing the best oils and herbs for her skin. "I researched what ratios the oils have to be in in order to be effective. Then I brought on two women, each who had twenty-five years' experience in the formulation world, and we created it from there," she explained of launching Vintner's Daughter, a serum comprised of twenty-two active botanicals. Most of the ingredients are ancient healing plants she sources from around the world that she imports to her lab in northern California—the exact location she won't disclose so competitors don't seek it out. Now, three years later, Gargiulo is still committed to her single serum, with no plans to expand her frequently sold-out product into a full line. "I wanted to make the one product you would never leave home without, and don't need anything else." The miracle serum has amassed celebrity devotees like Gwyneth Paltrow, Rachel Weiss, and Amy Schumer, and stockists like the Webster, Forty-Five Ten, and Liberty in London. Here, Gargiulo explains why you can ditch your six step skincare routine.
How did you go from producing wine to making one of beauty's most covetable serums?
My background is in fine wine-making, meaning my family and I would wake up and strive to make the finest wine we can, so that means quality and ingredients are everything. From the dirt to the water, it's all part of the final product. Of course there is so much out of our control, so when you can control it, you have to focus on choosing the best quality ingredients.
So you went into producing a serum with that mind set?
Yes, and I have always had problems with my skin. I had tried everything under the sun, from expensive products to drug store ones. What I couldn't believe was that when I started looking at the ingredients, there was really no difference between the expensive and the drug store products. The expensive was made with the same cheap, rose toxic filler that the drug store creams used. To me, that was just unacceptable. I wanted a product that was made with the best ingredients. And I was willing to pay for something that works, something that is made methodically and thoughtfully. I wanted to make the one product you would never leave home without. I wanted it to be totally safe and non-toxic, and have dramatic results on all skin types, all ages, and all races. We accomplished this by making it nutrient-dense, with whole botanicals. We are using a century-old process, that is far more expensive and far more complicated, which is why no one does it anymore. It's a process that allows us to extract all the nutrients of the plants.
What kind of plants do you use?
Plants and flowers such as alfalfa, dandelion, and nettle—the most nutrient-dense plants in the world. In the ancient times, these plants were called the "food of life" because they gave you everything you need, all the minerals, fatty acids, omegas, phyto-nutrients, and antioxidants. They were foods that made you feel your best.
Why is your extraction process so crucial to the effectiveness of the serum?
We wanted to extract everything these plants had to give, and do it in the most optimal ratios. It's an ancient, time consuming, expensive process, and most companies are not willing to make that kind of money and time commitment. But coming from fine-wine making, I was really comfortable with that. You grow grapes but don't see the fruits of your labor until 3 or 4 years later. You're building something you want to last for fifty years. With Vintners Daughter, I'm comfortable with the fact that it takes us three weeks to make one batch, because the quality is unparalleled and I really value the process. In terms of extraction, sometimes we get the whole plant – the nettle or dandelion for instance—other times we get the whole flower or leaf. The process is similar to wine—with wine it's called extended maceration, and in beauty it's called effleurage. Again, I totally understand why no one does it. Our facility is all stainless steel lab equipment, with people in hazmat suits and gauze shower caps. It's not romantic… it's an intense sterile environment.
Do you think wine helps the skin? You always hear that resveratrol helps…
I think there is no question, and science has proved resveratrol is a huge anti-inflammatory.
How does one product work for everyone?
It was developed for my skin, and lucky for everyone, I deal with a lot of junk, so I have acne-prone skin, I have discoloration, I'm a new mom, my skin is tired, so we really developed the product around those issues. The underlying factors in almost all skin issues are environmental, inflammation, imbalance, using too many products. You create a situation where your barrier is shattered and your skin can't defend itself anymore. The active botanical serum addresses all of these issues in a foundational, dramatic way, so all skin types can benefit from it.
18 Celebrity-Approved Beauty Products that Professional Makeup Artists Actually Use
So there is no one magical ingredient?
Honestly, no. I know beauty is sold based off of one or two ingredients, but active botanical serum is about a commitment to 22 different ingredients. They were chosen because they work together. It's really about our process, and how these ingredients come together, and how we allow them to bring every nutrient they have to the table, versus creating it out of a test tube and isolated actives. I really believe that just like in food, there are certain things that make other things vibrate at a higher frequency or work better on your skin. So we have a real deep respect for that. Every ingredient we use is because mixed together they work better.
Where do you source the plants and oils from?
From the best, most conscious farmers around the world. There are some things that just grow better in certain places. Our hazelnut oil comes from a farm in the Piedmont region in Italy. They've been growing and producing this hazelnut oil for generations. Our Cyprus is wild crafted from the coast of Spain, our tomato oil comes from a co-op of growers in Madagascar, our rose oil comes from a family that's been growing and producing the most amazing organic rose oil from Bulgaria, and our neroli oil comes from Morocco. We have 22 different, artisanal ingredients like that. We test every one, and coming from wine making, I'm interested in something with shelf life that is stable.
It's pretty incredible that you did this with no background in skincare…
Coming from fine wine making, there's a huge parallel. One absolutely led to the other, especially in terms of setting the framework for what I wanted Vintner's Daughter to be. I can't tell you how many labs I got turned away from. They said, "sorry we won't make it like that, we'll substitute this ingredient out, and use this extract instead, and it will be same product." But I told them that's not what I was interested in doing, that I didn't want to compromise. The fine wine making background has been everything.
How has your skincare routine changed since you developed the product?
I was using cleanser, toner, serum, post serum, and moisturizer. It was crazy. And the products I was using didn't really do much at the end of the day.
How is the serum best applied?
Day and night. I advocate a simple program. You're getting everything your skin needs. You don't need complicated products or a routine around it. I always say cleanse, tone – which I think is critical—apply the active botanical serum, drop the mic, and walk away. You don't need anything else.
When did you have your "I made it" moment?
When I started getting emails from women over 60, all telling me the same thing—that their friends think they had cosmetic surgery done, and that they didn't have to wear makeup anymore. I also got emails from women in their 20s, saying that they had crazy cystic acne, and this changed everything. I would hear from women with rosacea, who would walk in to their dermatologists offices and when their doctors said their skin looks great, they would say it's not because of the prescription medications. When I started getting emails from African American women, saying it totally changed their skin, that was when I was like OK, this is the product I wanted to build. These were many small moments like these.
What is the biggest skincare myth you proved wrong?
There's an idea floating around that a single ingredient product is better. That you should just use Argan or coconut oil. And for me, the performance level I need for my skin, a single product just didn't work. I needed something that was complex and sophisticated and well thought out. So we proved that it could be done in an effective, high quality way.
Is it so clean that you would eat it?
You could, but I would never waste it like that.
Supermodels break down their best beauty tips: