Taylor Russell Enters the World of Studio Ghibli With Loewe
Plus more of the season's latest collaborations and launches.
---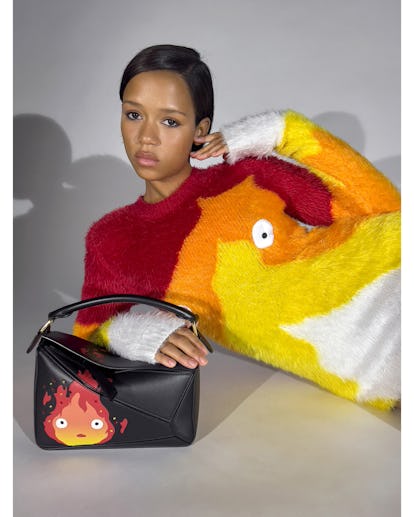 Taylor Russell for Loewe x Howl's Moving Castle photographed by Juergen Teller. Courtesy of Loewe.
Loewe x Howl's Moving Castle
Just five months after Loewe's first collaboration with Studio Ghibli—the acclaimed animator, director, and screenwriter Hayao Miyazaki's animation and production company—the Spanish fashion house is back with yet another collection inspired by Miyazaki's fantastical worlds. While the last iteration paid homage to the classic Spirited Away, this particular capsule is a tribute to the 2004 film Howl's Moving Castle. The movie, which is loosely based upon a 1986 novel of the same name, starred the likes of Christian Bale and Emily Mortimer voicing the characters. So it only makes sense that Loewe would cast some A-list Hollywood talent for its collab campaign. Enter: Bones and All star Taylor Russell, who was photographed by Juergen Teller for the advertisements holding leather goods that bear images from the film, along with a slew of ready-to-wear. The collection will be available at a pop-up Loewe will host at Saks Fifth Avenue from February 2nd-8th, as well as in stores and online.
Taylor Russell for Loewe x Howl's Moving Castle photographed by Juergen Teller. Courtesy of Loewe.
Taylor Russell for Loewe x Howl's Moving Castle photographed by Juergen Teller. Courtesy of Loewe.
Future Collective with Gabriella Karefa-Johnson
Call it a major win for fashion editors and stylists everywhere—Gabriella Karefa-Johnson, the global contributing fashion editor at large for American Vogue, has snagged a collaboration with Target's Future Collective subbrand. Karefa-Johnson's eclectic and magpie personal fashion sense has led to major cover styling gigs with the likes of Serena Williams, Florence Pugh, and Bella Hadid (as well as an appearance in a fashion story in the pages of W magazine). And now, her diverse approach to playing with proportion, prints, and lots of color has translated to a Target clothing line through the mega-retailer's Future Collective program. Through Future Collective, Karefa-Johnson will release a collection of almost 100 items over the course of three seasonal refreshes; the first batch will drop on Sunday, January 29. With pieces like dresses, skirts, outerwear, matching sets, and slacks, all available in an inclusive size and price range, there's something for everyone. Available on the Target website and in select Target stores.
Cartier Updates the Tank Française
Like so many brands these days, Cartier is revisiting a '90s with a refresh of its classic Tank Française. Originally launched in 1996, the style known for its metal bracelet quickly became an important member of the iconic Tank family. Twenty-seven years after its creation, the bracelet has been redesigned by the maison to create a more pure and ergonomic curve that works for all wrists. The launch of this reimagined watch is accompanied by a new campaign featuring friends of the house Catherine Deneuve and Rami Malek in a short fashion fantasy directed by Guy Ritchie.
The Snow Lodge x Guest in Residence
Aspen, Colorado isn't just a skier's dream destination. These days, it's a hub for the rich and famous, with designer boutiques (Dior, Balenciaga, and Prada among them), plenty of sumptuous eats at fine restaurants, and a buzzing nightlife scene. Leading the pack of parties and events in Aspen is The Snow Lodge, the sister location to Montauk's restaurant-slash-bar-slash-music-venue The Surf Lodge. Much like its Hamptons counterpart, The Snow Lodge—located inside The St. Regis Aspen Resort—features art, music, food, and fashion, with some of the industry's top names popping up inside Snow Lodge's walls. The latest celebrity to join in: Gigi Hadid, who collaborated with The Snow Lodge on a capsule for her cashmere brand, Guest in Residence. Consisting of limited-edition, unisex, cashmere pieces—think hoodies and comfy crewnecks—the collection is now on sale at a pop-up experiential and concept store inside The Snow Lodge (you can also purchase online, here). "Guest in Residence uses the finest cashmere to create high-quality pieces intended to be lasting heirlooms, so it will be fun to see the second generation of Snow Lodge patrons wearing it in the years to come," said founder and creative director of The Surf Lodge Brands Jayma Cardoso.
Gigi Hadid visits her pop-up inside The Snow Lodge.

Courtesy of The Snow Lodge
The Surf Lodge Brands founder and creative director Jayma Cardoso poses for a photo with Gigi Hadid.

Courtesy of The Snow Lodge
A look from The Snow Lodge x Guest in Residence's collaboration.

Courtesy of The Snow Lodge
A look from The Snow Lodge x Guest in Residence's collaboration.

Courtesy of The Snow Lodge
The Telfar Wallet
If you've been holding back on investing in a Telfar accessory, now just might be the time to pull out your debit card. On January 13, the cult-favorite, New York City-based fashion label unveiled a brand-new, upcoming drop: wallets. While designer Telfar Clemens's style known as "The Brooklyn Birkin" has cornered the market for understated, minimal totes—revitalizing the concept of the "It" bag as a result—this latest release will surely leave fans in a state of panic while they figure out how the hell to cop the piece before it sells out (given Telfar's record of popularity, there's a strong chance that it will). Starting Monday, January 23 at 12 PM EST, all 17 colorways of the 100 percent genuine leather wallet will be available for purchase on telfar.net. Set your alarms. Below, a look at all the offerings:
Louis Vuitton x Yayoi Kusama
Just a hop, skip, and a jump from the Whitney Museum in New York City's Meatpacking district, Louis Vuitton has opened a pop-up shop celebrating its 10th anniversary collaboration with Yayoi Kusama. Naturally, the store is covered in yellow and black dots, along with silver orbs adorning the floors and shelves—both are immediately identifiable signatures from the Japanese contemporary artist. But the design elements come second to the stunning collection: Vuitton's Damier print has been remixed by Kusama herself (who, true to form, painted multicolored spots all over the maison's handbags), and features offerings for all genders. There are sporty and office-ready pieces galore—from sneakers to a pair of standout studded lug-sole loafers—but we were particular fans of the dotted raincoat with the Damier leather collar, and the pumpkins (yet another Kusama signature) that were actually twee key holders attached to a range of purses. Shop the collection here.
Looks from the collection.
Courtesy of Louis Vuitton
Tiffany & Co. Meets the Fendi Baguette
The phrase "name a more iconic duo, I'll wait" is overused. But here, it is entirely applicable, and, frankly, a bit of an understatement. The collaborative Baguette bag from Tiffany & Co. and Fendi (which was introduced at the Italian fashion house's NYFW celebration of the Baguette's 25th anniversary back in September) is now available for purchase. Fendi's only request of its collaborators? Put their own spin on the classic silhouette. Tiffany's purse, done in robin's-egg blue silk with a silver interlocking "F" logo, also features the signature "Please Return to Tiffany & Co." tag, clipped onto the handle. There are, additionally, leather or crocodile-skin options for those looking to up the glam even further. But we personally love that little blue box—and wouldn't mind wearing it on our arms, either.
This article was originally published on