Amy Schumer's Italian Honeymoon Is a Delightfully Rule-Breaking Art History Lesson
From not crediting artists to taking unapproved photos to, um, plagiarizing, she's been having quite the time abroad.
---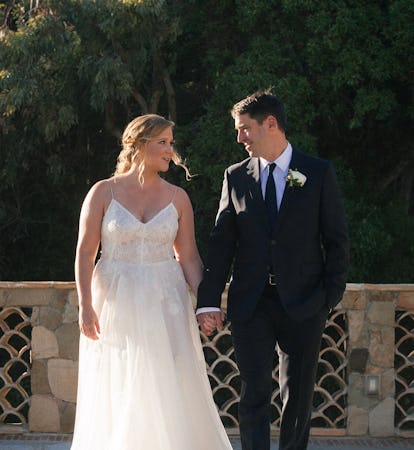 Courtesy of @amyschumer
Amy Schumer has had quite a few surprises in store for us as of late: Last month, she secretly married Chris Fischer, a chef with whom she was first spotted just last November, and had only made their relationship Instagram-official a few days prior. She made predictably raunchy wedding-vow history by promising oral sex. And now, on her honeymoon to Italy, she's suddenly pivoted to becoming something of an art historian.
Well, she's at least using her platform to teach her 6.6 million Instagram followers a little something about art. That started six days ago, when Schumer made an abrupt departure from posting blurry A Wrinkle in Time posters to a striking nighttime snapshot of the ornate Milan Cathedral, aka the Duomo, which took nearly six centuries to construct. Then, after making two posts about her upcoming film I Feel Pretty, two days later, Schumer went back to sharing more treasures from Milan with a not-so-professional shot of The Last Supper, Leonardo da Vinci's famed 15th-century mural which resides in the Convent of Santa Maria delle Grazie (and which, side note, Paris Hilton recently referred to as "Jesus' Breakfast").
The reason for Schumer's bad angle can be found in the comments section: whereas one user was impressed, commenting, "I can't believe you snuck a pic. Nice," another opted to reprimand Schumer, reminding her that "taking pictures of The Last Supper is strictly forbidden." To be fair, Schumer didn't use flash, so we can't immediately cast blame as to whether her snapshot further damaged the mural's preservation. Her suspicious angle, though, definitely suggests she knew she was up to something sneaky.
Anyway! After posting about inclusion riders, Schumer announced that she'd be making her way to Venice next, where she posted a photo of tourists posing in front of the Piazza San Marco and a zoomed-in gallery of pics taken by Fischer showing her delight while marveling at one of the city's many canals.
But enough with Venice! It was time for "Roma," as she put it, where Schumer wished her followers a happy International Women's Day with a gallery of art featuring women across Rome, from mosaics to marble sculptures to paintings, oddly enough starting with the Italian mannerist painter Giuseppe Cesari's early-17th-century depiction of the rape of Europa, a mythological story of a woman whom Zeus abducted by transforming into a bull and transporting her to Crete, where she bore three of his children. (The tale has questionably been something of an art-history favorite for male artists over the years, also painted by stalwarts like Rembrandt and Titian.)
Schumer unfortunately didn't provide the context for that story, but she did take the time to add a bit more info when she next posted Diana and Actaeon, another myth more famously depicted by Titian, which she this time properly attributed to another Cesari, Giuseppe's brother Bernardino. Schumer also succinctly and impressively summarized the myth this time around: "Young prince Actaeon, hunting in the forest, stumbled accidentally upon the grotto where Diana and her companion were bathing. To punish him for the glimpse of divine nudity, the goddess turned him into a stag. He was pursued and torn to pieces by his own hounds. The painting depicts when Actaeon has sprouted antlers. He staggers backwards as his own dogs spring at him."
As it turns out, though, Schumer was once again skipping out on the credit; a quick Google search reveals that she actually seems to have copied and pasted that summary from an art historical website.
Sorry to rat you out, Amy! Let's take a moment to focus on the good things, too, like how much fun Schumer and Fischer seem to be having on their travels. In case you've been behind on tracking her Instagram Stories, E! has kindly taken screenshots to give us that much-needed hope that love is indeed still alive.
Related: Amy Schumer Married Chris Fischer: Here's Everything We Know
The Most Photogenic, Over-the-Top, And Globe-Spanning Weddings of the Year
Hannah Bronfman and Brendan Fallis during their wedding at La Mamounia resort in Marrakech, Morocco, May 2017.

@brendanfallis
Brendan Fallis and Hannah Bronfman celebrate their first day as a married couple in the best way possible—crystal blue pool water and a bright green inflatable lime.

@hannahbronfman
Tommy Hilfiger's wife Dee Ocleppo captured the wedding of her stepdaughter Ally Hilfiger and longtime boyfriend Steve Hash, with whom she already has a daughter, Harley.

@mrshilfiger
An intimate shot of Ally Hilfiger and Steve Hash before their wedding on the private island Mustique.

@allyhilfiger
And for the ceremony itself—she captioned this one "OUI OUI OUI"—Courtin-Clarins opted for a straight-off-the-runway Jacquemus tunic and straw hat, quite the fashion-forward alternative to the classic white wedding dress.

@clairecourtin
Beauty scion Claire Courtin-Clarins celebrated her wedding in Mykonos, Greece, last month.

@clairecourtin
Pippa Middleton and James Matthews after their wedding at St. Mark's Church in Englefield, England, May 2017.

WPA Pool/Getty Images
Kate Middleton, Duchess of Cambridge, leads the pack of children at the ceremony in Englefield, England, May 2017.

Samir Hussein/Getty Images
Tracee Ellis Ross attended the wedding of her 29-year-old brother Ross Naess, June 2017.

@traceeellisross
Ross Naess married girlfriend of 11 years Kimberly Ryan, with whom he was then expecting his second child, at a camping-themed, "shoes optional" ceremony in the woods last month.

Kimberly Ryan / Instagram
Zac Posen designed Arden Wohl's ethereal, antique-looking wedding dress for her wedding to art star Jonah Freedman in Williamsburg, New York, June 2017.

@zacposen
Director Tara Subkoff was also in attendance at Arden Wohl and Jonah Freedman's Williamsburg wedding—and she made sure to document the ceremony.

@tarasubkoff
Domino Kirke poses with sisters Jemima and Lola, both actresses, at her civil ceremony wedding to Penn Badgely in Brooklyn, New York, February 2017.

@lolakirke
Victoria Swarovski, the Austrian singer and heiress to the crystal fortune, married mogul Werner Mürz in Portopiccolo, Italy, wearing a dress designed by Dubai-based designer Michael Cinco, featuring 500,000 Swarovski crystals and a five-meter train.

@victoriaswarovski
Victoria Swarovski at a fitting for her Michael Cinco-designed dress for her wedding to Werner Mürz, June 2017.

@michael5inco
Lucilla Bonaccorsi at her wedding to Filippo Richeri in Sicily, Italy, June 2017.

@lucillabonaccorsi
Actress Fiammetta Cicogna and guests at the wedding of Lucilla Bonaccorsi and Filippo Richeri in Sicily, Italy, June 2017.

@fiammettacicogna
Lucilla Bonaccorsi and Filippo Richeri at their wedding in Sicily, Italy, June 2017.

Filippo Richeri/Instagram
Lucilla Bonaccorsi and Filippo Richeri, newlyweds, ride off into the sunset after their wedding in Sicily, Italy, June 2017.

Filippo Richeri/Instagram
Nina Dobrev and Maude Hirst attend Julianne Hough's wedding to Brooks Laich, the "most fun wedding I've ever been to," according to Dobrev, in Coeur D'Alene, Idaho, July 2017.

@nina
Actress Maude Hirst with newlyweds Julianne Hough and Brooks Laich in Coeur D'Alene, Idaho, July 2017.

@maudehirst
Julianne Hough and Brooks Laich wed in Coeur D'Alene, Idaho, July 2017.

@juleshough
Miranda Kerr with Maria Grazia Chiuri of Christian Dior, who designed her custom couture gown for her wedding to Snapchat CEO Evan Spiegel.

@mirandakerr
Model Miranda Kerr and Snapchat CEO Evan Spiegel on their wedding day—Kerr in a custom Dior couture gownand Spiegel also in Dior.

@mirandakerr
Sarah Staudinger of Staud at the wedding of former DJ Cassie Coane in upstate New York, with fellow bridesmaids Mary-Kate and Ashley Olsen and Harley Viera-Newton, July 2017.

@staud
In another outtake from the same group portrait, Harley Viera-Newton captioned, "We all got married!!!!"

@harleyvnewton
"When your wedding vision is George Harrison finding God in India," Lily Waronker captioned her Instagram from Coane's wedding.

@lilywaronker
Naomi Campbell in Hussein Bazaza for the wedding of Carol Sabbagha in Beirut, Lebanon, July 2017.

@husseinbazaza
Naomi Campbell in Ralph & Russo at the wedding party of Carol Sabbagha in Beirut, Lebanon, July 2017.

@merhebmandy
Sophie Lasry's wedding to Alex Swieca may have been the only one this summer to feature two Clintons, J.Lo, and a real housewife, despite its quotidian location at Cipriani Wall Street.

@selasry