Exclusive: Joan Smalls, Ashley Graham, and Anna Ewers Come Together in Jamaica for David Yurman's Fall Campaign
"While I don't look like her at all, I always try to emulate what she looks like in those campaigns when I was practicing modeling in the mirror. Her eyes are so piercing."
---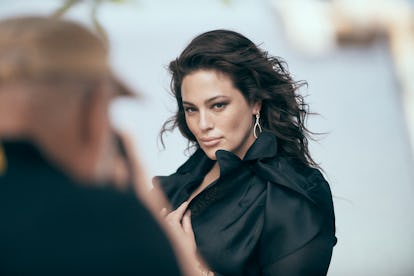 HUGO MAPELLI
Only a few occasions can bring together the world's most famous models in one place: Fashion Week, the Met Gala, and, as it turns out, a David Yurman campaign.
With the continued theme of "Celebration," which was first established in the brand's 2000 campaign, the latest images bring together Joan Smalls, Ashley Graham, Amber Valletta, Anna Ewers, Meghan Roche, Florence Clapcott, and Cobi. The models were shot by Peter Lindbergh at the GoldenEye Resort in Oracabessa, Jamaica, ensuring that this particular work trip was a bit more exciting than just your typical day at the office.
"The group of girls going, we are all actually friends, and we are going to have a good time and just enjoy the warm weather," Smalls told W the day before heading to Jamaica. "It makes it so much easier, and you don't feel like you are working that day because you get to catch up. We are always traveling to different parts of the world, so we never get to be in the same city at once. When we're working, we are all there for eight or 10 hours, so it is amazing to have that time and just laugh. It doesn't feel like a job."
Graham, who had previously been to Jamaica on her honeymoon, echoed the sentiment. "I feel like it is going to be one big party on set," she said. "Shooting with other girls makes it much more fun. Fashion is important, but it's important that it's fun and a time to celebrate different types of beauty. That's exactly what usually happens on set, and I know we are going to have a blast."
For some of the models, including Valletta, Ewers, and Smalls, this marks a return to the brand, with Smalls having first appeared in the fall 2011 campaign. "I didn't realize how long it has been," she said."Those images have always been one of my favorite. They are so iconic, and to be shot by Peter Lindbergh is insane. That's an experience that goes down in history in my book."
But for Graham, the campaign is a completely new experience—and a particularly special one. "This is my first really big jewelry campaign," she noted. "The really funny part is I had been working with my team, writing out what I wanted to do. David Yurman had always been top of the list, but I had just written it down last week when we were making a big poster board. It was a moment."
Reflecting on past David Yurman campaigns, the model immediately pointed to her favorite. "The ones that stick out in particular are those with Daria [Werbowy], because she was a model who, while I don't look like her at all, I always tried to emulate when I was practicing modeling in the mirror. Her eyes are so piercing. So I will be channeling Daria when I am in Jamaica."
With a roster of other previous models that includes Kate Moss, Kate Upton, and Natalia Vodianova, the brand's campaigns are among some of fashion's most instantly recognizable, thanks to their consistently clean black-and-white aesthetic. "For us, it's always been about creating imagery that captures the beauty in everyday moments of life," said Evan Yurman, David Yurman's chief creative officer. "My parents always worked toward having the imagery evoke joy, lightness, and life–a spirit of playfulness yet sophistication, and to signal empowerment and confidence. The brand was one of the most progressive in the jewelry industry at that time, with our campaigns. When all the other luxury jewelry brands were shooting product-focused campaigns, we started shooting images that captured the casual elegance and authentic glamour from an American point of view. We expressed something beyond the product that put the jewelry in context with a model that communicated a certain lifestyle."
To feature a mix of models new and old for fall 2018 is a reflection of the current state of the brand itself, in both its design, which expertly mixes heritage pieces with modern touches, and its leadership, thanks to the vision of Evan, son of the brand's founders, David and Sybil Yurman.
"It is always important in whatever you do in design to retain the heritage and the core values of the brand," Yurman said. "That goes for the heritage of the brand and where it came from, as well as the design plans, as far as what are some of the key design queues in the company. I definitely respect those brand values and design values while trying to create a very relevant and current reflection of design today."
Of his design philosophy, Yurman said, "Right now what is important to recognize in design is the change in the world around us; in art, in fashion, in technology, and so many more things. A lot of designs have become incrementally more modern, with incorporating sleek lines, and allowing how you wear it to be versatile. I think people are looking for items that they can wear every day and are representative of how they want to show themselves."
As a result, he hopes that shoppers "can find a piece of themselves in it. It's approachable and it makes them dream. They can wear these pieces and add them to the personality of who they are, and use it as a form of expression."
Rest assured, Yurman already has fans among his very own campaign stars. "I love that it is iconic, and whenever you see a Yurman piece, you can point it out," said Smalls. "They've done such a good job at creating their specific DNA that when you see it, you know it. And I love a lot of the new stuff that they've been doing with rose gold, because that's what I tend to lean toward."
Added Graham, "David Yurman has pieces that are more than jewelry; they are art pieces. Their designs are iconic and timeless. I love when a brand is discrete with their signature look, like the cable design. When I moved to New York, all of my friends had David Yurman jewelry. I feel like the brand is unlike any other because it is unconventionally bold and it's beautiful."
As for her favorite personal piece? "I'm still waiting on it!"
Chances are with this campaign under her belt, she won't be waiting much longer.
Related: Ashley Graham Calls Her New Revlon Campaign "Groundbreaking," Because It Is