Kendall Jenner Is Reportedly on Vacation With Rumored Boyfriend Ben Simmons
Along with Khloé and Tristan.
---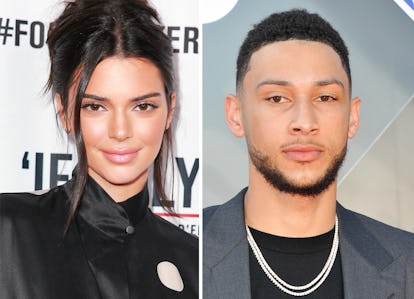 Photo courtesy of Getty Images.
Kendall Jenner has fled to Puerto Vallarta, Mexico, with her maybe-boyfriend Ben Simmons—presumably to recover from a public run-in with her ex Blake Griffin at Kylie Jenner's 21st birthday party. (Or maybe Kanye West's declaration that he wants to "smash" all four of his sisters-in-law.) According to Entertainment Tonight, the possible couple went on vacation over the weekend with Khloé Kardashian and Tristan Thompson. There's not much else to report: According to The Sun, Jenner laid "back and relaxed in the sunshine," while Simmons "dived into the pool to cool off." She was later observed to have followed proper life-jacket etiquette while jet skiing. Meanwhile, according to snaps published by ET, Kardashian and Thompson were busy gathering photographic evidence of themselves engaging in public displays of affection.
Oh, and also, much like Ariana Grande, Jenner "loves clouds." She uploaded an album to Instagram, presumably taken on vacation, of cloud pics. She paired the album with the caption, "i love clouds."
News broke of Jenner and Simmons's rumored romance back in May, when anonymous sources began to report seeing the pair loitering at different trendy restaurants on both coasts. "Kendall has been out with Ben Simmons a few times and she likes him," a source told E! News at the time. "They have mutual friends and have been getting to know each other over the last few weeks. He has been spending time in L.A. with her and has been to her house. They've hung out there and have been to dinner a few times."
Three months later, they have yet to confirm their relationship. Instead, they have been spotted doing various adult activities together, such as buying groceries, reportedly renting a summer home for $25,000 a month, and maybe or maybe not becoming entangled in a love triangle with Simmons's ex, singer Tinashe. Despite Jenner's alleged feelings of annoyance toward ex drama, Simmons was reportedly present when she ran into Griffin at Kylie Jenner's 21st. Hence, I guess, the vacation.