The Strangest Things That Paris Couture Week Managed to Make Chic, From Yoga Mat Hats to Gym Shoes
Fall 2018 wasn't afraid to get weird.
---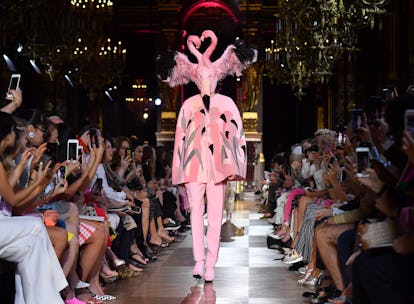 Stephane Cardinale/Corbis/Getty Images
Paris Couture Week, which just came to an end, proved itself more than ever this season by managing to be as dreamy as ever, despite temperatures that climbed to about 100 degrees. Maybe it was the heat that got to everyone's heads, but amidst the usual sumptuous fare like Chanel's obligatory wedding dress, the fall 2018 runways also played host to plenty of oddities, like the model-turned-flamingo seen above, who was the handiwork of the milliner Steven Jones and Schiaparelli. She (it?) wasn't alone—take a look at all of the other somehow still chic oddities spotted over the past week, from hats made of yoga mats to versions of your parents' gym shoes topped off with spikes.
Stiletto iPhone Holsters
As usual, John Galliano proved he's still got plenty of tricks up his sleeve at his show for Maison Margiela, which included stilettos and boots that came complete with iPhone holsters—the chicest strategy to stop your eyes from being glued to your phone that we've ever seen.
Yoga Mat Hats
Galliano turned out to have even more lifestyle hacks: What better way to make sure that you actually go to your seven p.m. yoga class like you planned spending the entirety of your long day with your yoga mat strapped to your head?
Life-Threatening Athletic Wear
We get it—a peach pink yoga mat might not be exactly your style. But Demna Gvasalia isn't about to let the alts get off the hook: he topped off the athletic sneakers and sports sunglasses he showed at Vetements with an array of spikes, so you can make you're on-brand even while you're exercising.
Swiffer Stilettos
Giambattista Valli had yet another lifestyle hack—there's no need to sweep the floor of your apartment if you simply stick to wearing his floor-dusting feather shoes.
HAIR!
In case the clarion call for big hair's return at Valentino, seen above on Kaia Gerber, wasn't loud enough, Jean-Paul Gaultier suggested a new manner of partaking in the trend for those who don't have the time or energy to tease: simply putting on an earring, which just so happens to make your hair reach all the way to your navel.
VR Sunglasses
Don't let the tinfoil hats at Maison Margiela give you the wrong idea: in addition to his iPhone holsters, Galliano proved he's far from fearful of technology by topping off models with VR goggles in place of sunglasses.
Drone Mishaps
Givenchy reminded showgoers that if you run into some difficulties with, say, your iPhone holster, you're not alone in struggling with technology; the drone it employed to capture each of the show's stunning couture looks, for example, eventually ended up in the company of some less than chic seagulls.
Imprisoned Free Nipples
Jean-Paul Gaultier's show may have featured slogans like "tétons libres" and "free the nipple," but the topless models who paraded them oddly enough kept their protected behind what looked like lightweight riot shields.
…Roman Polanski?
Technically, this was at a cruise show, but since it was the day before Paris Couture Week, it's worth mentioning that Miuccia Prada invited Roman Polanski to her Paris showing, where he apparently sipped champagne and took in the latest Miu Miu collection just like any other guest who hasn't admitted to once having sex with a 13-year-old.
Related: No One Is Having More Fun at Paris Couture Week Than Tracee Ellis Ross
See What Everyone's Wearing to Paris Haute Couture Fashion Week This Season
Street style during Paris Haute Couture Fall 2018 in Paris, France, on Sunday, July 1, 2018. Photograph by Adam Katz Sinding for W Magazine.

2018 Adam Katz Sinding
Street style during Paris Haute Couture Fall 2018 in Paris, France, on Sunday, July 1, 2018. Photograph by Adam Katz Sinding for W Magazine.

2018 Adam Katz Sinding
Street style during Paris Haute Couture Fall 2018 in Paris, France, on Sunday, July 1, 2018. Photograph by Adam Katz Sinding for W Magazine.

2018 Adam Katz Sinding
Street style during Paris Haute Couture Fall 2018 in Paris, France, on Sunday, July 1, 2018. Photograph by Adam Katz Sinding for W Magazine.

2018 Adam Katz Sinding
Street style during Paris Haute Couture Fall 2018 in Paris, France, on Sunday, July 1, 2018. Photograph by Adam Katz Sinding for W Magazine.

2018 Adam Katz Sinding
Street style during Paris Haute Couture Fall 2018 in Paris, France, on Sunday, July 1, 2018. Photograph by Adam Katz Sinding for W Magazine.

2018 Adam Katz Sinding
Street style during Paris Haute Couture Fall 2018 in Paris, France, on Sunday, July 1, 2018. Photograph by Adam Katz Sinding for W Magazine.

2018 Adam Katz Sinding
Street style during Paris Haute Couture Fall 2018 in Paris, France, on Sunday, July 1, 2018. Photograph by Adam Katz Sinding for W Magazine.

2018 Adam Katz Sinding
Street style during Paris Haute Couture Fall 2018 in Paris, France, on Sunday, July 1, 2018. Photograph by Adam Katz Sinding for W Magazine.

2018 Adam Katz Sinding
Street style during Paris Haute Couture Fall 2018 in Paris, France, on Sunday, July 1, 2018. Photograph by Adam Katz Sinding for W Magazine.

2018 Adam Katz Sinding
Street style during Paris Haute Couture Fall 2018 in Paris, France, on Sunday, July 1, 2018. Photograph by Adam Katz Sinding for W Magazine.

2018 Adam Katz Sinding
Street style during Paris Haute Couture Fall 2018 in Paris, France, on Sunday, July 1, 2018. Photograph by Adam Katz Sinding for W Magazine.

2018 Adam Katz Sinding
Street style during Paris Haute Couture Fall 2018 in Paris, France, on Sunday, July 1, 2018. Photograph by Adam Katz Sinding for W Magazine.

2018 Adam Katz Sinding
Street style during Paris Haute Couture Fall 2018 in Paris, France, on Sunday, July 1, 2018. Photograph by Adam Katz Sinding for W Magazine.

2018 Adam Katz Sinding
Street style during Paris Haute Couture Fall 2018 in Paris, France, on Sunday, July 1, 2018. Photograph by Adam Katz Sinding for W Magazine.

2018 Adam Katz Sinding
Street style during Paris Haute Couture Fall 2018 in Paris, France, on Sunday, July 1, 2018. Photograph by Adam Katz Sinding for W Magazine.

2018 Adam Katz Sinding
Street style during Paris Haute Couture Fall 2018 in Paris, France, on Monday, July 2nd, 2018. Photograph by Adam Katz Sinding for W Magazine.

2018 Adam Katz Sinding
Street style during Paris Haute Couture Fall 2018 in Paris, France, on Monday, July 2nd, 2018. Photograph by Adam Katz Sinding for W Magazine.

2018 Adam Katz Sinding
Street style during Paris Haute Couture Fall 2018 in Paris, France, on Monday, July 2nd, 2018. Photograph by Adam Katz Sinding for W Magazine.

2018 Adam Katz Sinding
Street style during Paris Haute Couture Fall 2018 in Paris, France, on Monday, July 2nd, 2018. Photograph by Adam Katz Sinding for W Magazine.

2018 Adam Katz Sinding
Street style during Paris Haute Couture Fall 2018 in Paris, France, on Monday, July 2nd, 2018. Photograph by Adam Katz Sinding for W Magazine.

2018 Adam Katz Sinding
Street style during Paris Haute Couture Fall 2018 in Paris, France, on Monday, July 2nd, 2018. Photograph by Adam Katz Sinding for W Magazine.

2018 Adam Katz Sinding
Street style during Paris Haute Couture Fall 2018 in Paris, France, on Monday, July 2nd, 2018. Photograph by Adam Katz Sinding for W Magazine.

2018 Adam Katz Sinding
Street style during Paris Haute Couture Fall 2018 in Paris, France, on Monday, July 2nd, 2018. Photograph by Adam Katz Sinding for W Magazine.

2018 Adam Katz Sinding
Street style during Paris Haute Couture Fall 2018 in Paris, France, on Monday, July 2nd, 2018. Photograph by Adam Katz Sinding for W Magazine.

2018 Adam Katz Sinding
Street style during Paris Haute Couture Fall 2018 in Paris, France, on Monday, July 2nd, 2018. Photograph by Adam Katz Sinding for W Magazine.

2018 Adam Katz Sinding
Street style during Paris Haute Couture Fall 2018 in Paris, France, on Monday, July 2nd, 2018. Photograph by Adam Katz Sinding for W Magazine.

2018 Adam Katz Sinding
Street style during Paris Haute Couture Fall 2018 in Paris, France, on Monday, July 2nd, 2018. Photograph by Adam Katz Sinding for W Magazine.

2018 Adam Katz Sinding
Street style during Paris Haute Couture Fall 2018 in Paris, France, on Monday, July 2nd, 2018. Photograph by Adam Katz Sinding for W Magazine.

2018 Adam Katz Sinding
Street style during Paris Haute Couture Fall 2018 in Paris, France, on Tuesday, July 3rd, 2018. Photograph by Adam Katz Sinding for W Magazine.

2018 Adam Katz Sinding