What to Watch, Stream, and Listen to in January 2018: Versace, Taraji, and Camila Cabello
From "ACS: Versace" to Camila Cabello.
---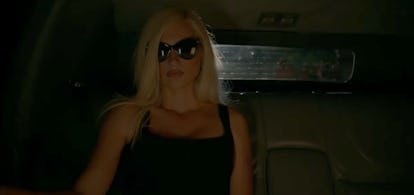 In this special monthly edition of In & Out, we're looking ahead and sorting through January's cultural calendar for you. Here are our picks for what you'll need to consume to keep up with polite dinner-party conversation, what you'll be secretly bingeing late at night, and what's best to just avoid.
For daily In & Out content, subscribe to the newsletter here.
What You Need to See
Film
Here are the biggest film-world dates you need to remember in January: the Golden Globes, which air January 7, and the Oscar nominations, which will be announced January 23. Considering that probably no one outside the film industry or the world of critics actually saw all of the best films of 2017 in 2017, take this as your cue to catch up. Superwriter Aaron Sorkin's directorial debut, Molly's Game, which has earned a Globe nomination for Jessica Chastain, goes wide on January 5. The following weekend, on January 12, Steven Spielberg's The Post, which could very well emerge as the ultimate winner of awards season, also in theaters nationwide. Other awards season films will continue to expand as well, so use those holiday gift cards (or your MoviePass) wisely and catch up in time for the actual Oscars.
Television
Hello, do you know what newsletter you're reading? Of course we consider the premiere of The Assassination of Gianni Versace: American Crime Story (January 17, at 10 p.m., on FX) as the television event of the month. Superproducer Ryan Murphy's oeuvre swerves wildly between the profound and the profoundly campy, and this production may be his biggest test yet as to how much he can reel in his tendency toward the latter. On the one hand, it's the story of the tragic, real-life murder of a gay icon set amid the homophobia of the '90s. On the other, it involves Penélope Cruz as Donatella Versace and various hunks in Speedos. Here's hoping Murphy pulls it off. Elsewhere on the dial, Showtime presents Emmy-winning writer Lena Waithe's The Chi, a semiautobiographical take on life in the South Side of Chicago (January 7, at 10 p.m.). HBO gives us Mosaic (January 22, at 8 p.m.), a Steven Soderbergh–created mystery series that stars Sharon Stone and is also, notably, a choose-your-own-adventure app. Beloved character actor J.K. Simmons finally gets his star turn, in Starz's Counterpart (January 21, at 8 p.m.), and indeed he plays two versions of the same character in the sci-fi thriller. TNT, meanwhile, gives us The Alienist (January 22, at 9 p.m.), starring Luke Evans and Dakota Fanning, who team up to investigate a series of gruesome child murders in 1896 New York.
Music
Porches, the synth-infused indie rock band led by burgeoning Pitchfork-set heartthrob Aaron Maine, achieved buzz-band status with 2016's Pool and seems poised to achieve even higher status with the release of The House, on January 19. Merrill Garbus, the eclectic, one-woman indie-pop sensation who records under the case-sensitive moniker tUnE-yArDs, returns with I can feel you creep into my private life (an odd, but sort of romantic, title), also on January 19. For those of us still in awe of Animal Collective member Panda Bear's solo efforts, he releases a new EP, A Day With the Homies, on January 12.
What You'll Actually Enjoy
Film
January is always a weird time for new releases, and most of them haven't yet screened for the critics. So think of this section as more of a "This could be fun, this could be a hot mess, but consider us intrigued" zone. Proud Mary (January 12), which finds Taraji P. Henson playing a mafia assassin who decides to change her life after meeting a young boy she's accidentally left orphaned, has a stellar trailer that involves Henson preparing for a day of killing people—and it has left us wanting more. In limited release, Please Stand By (January 26) features Dakota Fanning as an autistic Star Trek fan who runs away from home to deliver her 500-page fanscript to a Hollywood competition. Freak Show (January 12) tells the story of a teenage drag queen who decides to run for homecoming queen. It's adapted from a novel by club-kid legend James St. James and costars Bette Midler and Laverne Cox. It also marks the feature film directorial debut of Trudie Styler. We told you, at the very least, all of these sound intriguing. Whether they prove to be is yet to be determined.
Television
Let's get fashion-related reality TV moments out of the way first: RuPaul's Drag Race All Stars 3 premieres on VH1 on January 25, at 8 p.m. (We're #TeamShangela, sorry 'bout it). Making a Model With Yolanda Hadid premieres on Lifetime on January 11 (at 10 p.m.), and, yes, it does promise appearances by Gigi and Bella—no word yet on Anwar, however. Otherwise, there are lots of midseason replacements out there. The Yara Shahidi–fronted black-ish college spinoff grown-ish comes to Freeform on January 3, at 8 p.m., and honestly, she deserves it. Freeform also gives us a show created by Andy Samberg and his Lonely Island crew called Alone Together (January 10, at 8:30 p.m.). It's about a guy and a girl who find themselves outcasts in Los Angeles and who aren't exactly a couple but are "a thing" (she likes "fat guys," he's bad with women). And it's already been renewed for a second season. Meanwhile, Dylan McDermott stars as a pilot in LA to Vegas (January 2, at 9 p.m., on Fox), network TV's first stab at an airport-themed comedy since Wings. Will Ferrell and Modern Family co-creator Steve Levitan are co-producers, so there's hope. Ryan Murphy's second new show of the month is his stab at a police procedural, with 9-1-1 (January 3, at 9 p.m., on Fox). We're mostly only excited about it because Angela Bassett stars.
Music
Camila Cabello has been tipped as the next big solo pop star ever since her semi-controversial departure from reality TV–concocted girl group Fifth Harmony, more than a year ago. She's already had a hit song with her first single, "Havana," and is poised to deliver more on that promise with debut album Camila, on January 12. NC-17, the debut album of Noah Cyrus, Miley's little sister, has a tentative release date for sometime in January, but it doesn't yet have an exact spot on the calendar, so be on the lookout. Børns, the Gucci muse and overall well-dressed lad, releases Blue Madonna, his second collection of synth-pop rock, on January 12. Yes, he's wearing Gucci on the cover. While it might be too simplistic to describe Lou Rebecca as a French-girl twist on Lana Del Rey, let's be honest, that's exciting for some of you. Her self-titled debut album drops January 12. Justine Skye has already become a front-row and fashion-party regular, and, after a series of EPs, the Roc Nation artist releases her first album, Ultraviolet, on January 19. Bombastic sex-positive rapper cupcakKe starts the month off right with the real of her third album Ephorize on January 5.
What You Can Skip
Film
Den of Thieves stars Gerard Butler and 50 Cent as part of a group of criminals who decide to team up to steal $120 million. Personally, we'll just wait until June, when Ocean's 8 debuts and likely does this concept better. Also, the combined batting average between the actor and the rapper is subpar at best.
Television
TLC is nearing its logical conclusion with Seeking Sister Wife (January 14, at 10 p.m.), a show about three "plural families" in various states of adding a new wife to their situations. Watch Big Love on HBO Go instead.
Music
Sorry Charlie Puth. Someone has to go here, and it turns out you're releasing a new album, Voicenotes, on January 19.
Related: The 7 Overlooked TV Shows to Stream Before 2017 Is Over