Austin Butler Proves Guys Can Get In On the Sheer Fabric Trend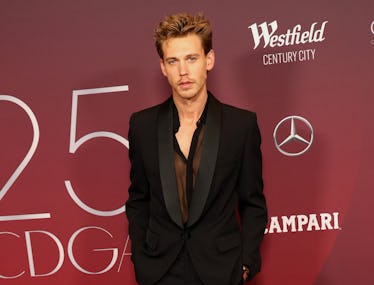 Photo by Kayla Oaddams/WireImage
These days, a starlet (or model or influencer) loves nothing more than a sheer dress moment. Kendall, Hailey, Salma, Olivia, and Kate have all tried out the look—fun, flirty, a little daring, and almost guaranteed to net you a few headlines the following morning. Last night, Austin Butler proved the more masculine among us can take a few cues from the trend, too. And it can be done in a way that won't leave you looking like you're a backup dancer for Chicago on Broadway or heading to Knockdown Center for a rave (not that there's anything wrong with either of those, but you do have more options).
Butler returned to the Fairmont Century Plaza last night (the same venue that hosted the actor and the rest of the SAG Awards nominees the night prior) to present at the 25th Costume Designers Guild Awards. For the occasion, the actor opted for Valentino, wearing a generously lapeled tuxedo jacket with matching pants. Underneath, he wore a sheer black button-down shirt, adding just a touch of translucent flair.
Designer Pierpaolo Piccioli's spring 2023 collection for Valentino actually proffered plenty of options for gentlemen to add a bit of sheer fabric to their eveningwear. On the runway, Butler's suit, like many of those shown in the collection, was actually shown with a sheer tunic and detailed collar in lieu of a traditional button-down.
For those looking to go in a bit more of a daring direction, opt for this caped version. We'll find out whether Piccioli decides to keep the sheer touches going when he presents Valentino's next collection on Sunday during Paris Fashion Week.
As for Butler, like most of his awards show appearances this past year, he stepped out sans girlfriend Kaia Gerber (though the pair were spotted partying on Saturday night). Instead, he was joined by his Elvis director Baz Luhrmann and his wife Catherine Martin, herself a costume designer. In fact, Martin walked away a winner last night for her work on Elvis, securing a trophy for best costumes in a period film.
Butler was certainly a fan of her work. He even took some of it home after filming.
"I kept one of the leather jumpsuits," he told W for our Best Performances issue. "But when you wear that jumpsuit, and you get the fabric right, you feel like a superhero."
No word on whether a bit of sheer dressing guarantees the same superhero results—but it's certainly an option to keep in mind.