Here Are the 11 Break-Out Street Style Stars of 2017
Follow their Instagrams now.
---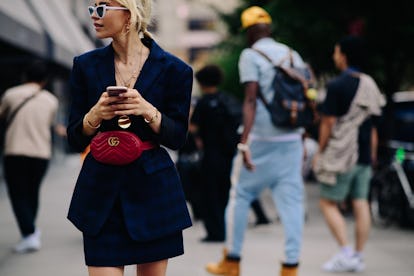 There's always that moment at a fashion show when you look across the runway and think, who is that? He or she may not be a celebrity (yet) but there's an undeniable buzz around them—and yes, the cameras go click, click, click as they exit the show. Some of the women who wore one of this year's best street style looks have been posing outside the shows for years now, and often, it is only their faces that you see on the streets of Paris Fashion Week. This year, we decided to call out and highlight the people that you've seen out and about, the individuals whose Instagrams you've stumbled across, and the people behind the looks that you've screenshot or flagged as inspiration for next season. From those with a more-is-more aesthetic to arbiters of minimalist chic, meet the 11 street style stars who had a break-out 2017.
Caro Daur Caroline Daur's more-is-more aesthetic has not only put her on the radar this year, but, one could argue, made 2017 the year of Caro Daur. The German blogger is 22 and has amassed over 1.3 million followers—and along the way she's walked in a millennial-themed Dolce & Gabbana show, traveled to London, Vienna, Shanghai, Miami, Hong Kong, and made time to hang with Sistine Stallone in Los Angeles and Kate Moss in Paris. You'll often find her wearing checks and plaid, logo-heavy accessories, pops of bright red or pink, and sporting a bare-midriff here and there for good measure.
Irina Lakicevic For all fashion minimalists out there looking for a new Instagram inspiration, it is high time that you meet Irina Lakicevic. The former children's dentist hails from Norway, and currently she resides in London and is the editor-in-chief of a publication called Mint Journal. Lakicevic has popped up at all the international fashion weeks that we love to look to for style inspiration, and then we discovered her Instagram. Peppered with inspirational pics and snaps of her wearing chic knits, mules, and coats from the labels many gush over—Khaite, Céline, The Row—she has quickly become one of our favorite accounts to follow.
Rachael Wang
The stylist made waves this past February for the way in which she used her NYFW outfits to weigh in on the political climate and the current state of society. She managed to sum up the general feeling of the New York fashion community with a single t-shirt that read, "Fuck Hate," and continued later in the week to wear a DIY-style army jacket reading "women's rights are human rights," and embellished the front of the jacket with pro-Planned Parenthood pins.
Paloma Elssesser While Elssesser often finds herself on the runway in shows like Eckhaus Latta, this year she was also spotted sitting front row at the Fenty x Puma and at Helmut Lang's Seen by Shayne Oliver show. Her distinct personal style shines through whether she's being dressed in a gown for the CFDA/Vogue Fashion Fund Awards by friend Adam Selman or whether she's just hanging out with friends wearing casual sneakers. Perhaps an Instagram post of hers sums it up quite well—"But I'm both"—she shared earlier this month, with a snap of her trying on point-toe Céline shoes while her Nikes sat nearby.
Chloé Harrouche A fashion consultant and full time mother of two, Chloé Harrouche, aka Loulou de Saison, first popped up on street style photographers' radars earlier this year, and was a Paris Fashion Week favorite. The Parisian has a knack for mixing the laid-back and more formal pieces in a way only the French can, and counts J.W. Anderson and Céline among her favorite labels.
Diletta Bonaiuti The Italian stylist and creative consultant first rose to prominence as part of the Italian street-style girl gang led by Attico co-founders Giorgia Tordini and Gilda Ambrosio. Based in Florence, Bonaiuti gravitates towards rich earthy hues, that she puts together in ways that feel classic with a twist. We're also in love with her lob.
Sabina Socol Sabina Socol, a Paris-based journalist, throws together easy everyday looks with just the right amount of playfulness. Chic interiors and Brigitte Bardot-inspired snaps pepper her Instagram, and perhaps one of our favorite parts about following her is that she smiles in all her photos. What's not to like about that? Over 100,000 people follow her for their daily dose of quintessential French style inspiration.
Ursina Gysi This Swedish stylist works with of-the-moment brands such as Y/Project and Ottolinger and artfully pieces together in such a way it truly makes you wonder why you didn't try that. Gysi always looks laid-back and comfortable in addition to being fashion-forward, and we whole-heartedly applaud that, especially during the last leg of fashion week. Her Instagram is filled with collaged mash-ups of fashion, art, and design.
Richie Shazam The native New Yorker has been a fixture within the downtown nightlife scene for quite some time now. This year has seen the artist/activist/model embrace the role of street style personality, arriving to the Marc Jacobs show with friend Chloe Wise (wearing a blue sequin camo bomber and crop top, naturally) and sitting front row at Adam Selman. In the past Shazam has modeled for friends Rachel Comey and Ryan McGinley, and walked for Ashish during London Fashion Week.
Florrie Thomas and Anna Rose Vitiello This duo met while working at Harper's Bazaar UK, and after decamping the publication they teamed up to create & Finally, a website dedicated to chic accessories. Both Thomas and Vitiello are often snapped during London Fashion Week, and their looks are often complementary, the ying to the other's yang. When they are not creating content for their digital accessories destination, Thomas focuses on styling and Vitiello writes and hangs with her adorable terrier, Heidi.
Watch: Chameleons of the Art World: The Humans of Frieze New York
Chameleons of the Art World: The Humans of Frieze New York