How To Fix Dry and Damaged Winter Hair According to Kim Kardashian's Hairstylist
Celebrity hairstylist Chris Appleton shares his best advice on maintaining healthy, winter hair.
---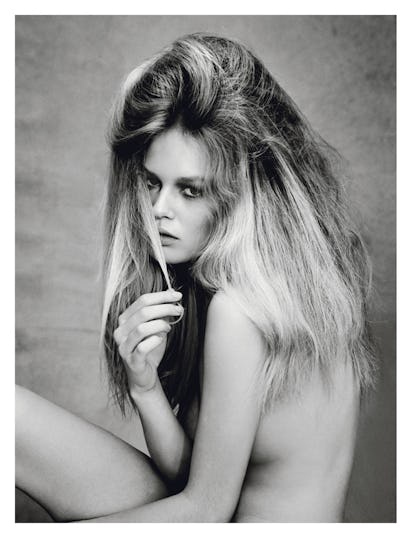 W Magazine, May 2014. Photographed by Patrick Demarchelier, Styled by Felicia Garcia-Rivera.
With the winter season officially in full swing, it's hard to avoid the inevitable seasonal woes of dry skin, cracked lips and dull, damaged hair. However with the proper tools and right treatments, repairing dry, dull and damaged winter hair doesn't have to be a hassle. Just ask celebrity hairstylist Chris Appleton, who is responsible for the luscious locks of A-listers like Kim Kardashian, Jennifer Lopez and Rita Ora. From his hair care essentials to his best hair maintenance tips, here, Appleton breaks down how to maintain healthy and hydrated hair year round.
Why do people get dry, dull hair during the winter season? What treatments would you recommend to help reverse dehydrated hair?
The weather makes a difference in the condition of your hair, so in the winter with the cold outside weather combined with dry indoor heat can cause it to dry out. I would recommend the Color Wow Coconut Cocktail once a week. It's going to lubricate the hair bonds and restore dehydrated hair.
What are some common haircare mistakes that result in dry hair during the winter?
Not using the right kind of protection before blow drying or styling the hair. There are some blow dry sprays that have alcohol as an ingredient which drys out the hair more. Speed Dry Blow Dry Spray by Color Wow is alcohol free and it holds essential hydration in while cutting down your blow dry time.
How often do you recommend getting your hair cut in the winter?
Every 6 weeks is perfect. Go for a stronger richer tone in the winter to brighten up those darker days!
How do you enhance shine and color on dull winter hair?
Olaplex is amazing at brightening up your hair! Color Wows Pop & Lock is great. It pops out the color and locks in the shine. Also Bed Head Shine Junkie Hair is fab.
What is your remedy for damaged split ends?
Color Wow's Kale Cocktail fortifies breakage within the hair.
What is the best way to repair frizzy and over processed hair?
The Dream Coat from Color Wow is great, because it prevents your hair from absorbing moisture and frizz, and keeps it smooth. That's my go-to product, just spray your hair with Dream Coat and dry it.
With so many stars going platinum blonde, how do you care for colored hair in the winter?
Using Olaplex while coloring and after color is key, it helps restore the bonds. Use the at home treatment for ten minutes as often as possible. Also change how often you wash it. Blonde hair doesn't need to be washed as much!
How do you keep hair consistently healthy and hydrated in different climates?
During the holidays, people tend to travel much more often. To keep hydrated in different climates keep using your hair treatments once a week like the Color Wow Cocktails and always a good Olaplex treatment.
What are your best tips for maintaining healthy, smooth and hydrated hair in between appointments all year round?
Olaplex! Olaplex! Olaplex! It's going to be the key treatment in between appointments on maintaining healthy hair all year round. Also give your hair a day off when you get a day off. Hair needs a break just like you!
[#article: /articles/5a31586df46871653c88d68e]||||||