Golden Globes 2018: How Gal Gadot Got Red Carpet Ready (Exclusive)
Celebrity makeup Sabrina Bedrani shares her Golden Globes red carpet beauty secrets.
---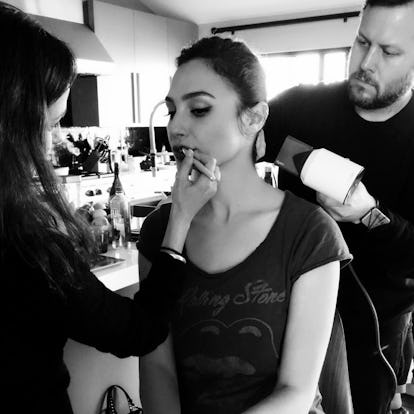 @marktownsend1
As Hollywood's biggest A-listers gather tonight for the 2018 Golden Globes red carpet, awards season is officially in full swing. As the stars turned out in black gowns in support of the Time's Up movement, beauty provided the finishing touch to the powerful red carpet movement. Polished waves and natural skin have always been a traditional staple of the Golden Globes, and in keeping with the timeless theme, Gal Gadot opted to accent her Tom Ford Look with a sleek chignon and bold red lip. Exclusively for W, Gadot's makeup artist Sabrina Bedrani is here to break down Gadot's flawless look—and how you can achieve it at home for yourself. From her favorite skincare techniques to the lipstick color of the moment, here, Bedrani shares how she achieved Gadot's daring beauty look.
How do you prep the skin before makeup?
It always depends on my clients' skin, especially depending on if they are dry or have been traveling, but I always like to clean the face with Bioderma, and then I use a variety of moisturizers depending on what the skin is like. I like to do a little eye patch to prep the skin, like Skyn Iceland Hydro Cool Firming Eye Gels. And then I just concentrate on the face and bring the glow, keeping the skin dewy and fresh.
Gal always keeps such a timeless look on the red carpet. How do you manage to keep her look minimal and modern?
Gal has this very, very beautiful skin that makes my job so easy. She's not someone that you need to transform. For me it's all about accentuating her features. Everything is already there, so it's more about keeping the skin fresh and dewy, accentuating the cheekbones and a little bit of highlight where needed. It's all about basically structuring her face in a way so that her best pictures stand out in a way that it looks like there is nothing on.
What makeup products do you always keep in your bag on a red carpet night?
I always have to have an eyelash curler, mascara, a good lipstick that sometimes you can use as blush, and blotting paper. I love the Tatcha blotting papers. Because I like to always keep the skin dewy, usually once the makeup is set, I don't use powder ever again after. I just do a little bit on the forehead and a little bit around the nose so that it doesn't look greas,. I love to have the skin just glow, so I always send my clients off with a pack of Tatcha blotting paper.
What was your inspiration for Gal's look tonight?
Tonight she is wearing an amazing Tom Ford outfit. She has a beautiful dress that came with a jacket on top of it. The jacket was quite structured, and we wanted her to still look very feminine and chic. Because the outfit is very structured, we wanted to compliment it without doing anything too harsh or too masculine. Mark Townsend did the hair in a beautiful up-do that is still very soft to keep her very feminine. We first talked about doing a really strong eye and when it was all done, I thought there was something missing and that we needed to do a lip. And to me, that took it to the next level. The look for tonight is all about the lip, with a really strong black eyeliner.
What makeup trends do you hope to see on the red carpet this year?
It's the Golden Globes, so you maintain the timeless look. You don't want to do something too trendy or something that your clients are going to look back in a year and think, "Gosh, not doing this." It's all about keeping it chic, but fresh and timeless. When we talk about trends, it becomes more about the colors that you use. I wanted to do a strong lip on Gal today, but instead of going for a classic red, I used one that was much deeper and a bit more wintry and on trend right now. I used this beautiful lipstick from Revlon called Bombshell Red, it's much more of a deeper, rich wine red and that is much more the color of the moment.
Eight Chic, Snow Day-Approved Eye Masks For the Ultimate At-Home Spa Day