Harry Styles Is In Talks to Play Prince Eric in The Little Mermaid
He just lost the role of Elvis Presley.
---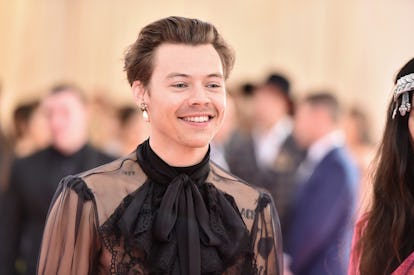 Theo Wargo/WireImage
Harry Styles lost out on the role of the King of Rock to Austin Butler, but apparently he might rebound with the role of prince of unnamed seaside kingdom featured in The Little Mermaid. Yes, a day after very publicly losing out on the role of Elvis Presley, The Hollywood Reporter claims that Styles is now in early discussion to star opposite Halle Bailey's Ariel as Prince Eric in the Rob Marshall-directed live action remake. (To keep you up to date Melissa McCarthy, Awkwafina, and Jacob Tremblay are also in negotiations for the roles of Ursula, Scuttle, and Flounder, respectively).
Whether he gets it or not, Styles certainly seems to be quite in demand for hot leading roles. That's impressive considering his only previous film role was a small part in Christopher Nolan's war film Dunkirk. It makes you wonder if, behind the scenes, Styles is actively plotting out a career shift to leading man or, whether, he's getting all sorts of invitations to audition based on the simple fact that he's, well, Harry Styles, and people seem to love Harry Styles. Maybe the multi-hyphenate is just looking for something else to do between albums other than simply "Gucci muse."
Variety reporter Justin Kroll added some context on Twitter, suggesting that Styles had long been first choice for the role, but wanted to see whether or not he was chosen for the Elvis biopic first.
In Disney's original animated movie, Prince Eric is less a fully fleshed out character than he is a plot device with a great jawline. The character doesn't sing a single song, and his main interests appear to be sailing, his dog, and the voice of the girl that saves him. We're not even told which kingdom, exactly, he's a prince of, or if he's directly in line to the throne or is more of a Prince Harry situation.
The Reporter indicates that Styles might get a little bit more to do if he wins the part, pointing to the fact that Prince Eric sings on multiple songs (and even gets two solo numbers) in Disney's Broadway adaptation of the film. That version of the film also re-centers the story so Ariel's character arc isn't completely about being hung up on a boy.
Of course, no deals are signed yet, but one would expect the rest of the cast to fall in place now that the main character has been cast.
Though, at least we now have a possible actor to go along with the role of Eric. The Hollywood rumor mill has been absolutely quiet about who may fill other iconic roles like the crab Sebastian, ultimate underwater daddy King Triton, and, most notably, Flotsam and Jetsom the eels.
Related: Harry Styles Wears Tiny Tank Top and Clutch, Reduces Rome to Tears
The Most Surprising Celebrities Who've Spent This Summer Together (So Far)
Leave it to Diane von Furstenberg to, without warning, casually post a selfie capable of sending Taylor Swift fans into a tailspin.

Courtesy of @therealdvf
Not long after news broke that Justin Theroux and Emma Stone are now "bffffffs", the pair met up with fellow stars like Laura Harrier and Sienna Miller while in the south of France for the Louis Vuitton show (and a swim).

Courtesy of @derekblasberg
A$AP Rocky and Elton John bonded over their love of pearls backstage at Gucci's cruise show in the south of France.

Courtesy of @eltonjohn
It was only a matter of time before longtime BFFs Kate Moss and Marc Jacobs spent some of their summer together—and did so while wearing all black.

Courtesy of @themarcjacobs
"Fashion girls snack too," Hari Nef wrote in the caption of this photo of herself along with 13 Reasons Why's Camila Mendes and Tommy Dorfman, sacrificing a bit of snack time for the camera.

Courtesy of @harinef
Charli XCX and Camila Cabello teamed up for some off time in Washington, D.C., while touring the country with Taylor Swift.

Courtes of @charli_xcx
Martha Stewart and Snoop Dogg's very documented friendship seemed to reach another level when she hosted him and "his gang" while they were on their way in to New York City, making for a night including her daughter Alexis's own "gang," as well as some salmon tacos, fried chicken, meatloaf, fresh fruit, and spinach quiche.

Courtesy of @marthastewart48
Instagram's favorite up-and-coming actor duo Sasha Lane and Bria Vinaite seem to have been spreading FOMO around the world all summer.

Courtesy of @chronicflowers
They may have taken care to stay out of pictures together, but so far this summer, the Weeknd and Bella Hadid have already hung out everywhere from Tokyo to Pennsylvania, home to the Hadid horse farm.

Courtesy of @theweekend
Jennifer Garner spent "the perfect morning" in East Hampton, thanks to Ina Garten and her barn kitchen.

Courtesy of @jennifer.garner
Turns out Selma Blair and Sarah Michelle Gellar are big fans of Pink. Their smiles, Blair explained, were from seeing her perform together at the Forum in L.A. and "lov[ing] every minute."

Courtesy of @selmablair
Karlie Kloss welcomed warmer weather by venturing off into the desert in Jordan with not only Ellie Goulding but also Princess Beatrice and her now fiancé, Joshua Kushner.

Courtesy of @karliekloss
Supers Kaia Gerber and Bella Hadid paired up early in June for, given their matching ensembles, what easily could have been a shoot, but still looked like fun regardless.

Courtesy of @bellahadid
Guy O'Seary, aka Madonna's manager, just might be the only one who could get Bono, Matthew McConaughey, Woody Harrelson, Sacha Baron Cohen, Isla Fisher, and Chris Rock all together at once. (And in the south of France.)

Courtesy of @guyoseary