Kristen Stewart Says She "Would Love" to Be In Elizabeth Banks's Charlie's Angels Reboot
She called the franchise "kind of funny, campy."
---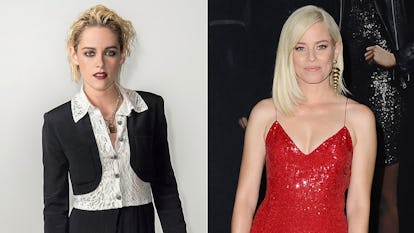 Getty Images
Fresh from having "hot barn sex" with Chloë Sevigny in a Lizzie Borden biopic after mesmerizing us with a 1-hour-and-45-minute ghost text session in Personal Shopper, Kristen Stewart is ready to take on something a tad campier. That's Charlie's Angels, Pitch Perfect 2 director Elizabeth Banks's reimagining of the classic lady detective franchise popularized by Lucy Liu, Drew Barrymore, and Cameron Diaz. It was reported last September that the studio was "eyeing" Stewart to play one of the titular Angels, and on Wednesday, it turned out that Stewart is eyeing them right back.
"I would love to do it," the actress told Entertainment Tonight. "I hope that that comes together. You never really know that you're going to be making a movie until you're, like, standing on that set. I'm an enormous fan of Liz Banks, and I think that she's the perfect person to tell that story in this era. I would back her absolutely all the way."
"You take a story that's usually kind of, for lack of a better word, not silly, but just kind of funny, campy," she said. "The movie should still be fun, but like, if you ground it and make it about women that really know how to help each other, it'll be, like, perfect to release now. Like, we're all together and strong."
There's no word yet on whether Lupita Nyong'o, who reportedly was also being eyed for the role of an Angel, would be down as well, but if she is, this has all the trappings for an excellent revival. Now all we need is Rihanna.
Related: Kristen Stewart Says She Has Saved Makeup Artists On Set from Sexual Harassment