Kylie Jenner Has Enlisted Travis Scott's Help In The Makeup Biz
Swatches are now a family affair.
---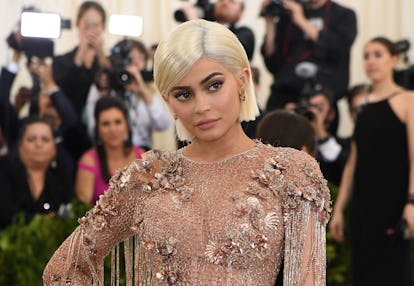 Photo credit should read ANGELA WEISS/AFP/Getty Images
In addition to creating the adorable baby girl Stormi Webster, Kylie Jenner and her boyfriend, rapper Travis Scott, are teaming up to work on Kylie's super popular makeup line.
On March 2, Scott posted a Snapchat video of his hand holding Jenner's, her arm covered in her famous makeup swatches, with the caption, "New part time job." Is that job helping her to apply the swatches? Giving feedback on lip shades? Taking Snapchats? Simply holding her hand as they move through life's journey together? Scott didn't specify, but he did post another video of Kylie's arm adorned with expertly-applied shimmery swatches with the caption, "summer [fire emoji]," perhaps hinting at when the new shades will drop. The whole affair is, frankly, shrouded in mystery; the Snapchat videos in question are even taken in black and white, so we don't even know what these new colors are! Very sneaky, you two. Whatever the case, apparently, Jenner's housekeeper is no longer on swatch modeling duty.
We previously reported that little Stormi was already part of the makeup empire in that she helped inspire the "Weather Collection" that dropped at the end of February, including palette Eye Of The Storm.
Since the birth of their daughter a month ago, Jenner and Scott have been keeping it pretty low-key. Jenner posted a picture of herself and her daughter on Instagram and the couple was spotted grabbing lunch at Nobu, but we haven't been getting the family updates as regularly as with, say, sister Kim and baby Chicago. Hey, to each segment of the Kardashian-Jenner family their own!
Maybe this was all just a ploy not to sell makeup but to get Kylie and Snapchat itself back on better terms. The app's stock plummeted by over a billion dollars just after Jenner tweeted about not liking or using it anymore, which many found, if not causational, at least coincidental.
Related: Kylie Jenner And Travis Scott Spend Their First Outing Together After the Birth of Daughter Stormi Eating Sushi in Malibu
The Most Shameless High Fashion Knockoffs of 2017