So Olivia Wilde's Mom Is the Reason Everyone's Talking About "Bigfoot Erotica"?
Turns out the Democratic nominee Leslie Cockburn is also the mother of one Olivia Wilde.
---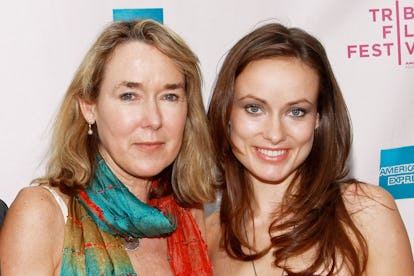 Photo courtesy of Getty Images.
Though she doesn't even have a verified account or more than 5,000 followers, on Sunday, Leslie Cockburn, the Democratic nominee for Congress for Virginia's 5th District, posted such an inflammatory, attention-grabbing tweet that by Monday, the nation's political news cycle had somehow become dominated by the phrase "Bigfoot erotica." Now seemingly everywhere, the hitherto unheard of phrase stems from Cockburn's claims that her Republican opponent, Denver Riggleman, is a devotee of the genre. Which, by the way, actually does exist and is exactly what it sounds like—pornographic and suggestive material centered around the hairy, mythical creature. (If your'e so inclined, you can see an example via Cockburn's tweet below, and a bit more graphic one here.)
There are plenty more serious sides to this congressional race, but before diving into those, let's start with a bit of a palette cleanser. Amidst all of the hoopla, yet another odd detail seems to have gotten buried—that Cockburn just so happens to be the mother of Olivia Jane Cockburn, better known as the actress Olivia Wilde.
As Wilde has made a name for herself, starring in the TV show House and more recently in the new Broadway produciton of 1984 that had audience members fainting—Jennifer Lawrence actually vomited (though she was ill)—she's also gotten increasingly involved in politics, including campaigning for Barack Obama and Hillary Clinton, teaming up with Time's Up, marching in the streets to protest the Trump administration, and speaking out about Harvey Weinstein. None of that is exactly surprising, given that her parents, Leslie and Andrew Cockburn, are both journalists, and Leslie announced that she'd be pivoting from documentary-making and investigative journalism to politics in July 2017. (The Democratic Party gave approval of her bid for Congress by nominating her this past May.)
Still, it's a bit hard to wrap one's head around the idea of Wilde being at all involved in something this strange. And yet, here we are, thanks to Cockburn's discoveries, made while scrolling through Riggleman's social media posts of yore. They just so happened to include several posts related to a book that he apparently self-published, which, according to his reportedly recently deleted Facebook author page, was titled The Mating Habits of Bigfoot and Why Women Want Him.
Riggleman doesn't deny his involvement with the book, or the cover art illustration that can be seen below—an image featuring genitalia that Cockburn censored and shared with the phrase "This is not what we need on Capitol Hill." He does, however, have some issues with the way they've been construed: On Monday morning, he told the Washington Post that his team has been "stunned" by the claims of his interest in erotica involving Bigfoot (for the record, he said he does not believe Bigfoot is real).
Riggleman did, however, concede that he's written an "anthropological book sort of based on parody and satire" that's been a running joke with "a bunch of military pals" for the past 14 years, some of which have seen him engaged in a years-long Bigfoot belief study. (One of his artist pals, he said, drew the book cover.) On the other hand, when he described his interest to the quite fittingly titled outlet the Daily Beast, he seemed to do so quite seriously, even while noting it was a Hitchhiker's Guide to the Galaxy–like parody: "For me, the book really is an anthropological study…this is a real subculture in the United States and it's hundreds of thousands of people that believe."
Whether or not the book will be released emains to be seen, though in the meantime, those interested can take a look at a 2006 short story, Bigfoot Exterminators Inc: The Partially Cautionary, Mostly True Tale of Monster Hunt, which Riggleman cowrote, and which apparently touches on matters like menstrual blood and Bigfoot's libido. And in case you weren't nauseous enough, the drama has also shined a spotlight on Riggleman's previous stint on the campaign trail with Isaac Smith, a cofounder of the white supremacist group Unity & Security for America.
Wilde, for her part, has yet to comment on anything Riggleman-related. Here's hoping she'll manage to wriggle out of this mess unscathed.
Related: Jennifer Lawrence Vomited During a Performance of 1984, but Don't Blame Olivia Wilde
How Celebrities Protest in the Streets: A Visual History of George Clooney Getting Arrested, Kanye Occupying Wall Street, and More