Max Madsen, Son of Quentin Tarantino Favorite Michael Madsen and Former Classmate of Gigi Hadid, Is Breaking Into Modeling
The 23-year-old is the latest celebrity kid to sign to a modeling agency.
---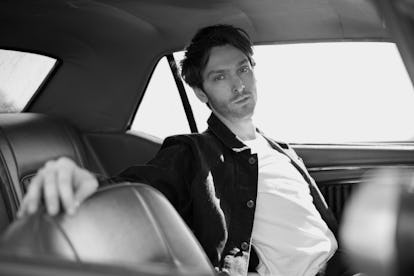 Max Madsen, the son of actor Michael Madsen, is breaking into modeling. Photography by Raen Badua, styling by Gabriel Langenbrunner, grooming by Robert Nuñez.
The modeling world these days is filled with famous last names. There's Kendall Jenner, Hailey Baldwin,Paris Jackson, Lily-Rose Depp, Gabriel-Kane Day-Lewis, Dakota Lohan, Roberto Rossellini—the list goes on and on. And now, just before the New Year, another name joins the ranks: Max Madsen, the 23-year-old son of actor Michael Madsen, best known for his frequent appearances in Quentin Tarantino's films. After joining in on a photo shoot with his friend, and fellow celebrity offspring, Hopper Penn, son of Sean Penn and Robin Wright, Madsen was signed up by the Jeffries Group and State MGMT, which handles a slew of celebrity scions. Here, Madsen talks his new career, former classmates Gigi and Bella Hadid, and more.
How did you decide to pursue modeling?
Recently I did a shoot with L'uomo Vogue and just kind of happened to be there with my friend Hopper in New York. It was a short film, and Clara McGregor was in it. I had just met Rushka [Bergman, fashion editor for L'Uomo Vogue] who directed it, and it was kind of on a whim. When I got back to L.A., I got an e-mail saying they wanted to have a shoot with me back in New York. I did the shoot, and it was great. I was really happy with how it turned out. But it was definitely a weird process… I had never done something like that. I went to high school with Bella and Gigi Hadid and they are like the biggest models now. It's weird to think about the transition of how that works out.
Were you friendly with them in high school?
They were always really friendly. We had a few mutual friends. We were always in the same circle. I had history class with Gigi. And Bella was in my brother's grade, one year younger than me.
It seems like a lot of people in your world are turning to modeling now.
Yeah, it's weird, when I first signed with State, they had me go to this Tommy Hilfiger event and Brandon Lee, Pamela Anderson's kid, was there. I grew up with those kids; we did karate together. Now I see them all the time. Same with Pierce Bronson's son, Dylan, I see him at the coffee shop every morning. I feel like we're all trying to do this. It's strange to think what we're all doing now.
Have your friends or the other models you knew from growing up given you any advice?
With Dylan, when he first started he had done something with Saint Laurent, and my dad and his dad are friends, so we had lunch together. This was before I had done a shoot, and I was trying to figure out how to make it… It's a weird fine line I feel like with these celebrity kids where they will get all these things, and I just never wanted to… When I did that shoot for Vogue, I never said, "Hey look, this is my dad." Then after the shoot, Rushka found how who was my dad, because she used to work with Michael Jackson and my dad did a Michael Jackson music video. I mean, I don't know when she really found out, but I think she liked me for me. It had nothing to do with my dad. I try to do that as much as I can.
When you did that first shoot, what about modeling enticed you?
I always wanted to make a t-shirt company with my brother Christian, and we always tried to put something together, but it never came to fruition. I think I've always liked clothes. I enjoy fashion, I really do. I also did this music video for Suki Waterhouse last year, with this director Eva Doležalová, who is a model, too, and dating Jack Kilmer. She did this other short film, and I only have a few lines in it, but it's kind of a model cast. It's got like Dylan Sprouse and Jordan Barrett. I haven't seen the short, but I enjoy these little artsy projects. I like to be a part of it.
What is your own style like?
I tend to dress with a white t-shirt and some Dickies, but I'm trying to mix it up more. I really like Fear of God. I like AllSaints—I probably spend all of my money on that. I think Russell Westbrook has really great style. I'm a big basketball fan, and think he has great style. Also, Shia Labeouf. I follow this Instagram called @shiasoutfits.
What do your parents think about your new career?
My dad likes it. He's always been very supportive of me and whatever I do. He's wants me to mindful of what I get into, and that there can be things that happen and how people really are. He just wants to make sure that I know that.
Related: Meet Cody Lohan, Chase Hill and More Up-and-Coming Male Models from Famous Families
6 Rising Male Models from Famous Families Share Their Biggest Pet Peeves