A Definitive Guide to 2017's Breakout Celebrity Kids, from Paris Jackson to Kaia Gerber
It was a trying year, but if you were a kid of a celebrity, things were great.
---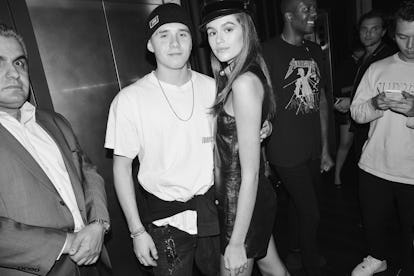 Looking to find someone who actually had a pretty great 2017? Look no further than the latest round of celebrity kids who just happened to all but rule the world—or, at least Instagram—this year. Sure, you've heard plenty about the Jenners and Hadids, but this year made Kaia Gerber and Paris Jackson just as much of a household name as their model predecessors. Some of this year's Scion Class of 2017 have been lingering in the pop culture stratosphere before this year, but it was in the past twelve months that they truly broke out. Here, a look back at the biggest celebrity kids of 2017.
__Kaia Gerber,__daughter of supermodel Cindy Crawford and tequila entrepreneur Rande Gerber. She made the most of her first fashion week – debuting for Raf Simons' Calvin Klein Collection, before walking in high profile shows like, Prada, Fendi, and Versace. But the biggest achievement of 2017? Getting her driver's license.
Brooklyn Beckham, son of David and Victoria Beckham. Beckham had a busy 2017—he published his first collection of photographs, moved to the Big Apple to star college, and got back together with his girlfriend, Chloe Grace Moretz. Again.
Frances Bean Cobain, daughter of Kurt Cobain and Courtney Love. Having stayed out of the spotlight for most of her life, Cobain made a very stylish public debut this year, starring in Marc Jacobs' spring campaign and showing up to the Met Gala as his date. She also recently launched her own cooking Instagram.
Paris Jackson, daughter of the late Michael Jackson. Jackson is an actress, singer, and model, but after giving a passionate speech against hate groups at the 2017 VMA Awards, she's also solidified herself as a vocal activist. She also has a pretty impressive tattoo collection.
Ava Philippe, daughter of Reese Witherspoon and Ryan Philippe. The teenager may have just made her grand debut on the arm of a prince at a debutante ball in Paris, but don't worry, she's still keeping it down to earth—she's also working as a hostess at a Hollywood pizza parlor.
__Amelia Gray and Delilah Belle Hamlin__, daughters of Lisa Rinna and Harry Hamlin. Instead of setting their sights on Hollywood like their actor parents, the two sisters are becoming the next Gigi and Bella of the modeling industry. The fact that both have moms who have been on the Real Housewives of Beverly Hills certainly doesn't hurt comparisons.
Selah Marley, daughter of Lauryn Hill and granddaughter of Bob Marley. Marley is about as royal as they come in the music industry, so, surprise, surprise, the college student and model is also a talented musician herself.
Clara McGregor, daughter of Ewan McGregor. The It-Brit really did it all this year–model, legally drink, and backpack through Bali with her boyfriend.
Sistine Stallone, daughter of Sylvester Stallone. The model kicked off the year as Miss Golden Globe alongside her sister, but has since broken out on her own—including a move across the country, as she just scored her own apartment in New York.
Sofia Richie, daughter of Lionel Richie, The 19-year-old started 2017 alongside fellow famous kid Anwar Hadid in a Tommy Hilfiger ad, and finished alongside Kardashian-ex, Scott Disick.
Asahd Khaled, son of DJ Khaled. At just 1-year-old, Khaled may very well already have a more lucrative career thank you. When he's not busy producing his father's albums, or building up his diamond watch collection, Asahd enjoys shaking his rattle and sitting up on his own.
Related: Sistine Stallone On Modeling, Vacationing With Kate Moss, And Why There Will Never Be A Stallone Family Reality Show
9 Famous Kids Who Ruled the Runway at New York Fashion Week 2017