Prince Louis Is Still Napping Away, Even in His Latest Official Portraits
The two-month-old already has the best of both worlds: a royal's lavish lifestyle, and a commoner's endless nap time.
---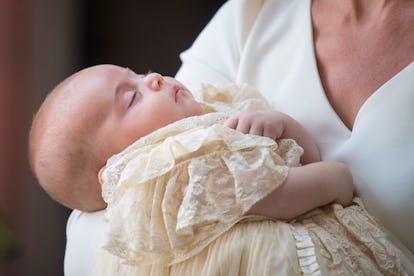 Getty Images
In honor of Prince William and Kate Middleton's son Prince Louis's christening, on the morning of Monday, July 9, Kensington Palace shared four official photographs from the occasion, offering another rare glimpse at the two-month-old—and another confirmation that, in his short time on planet Earth, he's already living his best life. Both his birth and his christening have so far caused a good portion of Brits to lose their minds—including even his fellow royals.
Most importantly, though, the photos offer the latest of only a handful of glimpses of Prince Louis. Still, all that's enough to make it clear that the prince's life is off to a great start. Aside from the photographic evidence, let's take a look at what we know so far: Just a week after he was born, the Queen hand-delivered perhaps the most understated gift to ever be hand-gifted from a personal helicopter: a teensy bouquet, handpicked for her sixth great-grandchild.
She's not the only one who's been paying special attention to the royal: Prince William spent so much time caring for his new son shortly after his birth that he actually nodded off in public. Even Prince Louis's notoriously sassy, attention-commanding sister, Princess Charlotte, allowed her new brother to steal the show on her third birthday. And then there was all the hoopla surrounding the christening—which came complete with a gift that Prince Harry reportedly purchased for $10,000.
It's no surprise, then, that he and his wife, Meghan Markle, were part of the dozen royals who got together to pose for a family portrait following Prince Louis's baptism. (Seeing as she wasn't able to make it to the christening, Queen Elizabeth II is absent, save for a tiny portrait of her in the background.) The rest look as professional as ever, even though Prince Louis's siblings, Princess Charlotte and Prince George, got away with a bit of goofing off. (They can be seen sitting atop Prince William's lap and getting close to putting her shoes onto the couch at Clarence House, respectively.) That's nothing, though, compared to Prince Louis's choice of pose, which was none—he was simply allowed to carry on with the nap that's seemed to continue ever since his christening.
Even at two months old, Prince Louis seems to be appreciating just how lucky he is to both live life like a commoner baby in being allotted endless nap time—even in the midst of official royal photo ops and engagements—and live lavishly like a royal, garnering seemingly endless attention even though all he's done so far is tune out. We can only assume so, anyway, given that it's the only other mode we've seen him in when he's conscious.
Related: Did Kate Middleton, Prince George, and Princess Charlotte Actually Camp Out in a Park All Week?
9 Overreactions to the Photos of Prince Louis's Royal Christening
Did you know that guests at Prince Louis's christening got served pieces of fruit cake from a tier off of Prince William and Kate Middleton's wedding cake from SEVEN YEARS AGO? Would this account for Charlotte and George's panicked faces?

Photo courtesy Getty Images
Did the hot Middleton brother, James Middleton, debut a new girlfriend at the christening?! Relax. He just happened to walk out at the same time as Lady Laura Meade, one of the godmothers to young Louis and wife of Prince William's good friend James Meade. Let's not read too much into mundanity.

Photo courtesy Getty Images
Photo courtesy Getty Images
This is Michael Middleton and Carole Middeton, who are definitely not Thomas Markle.

Photo courtesy Getty Images
This is the peaceful sleep of a young prince who knows he's fifth in line to the throne and is therefore free to be the troublemaker royal.

Photo courtesy Getty Images
Photo courtesy Getty Images
Two ways you could go with this one: Olive green is now expected to be the new hue of summer! Or, this is very disappointing because this Ralph Lauren dress marks a return to neutral tones for Meghan Markle, after the thrilling splash of Brandon Maxwell yellow she wore last week.

Photo courtesy Getty Images
Sound the alarm! Princess Charlotte Has a new hair style—or so claimed this very extra headline: "Princess Charlotte Just Debuted a Brand-New Hair Style — Featuring a Perfect Part!" She's three, People.

Photo courtesy Getty Images
Okay, this is actually pretty sweet and perfect.

Photo courtesy Getty Images