Public School Designers Maxwell Osborne and Dao-Yi Chow Are Sneaking Off to Queens For the U.S. Open and France to Drink Rosé
The duo, who just showed their spring 2018 collection, also designed a new limited-edition bottles for Moët. Here, their musings on drinking and more in their Culture Diet.
---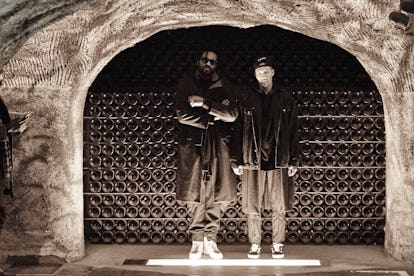 Courtesy of Moët & Chandon
On Sunday, designers Maxwell Osborne and Dao-Yi Chow woke up bright and early to unveil their spring 2018 Public School collection, and naturally ended the day by partying late into the night with a lot of champagne. It wasn't their collection, though, that they were celebrating, but three newly unveiled, limited-edition bottles of Moët Nectar Impérial Rosé that'll be officially released in October. The designs play off the contrast between the two brands' signature colors, pairing Public School's usual black and Moët rosé's blush pink.
Osborne and Chow have been working with Moët for a year now, sneaking off to their base in Épernay in France, where they learned that they knew a lot less about wine and champagne than they thought. "They teach you how to taste all the different—now of course we forget all the terminologies—varieties and blends, and they teach you how to spit it out. But there wasn't too much spitting on our end," Osborne recalled with a laugh.
Here, they talk drinking, Tom Hardy in Dunkirk, and what else they've been up to lately, in their culture diet.
What's the first thing you read in the morning?
Chow: I look at my iPhone News recap first, so it shows me the top headlines from CNN, Sports Center, ESPN, all those updates.
Osborne: My iCal, first and foremost. And then the New York Times app or just Twitter.
What books are on your bedside table right now?
Osborne: Monster by Walter Dean Myers.
Chow: The national bestseller entitled Subliminal: How Your Unconscious Mind Rules Your Behavior. I'm halfway through it—it's just stuff about how your subconsciousness and your consciousness play off of each other. It's not a self-help book, if you're wondering.
What are the TV shows that have been keeping you up at night?
Osborne: I'm into Narcos season three, which I'm not watching too much of right now but I want to.
Chow: I'm still watching a lot of the U.S. Open. It's always during Fashion Week, which is a big conundrum because I'm a big tennis fan, so we usually will steal a day and try to go, and then we always run into someone who says, "Wow, how can you guys be out here, aren't you working on your show?" And then we feel guilty.
What's the last movie you saw in theaters?
Chow: I saw Ingrid Goes West. It's one of those movies that's a parody, but it's really real, so it freaked me out in the sense I can totally see it actually happening to a lot of people. But I've been Instagram-free for about four months now—I deleted it off my phone and am completely out of touch. I did it sort of just because of what that movie is about—you start obsessing over stupid things, or you get caught up. Whatever, it's not a big deal, it's just like, I am on my phone way too much looking at this s—, I should do something a little more constructive with my life. But I'm not preaching to anyone—they can go on it. Maxwell's on it enough for both of us.
Osborne: [Laughs.] Well, the last thing I saw was Dunkirk. I liked it visually, and also I think Tom Hardy is one sexy man, so I had to see it.
Chow: Tom Hardy?
Osborne: He's the best character. He's the pilot.
Chow: That was Tom Hardy? I didn't notice him in it. You know, Tom Hardy is one of those guys who's different in every single movie—you can never recognize him. Like even if I walked by him on the street, I wouldn't know him, unless he was with his wife, Gisele.
Um, that's Tom Brady.
Chow: Ohhh, right.
Anyway, … What's the last piece of art you bought, or ogled?
Osborne: A Derrick Adams piece—it's a black woman inside of a rubber duckie tube breast-feeding—a baby, not the duckie.
Chow: I feel like I haven't really done much of that recently,
Osborne: What about the Picasso you just bought?
Chow: For which house? No, but I think the last sort of round I did was an Ellsworth Kelly exhibition here in the city of unseen works that he worked on before he passed away.
What's the last song you had on repeat?
Osborne: "You're Mine" by Raving George.
Chow: You don't want to ask me that question. I'm really like just obsessed with musicals, and one of the trips I took this summer, on the plane—I'm gonna say it though, I'm not ashamed to say it—I finally saw La La Land. You know, I had fronted—me and my wife had every opportunity to go see it and we were both like, Eh. Then finally I was on a flight and I watched it, loved it and just downloaded the soundtrack, and I'm taking piano lessons now.
Wow. What's the last concert you went to?
Osborne: Does Dave Chappelle at Radio City Music Hall count? He was great.
Chow: Yeah, he's awesome.
What are your favorite social media accounts to follow?
Osborne: Good question.
Chow: Yes, You're Racist on Twitter. That's about it.
Do you read your horoscope?
Chow: Why, do you have a horoscope in front of you? I only read it if it's there, like on that page in the newspaper. I'm a Pisces.
Osborne: I don't go out of my way to read it, but I'm a Virgo.
Last thing: What's the last thing you do before you go to bed?
Osborne: I don't really plan on going to bed all the time, I usually just pass out. Before that, it's the usual—brush my teeth and put some lotion on.
Chow: I gotta go to sleep with the TV on, so I always have the TV on, usually either on Vice or Sportscenter, and set the timer for 30 minutes. I would normally have CNN on or something, but when I go to bed, I want something to give me happy thoughts.
Related: Maxwell Osborne: Why I Stand with Black Lives Matter
See W's most popular videos: