Sasha Lane's Favorite Accessory Is a Backpack Full of Almonds, Weed, and Scrunchies
The actress and newfound Ugg campaign star talks tattoos and style.
---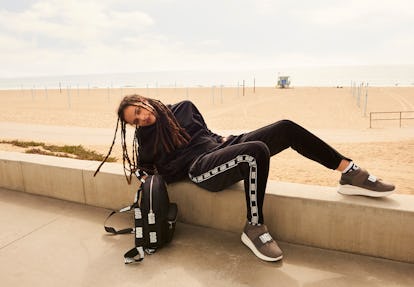 Photo by Frederic Auerbach, courtesy of Ugg
Director Andrea Arnold's discovery of the now 22-year-old actress Sasha Lane didn't just make for the American Honey star's big break in the film industry; it also had the fashion world clamoring for her talent, which began with her stint as a muse of Louis Vuitton designer Nicolas Ghesquière. These days, Lane is still sticking to both fields; she's set to get even more indie cred next month when she appears as Chloë Grace Moretz's fellow rebel in the Sundance winner Miseducation of Cameron Post, prefacing her break into the mainstream with Hellboy next year. Now, she's also following in the footsteps of Kim Gordon and Vic Mensa and starring in Ugg's fall/winter 2018 campaign, alongside so-called "real Californians" like Gianni Lee, the musician-slash-designer-slash-artist, and Clementine Creevy, the lead singer of the band Cherry Glazerr.
Lane may have gone through a spurt of unexpected (and somewhat unwanted) fame, but she definitely still qualifies as "real" herself. (Case in point: before changing into an ethereal custom gown by Tory Burch, she wore shorts and a tie-dye sports bra emblazoned with the phrase "i have no tits" while having diamonds woven into her locs for her appearance at this year's Met Gala.) Originally from Texas, she now lives in an area of L.A. that she refuses to specify, though she's more than happy to reminisce on her romp through Manhattan Beach and the Hollywood Hills wearing Ugg's new collection. (Her favorites are "basically all of the fluffy pink things," and particularly the Del Ray heels, which, to her surprise, are "just like walking on clouds.") In addition to pink fluff, she talks tattoos, scrunchies, and more trappings of her style, here.
What are three words that describe your style?
Flowy, loud, and mood-driven. That's two words together. but we can act like it's one.
What's your go-to outfit for a day off? Has it changed since you've gotten into the public eye?
Probably a crew neck and baggy, kind of pajama shorts. Real chill, because nah—I mean, they're not the ones wearing it. [Laughs.]
What did you dress like as a teen?
I wore basketball shorts, big t-shirts, and really cool socks. I'd always get a bunch at Zumiez or something with cool patterns and crazy things on them. I just loved socks.
What was your first major fashion purchase?
I got this one crew neck sweater that looks like it came from some super preppy, smile-in-your-face summer camp; it has a bunch of words like "sunshine" and "happy people" on it. I got it at this thrift store in Texas and it was a really big purchase of mine—and, like, the extent of my fashion purchases. Not that it was expensive; it was a thrift store in Texas, which means cheap, unlike in California. I don't spend money on those kinds of things.
Where do you shop?
I don't shop, girl. [Laughs.] I really don't. Like, 99 cent stores?
Is there anything that'd be on your shopping wish list, then?
The stuff that Virgil [Aboh] just put out. Anything from the new men's Louis Vuitton.
What's the last thing that you bought?
These pre-made gin and tonics. They're honestly so good—there's already cucumber and grapefruit and lime juice in it. I was kind of worried that the flavor wasn't going to come through, but no. That shit was really refreshing. It was bomb.
What's always in your bag?
I always carry a backpack, because I have really bad anxiety so I gotta be prepared, you know? I always have almonds, weed, cigarettes, Blow Pops, and a scrunchie.
Whose style do you really admire?
This singer named Aurora, who's like this mythical creature. It's as if she made the clothes herself—like she can talk to trees through the cloth.
Heels or flats?
I only like to be mentally high. I did sports and I have flat feet, so my feet like to be on the ground. Unless they're fluffy and pink, then heels aren't the option, you know?
What's the most treasured thing in your closet?
Probably this maroon, velvet scrunchie that has all these diamond studs on it.
Do you have any fashion regrets?
I feel like I only would if it was something I was uncomfortable wearing, like if I wanted it to be flowy and it was tight. I guess I slightly regret it if I ever wear anything tight.
What about tattoos—any regrets? How many do you have?
Nah. I have over 20 now. The last one was this really trippy tree I got on my forearm in Bulgaria.
Getting back to California, what are some of your favorite places to hang there?
Why would I say that in a magazine, girl? [Laughs.]
Fair. Wherever you are, what's something you listen to when getting ready?
Related: Allow Sasha Lane to Demonstrate How to Have a Perfectly Chill Met Gala