Selena Gomez and Justin Bieber Are Back to Hanging Out Like Normal Again
At bible class and Bieber's hockey games, naturally.
---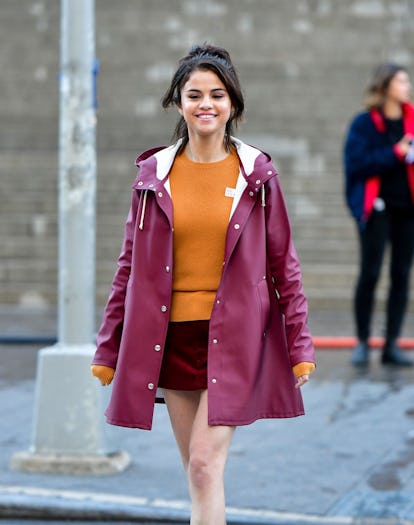 James Devaney/Getty Images
You can rest easy now: Though Selena Gomez and Justin Bieber's moms have yet to work things out, the couple seems to have weathered their feud and gone back to their usual tricks, which is to say attending bible class and going to Bieber's hockey games.
Lets recap this modern-day Romeo and Juliet forbidden love story. Since Gomez and her mom, Mandy Teefey, unfollowed each other on Instagram—and had such an animated discussion about Bieber that it reportedly sent Teefey to the hospital—Teefey has been vocal about her daughter's behavior. Earlier this month, she told Gossip Cop that she's "not happy" that Gomez is back together with Bieber, adding that "Selena can live her life however she wants as long as she is happy, safe and healthy."
But just a few days later, Teefey, spoke up again. Via an Instagram comment, she responded to users who were asking Gomez why she chose to work with Woody Allen on A Rainy Day in New York—a film that might not get released now that, decades later, Allen seems to actually be facing repercussions for his daughter Dylan Farrow's accusations that he assaulted her when she was a child—claiming that she "had a long talk with [Gomez] about not working with him and it didn't click."
All the Famous Women Justin Bieber Has Been Spotted With Over the Years:
"Sorry, No one can make Selena do anything she doesn't want to," Teefey continued. "No one controls her. She makes all her own decisions. No matter how hard you try to advise. It falls on deaf ears." Whether Bieber's mom, Pattie Mallette, heard those comments or not, she took it upon herself to at least address the more personal issue Teefey has been raising—the one involving her son. Perhaps hoping her words would get through to Teefey, Mallette, who's said she "loves" Gomez and has a "special bond" with her, took to Instagram to praise Bieber, calling him "an amazing young man" who is "maturing beautifully and wise beyond [his] years."
But enough with the drama! It's the new year, and Gomez and Bieber have finally returned to their favorite pastimes since they got back together at the end of 2017, a reunion that was in large part announced by Gomez attending Bieber's hockey game, leaning over to give him a kiss when he was on the ice and even donning his undoubtably sweaty hockey jersey. Though Bieber's been keeping busy with acting classes and selling his religious paintings, he got back on the rink in L.A. on Wednesday, with Gomez dutifully taking her place on the sidelines to cheer on her beau.
While Bieber was getting sweaty on the ice, Gomez stayed cool by eating some fro-yo as she watched the game, clutching a Gatorade when she joined Bieber, thankfully no longer in his hockey gear, in his car after the game. Of course, all that fun only came after the pair dutifully attended bible class together; after all, the pair reportedly got back on speaking terms in the first place because of their mutual religious beliefs.
All that should definitely be enough to put a rest to the breakup rumors that have surrounded the couple this month. And, to top it off, there's even more extremely subtle good news for the couple, too: Even after the couple made their public return, Teefey is now back to following her daughter on Instagram.
Related: A Complete Recap of Justin Bieber's Utterly Fascinating—and Occasionally Terrible, Horrible, No Good, Very Bad—Year
Selena Gomez's Style Evolution, From Disney Days to Fashion Forward Superstar
Selena Gomez arrives to the 23 Annual IMAGEN Awards on August 21, 2008 in Beverly Hills, California.

Getty
Selena Gomez arrives at the Teen Choice Awards 2009 held at the Gibson Amphitheatre on August 9, 2009 in Universal City, California.

Getty
Selena Gomez arrives at the 2009 ALMA Awards at Royce Hall on the UCLA Campus on September 17, 2009 in Westwood, Los Angeles, California.

Getty
Selena Gomez arrives at the People's Choice Awards in Los Angeles, California on January 5, 2011.

Getty
Selena Gomez arrives at Nickelodeon's 23rd Annual Kids' Choice Awards held at UCLA's Pauley Pavilion on March 27, 2010 in Los Angeles, California.

Getty
Selena Gomez attends the "Justin Bieber: Never Say Never" Los Angeles Premiere at Nokia Theatre L.A. Live on February 8, 2011 in Los Angeles, California.

Getty
Selena Gomez arrives at The 53rd Annual GRAMMY Awards held at Staples Center on February 13, 2011 in Los Angeles, California.

Getty
Selena Gomez arrives at the Vanity Fair Oscar party hosted by Graydon Carter held at Sunset Tower on February 27, 2011 in West Hollywood, California.

Getty
Selena Gomez arrives at the 2011 American Music Awards held at Nokia Theatre L.A. LIVE on November 20, 2011 in Los Angeles, California.

Getty
Selena Gomez arrives at Nickelodeon's 24th Annual Kids' Choice Awards at Galen Center on April 2, 2011 in Los Angeles, California.

Getty
Selena Gomez attends the 2012 Nickelodeon Kids' Choice Awards at Galen Center on March 31, 2012 in Los Angeles, California.

Getty
Selena Gomez arrives at the 2012 Vanity Fair Oscar Party at Sunset Tower on February 26, 2012 in West Hollywood, California.

Getty
Selena Gomez arrives at the 2012 Teen Choice Awards at Gibson Amphitheatre on July 22, 2012 in Universal City, California.

Getty
Selena Gomez arrives at the 2013 Billboard Music Awards at MGM Grand Hotel & Casino on May 19, 2013 in Las Vegas, Nevada.

Getty
Selena Gomez attends the German premiere of 'Spring Breakers' at the cinestar Potsdamer Platz on February 19, 2013 in Berlin, Germany.

Getty
Selena Gomez attends the 2013 Vanity Fair Oscar party at Sunset Tower on February 24, 2013 in West Hollywood, California.

Getty
Selena Gomez attends the 2013 Teen Choice Awards at Gibson Amphitheatre on August 11, 2013 in Universal City, California.

Getty
Selena Gomez attends the 2014 LACMA Art + Film Gala Honoring Barbara Kruger And Quentin Tarantino Presented By Gucci at LACMA on November 1, 2014 in Los Angeles, California.

Getty
Selena Gomez arrives at the "Rudderless" – Los Angeles VIP Screening at the Vista Theatre on October 7, 2014 in Los Angeles, California.

Getty
Selena Gomez arrives at the 2015 Vanity Fair Oscar Party Hosted By Graydon Carter at Wallis Annenberg Center for the Performing Arts on February 22, 2015 in Beverly Hills, California.

Getty
Selena Gomez attends the premiere of 'Getaway' presented by Warner Bros. Pictures at Regency Village Theatre on August 26, 2013 in Westwood, California.

Getty
Selena Gomez attends the 2014 American Music Awards at Nokia Theatre L.A. Live on November 23, 2014 in Los Angeles, California.

Getty
Selena Gomez attends the "China: Through The Looking Glass" Costume Institute Benefit Gala at the Metropolitan Museum of Art on May 4, 2015 in New York City.

Getty
Selena Gomez attends the 2014 Vanity Fair Oscar Party hosted by Graydon Carter on March 2, 2014 in West Hollywood, California.

Getty
Selena Gomez arrives to the 2015 MTV Video Music Awards at Microsoft Theater on August 30, 2015 in Los Angeles, California.

Getty
Selena Gomez attends 2015 Glamour Women Of The Year Awards at Carnegie Hall on November 9, 2015 in New York City.

Getty
Selena Gomez arrives at The 58th GRAMMY Awards at Staples Center on February 15, 2016 in Los Angeles, California.

Getty
Selena Gomez arrives at the 6th Biennial UNICEF Ball at the Beverly Wilshire Four Seasons Hotel on January 12, 2016 in Beverly Hills, California.

Getty
Selena Gomez arrives at the 2015 American Music Awards at Microsoft Theater on November 22, 2015 in Los Angeles, California.

Getty
Selena Gomez arrives at the 2016 Vanity Fair Oscar Party Hosted By Graydon Carter at Wallis Annenberg Center for the Performing Arts on February 28, 2016 in Beverly Hills, California.

Getty