From Yayoi Kusama to the Museum of Ice Cream, 2017 Was the Year of the Art Selfie
Art selfies aren't new but the sheer volume of them this year, from Yayoi Kusama's "Infinity Mirrors" to Happy Place, was a novelty.
---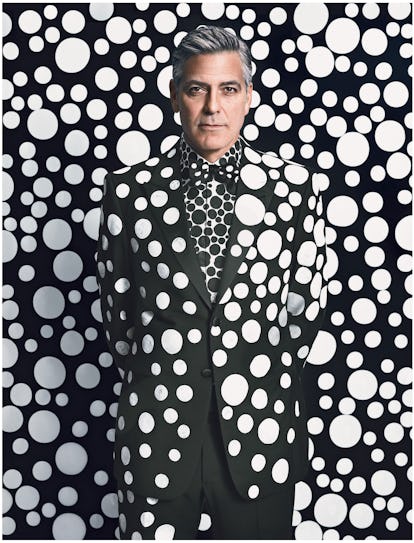 When Yayoi Kusama's "Infinity Mirrors" exhibit opened earlier this year at the Smithsonian's Hirshhorn Museum and Sculpture Garden in Washington, D.C., it brought nearly 160,000 bodies into the museum, in search of the perfect selfie backdrop. That number, though, is nothing compared to the 91 million Twitter and Instagram accounts that shared their conquests with the hashtag #InfiniteKusama. By now, you have surely seen at least one. In 2017, there were few social brags as ubiquitous as a photo snapped from the inside of a Yayoi Kusama exhibit, which was also achieved at the Broad—one of the hardest tickets of the year to get—and the artist's first museum in Tokyo.
Yet, those were just a few of the art selfie destinations that popped up this past year. In 2017, the relationship between the art world and Instagram became increasingly tangled as photo-baiting exhibits from Coachella Valley's Desert X to the celebrity-endorsed Museum of Ice Cream dominated the social platform. That's not to mention Los Angeles' Happy Place, Candytopia, and the city's inaugural installment of Refinery29's 29Rooms either, which have all opened in the closing months of the year. By now, four years after selfie was dubbed the word of the year by the Oxford Dictionaries, the guiding impulse to plan your free time around growing your Instagram is nothing new. In fact, this year it was revealed that some people even plan their vacations based on the potential of Instagram likes—in addition to already catering their wardrobe to it. What is new, however, is the sheer volume of art installations that double as selfie backdrops.
"Selfies have been here for as long as man could draw or make sculptures," said Olivia Muus, who has been cataloguing art selfies since 2014 with her Museum of Selfies Tumblr. "It has just been updated with the camera." Indeed, this year, one place, the Saatchi Gallery in London, created an exhibit from a lineage of art selfies dating back to the days of Rembrandt, Van Gogh, and Frida Kahlo. Titled "From Selfie to Self-Expression," the exhibit offered an argument that art selfies have been a part of history since well before when there was even a name for it, let alone Instagram. "The show is the world's first exhibition exploring the history of the selfie," said Nigel Hurst, chief executive of the Saatchi Gallery. "We thought it would be very timely because the selfie has become such an ever-present part of our lives. The aim of the exhibition is not only to celebrate the truly creative potential of the selfie, but also highlight the emerging role of the smartphone as an artistic medium for self-expression in the way we document the world around us."
There's no doubt that art can come from smartphones—see: millennial artist Jeanette Hayes, for instance, who has experimented with mediums from model selfies to emoji and Manga—but when someone is using another artist's work purely as a backdrop to rack up their own likes, what does that do to art? Critics of art selfies may say it diminishes it. There is also a clear divide between selfie art and art selfies, as Hurst said. "Selfies aren't like self-portraiture in the way that a Rembrandt self-portrait is," he explained. "He seems to be trying to get to the bottom of what makes him a human being, how he shares his common humanity and what is unique about his character that is evident from his face and demeanor. Most selfies are constructs; more to do with how we want the world to see ourselves, and also our lifestyle, our environment, our social world than how we really are. "
Anyone who has ever visited a museum within the past few years might also say it disrupts the art-viewing experience for others too; there's a reason that iconic institutions like the Hirshhorn, the Metropolitan Museum of Art, the Louvre, and London's National Gallery, among others, have banned the selfie stick. Art selfies can also be physically damaging to the art, as they were this past year at the Hirshhorn where one of Kusama's pumpkins was damaged by someone in selfie mode causing the exhibit to temporarily close, or at Los Angeles' 14th Factory pop-up where one selfie reportedly caused $200,000 damage to a piece by Simon Birch, according to the New York Times. Critics of art selfies might also say that the kinds of art people are engaging with is limited. But, with the Hirshhorn museum as one case study, that doesn't seem to be true.
During the three-month run of Kusama's "Infinity Mirrors," the D.C. museum saw their audience (outside of the exhibit as well) swell to 475,000 visitors, the most-trafficked the institute has been since its 1974 opening. For the Hirshhorn, Instagram not only brings tangible ticket sales, it's also bringing new bodies into the door. "Social media—and Instagram—is a powerful force of word of mouth," said Melissa Chiu, Director, Hirshhorn Museum and Sculpture Garden. "We find more and more it connects us to new audiences, visitors who may not have previously seen themselves at the Hirshhorn, who now see not only their own friends but a broader range of people engaging with contemporary art than ever before. We're thrilled to welcome everyone. We don't seek to dictate a "right" way or a "wrong" way to experience contemporary art. Our mission is to connect people with the art and artists of our time, and create opportunities for people to see their own world in a new way."
The Hirshhorn isn't alone; more and more museums are embracing the age of art selfies with exhibits that are highly photogenic. Some of them, like Happy Place and the Museum of Ice Cream, seem to exist solely for that purpose. With the latter, which was used as a photo backdrop for every celebrity from Beyoncé and Jay Z to David Beckham, Kylie Jenner, Kim Kardashian West, Gwyneth Paltrow and Chris Martin, the word "museum" is merely in its title. There is nothing informative about the Museum of Ice Cream, which debuted in New York before opening locations in Los Angeles, San Francisco and Miami—the experience is less about education than it is about aesthetics. Although there is a lot you can learn about human behavior from visiting one of them, where many attendees dress in pastel colors coordinated to the backdrops and shamelessly use the scenery as their catwalk, striking as many poses as possible in the allotted 90 minutes. When I attended this year, more out of curiosity than in search of a future profile picture, I was boldly asked to step aside by multiple people in photo shoot-mode.
But, in the eyes of Happy Place — which was explicitly dreamed up with social media in mind, though it was just suddenly closed down by Los Angeles due to permitting issues (as was Candytopia)—there is a mutually beneficial relationship between art and Instagram. "Instagram has created a way for people to capture not only the art itself but their experience interacting with it," said Jared Paul, the Happy Place founder. "Artists get to promote their work and share their vision, while consumers get to share the experience with their friends and tell a story of how each piece impacted them." It's perhaps telling that visitors are described as "consumers," since corporate sponsorship is part of the business model for many of these selfie pop-ups, including 29Rooms and the Museum of Ice Cream, the latter of which sources its dessert samples from local companies who want the exposure and is is underwritten by American Express. But even with these instances of corporate sponsored art backdrops, there is something undeniably reflective about culture today.
At its best, art reflects the world we live in and, regardless of whether or not you endorse art selfies, the rise of art tailored for Instagram does exactly that. It also caters to our collective narcissism, which is a word that was thrown around a lot in 2017 as the 45th president Donald Trump took office. As Cindy Sherman told W earlier this year of the selfie images she's made on her iPhone, "I actually hate the idea of selfies. People say, 'Oh, but you're, like, the queen of selfies.' I really kind of cringe at that thought."
Others, however, find empowerment in art selfies—even in the work of Sherman. "In selfies and self-portraiture, we take ownership of our own image, which may have been stereotyped, misused or even totally ignored," Hurst said. "We can even comment and satirize the way our image has been portrayed. This is by no means a new concept, and one only needs to look at women artists working with photography such as Cindy Sherman, Eleanor Antin and Tracey Emin. All take on the theme of representation and self-image with very different results. The selfie is how many choose to document their lives and thus seems to be playing a major role in various areas of society, so yes you could say they will be more than just a trend. As a species it seems we've always been compelled to find ever more inventive ways of sharing images of ourselves."
Art selfies can also be empowering, especially for the people on the other side of them who lack access to take their own. "Many years ago art was something you found at a museum or at the homes of wealthy people, but now it is for everybody," said Muus. "All you have to do is open your smartphone and you have a whole world of inspiring museums and art forms."
The Most Instagram-able Art of 2017
Watch: How to Take a Selfie Like a Supermodel
How to Take a Selfie Like a Supermodel