Hilary Duff Dyed Her Hair "Icy" Blonde for the Winter
"The winter white out is complete."
---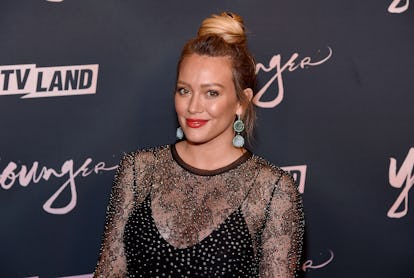 Jamie McCarthy/Getty Images
Los Angeles probably won't have a white Christmas this year (or any year, for that matter), so Hilary Duff found a new way to bring on the "winter white out." On Monday, she documented on her Instagram Story the frankly exhausting process of dyeing her honey-blonde hair several shades lighter, to an "icy" platinum shade.
The time-consuming transformation took place at the celebrity-loved Nine Zero One salon, in West Hollywood, and required the talents of both of the salon's founders, Riawna Capri and Nikki Lee, to complete. The process began with Capri and Lee painting countless strands of Duff's hair with bleach and wrapping them in stacks and stacks of foils. "You guys really love me, hey? 'Cause this process is horrible," Duff quipped as the pile of foils on her head grew ever larger—and while simultaneously getting a manicure from yet another Nine Zero One employee, because that's what life is like when you're a Freeform star.
After her stylists removed the foils to reveal her significantly lighter locks, Duff was left nearly speechless, staring with shock and awe at her new hair in the mirror and saying only, "This is crazy, guys. Wow. Who is this person?" She was less impressed, however, with the "horrible" burning sensation that soon set in on her bleach-covered scalp, begging for someone to wash out the "hot flames."
Finally, more than seven hours after Duff and the intrepid Nine Zero One staff had initially embarked on this hair journey, the Younger star shared photos of her seasonally appropriate new look, captioning one, "The winter white out is complete. What a process…" Alongside another, equally dramatic selfie, she wrote, "'Twas a long long day but the mission was accomplished."
While Duff chose not to join the legions of be-lobbed celebs during her Monday makeover—she chopped off only a few inches, keeping her hair fairly long—her new shade is perfectly on trend. Among those A-listers who have also experimented with large quantities of bleach this year is the redhead Sophie Turner, as well as the longtime brunettes Kris Jenner, Leighton Meester, Daisy Ridley, and, lest we forget, Pete Davidson. Most recently, in October, Rose Byrne ditched her signature chestnut shade in favor of a sleek platinum lob, which she debuted at the opening night of partner Bobby Cannavale's Broadway play The Lifespan of a Fact, thus wholly stealing his spotlight.
Related: Hilary Duff Took Her Feud With Her "A**hole" Neighbor Public on Instagram