Maisie Williams Dyes Her Hair Cotton-Candy Pink
She'd stick out like a sore thumb in Winterfell.
---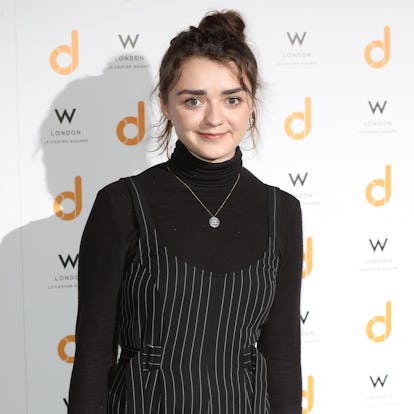 Tim P. Whitby/Getty Images
A girl has no name, and she also, apparently, has no reservations about dyeing her hair a wild new color. This week, Maisie Williams ditched her signature brunette locks in favor of a pale pink shade—a beauty risk she has the freedom to take now that she doesn't have to worry about Game of Thrones continuity.
Williams showed off her new look in a series of posts on her Instagram Story on Thursday. In one, she dramatically uncovers the camera to reveal her freshly dyed 'do, breaking into a smile partway through. In another, she spins around, giving a 360-degree view of her cotton-candy-esque hair, lip-syncing along to a message about an upcoming GoT experience in Brazil. Despite the drastic new dye job, Williams doesn't appear to have changed the actual style: She's still sporting a longer lob length that reaches just past her collarbone, and blunt bangs that skim her eyebrows (which remain her former shade of chestnut brown, rather than the shocking pink now covering the rest of her head).
The makeover comes not long after Williams and company wrapped the final season of GoT. In a recent interview with Elle U.K., the 21-year-old hinted about what's in store for Arya Stark in the show's final episodes—pink hair not included. "I think until last season, Arya was always killing the baddies," she said. "But then we saw her start to use those manipulative powers. It's not until she had that whole dialogue with her sister Sansa in the last season that you realize what she's become, that she's being awful to someone who we love. For me, it was a really great moment as an actor to be able to play the character you love as a baddie. It felt so amazing, even though it's an awful scene. But she rights her wrongs in the end."
Williams joins a whole host of other GoT stars who have undergone hair changes since the show finished filming. Last fall, Emilia Clarke dyed her own brunette locks a Khaleesi-appropriate shade of platinum blonde; then, in May of this year, she chopped several inches of hair off into a chic bob. The following month, Sophie Turner followed suit, swapping her own ginger 'do for an icy blond shoulder-skimming lob.
Nor is Williams the first this year to dabble in flamingo-inspired hair color. In no particular order, other celebs who went pink in 2018 include Paris Jackson, Busy Philipps, Emma Roberts, Lucy Hale, Zayn Malik, and not one but two Kardashian-Jenners: Kim went pink in February, and Kylie followed in her older sister's footsteps in September.
Related: Congratulations, Maisie Williams, the Real Winner of Game of Thrones