Instagram Favorite Museum of Ice Cream Has Reportedly Been Fined $5,000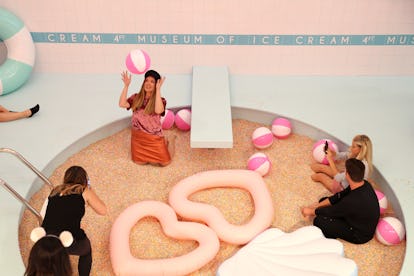 Kelly Sullivan/Getty Images
Seems like the Museum of Ice Cream has a frosty relationship with the city of Miami Beach, Florida. The highly Instagrammable traveling hotspot is reportedly facing $5,000 in fines from the city for creating an environmental hazard via its selfie-friendly rainbow sprinkle pool.
According to The Miami New Times, guests who take a dip in the plastic bead–filled attraction are inadvertently tracking sprinkles outside the museum, where they could be "consumed by small birds, reptiles and marine species." The Museum of Ice Cream, which had already been issued an initial $1,000 fine, was reportedly fined another $2,000 on Wednesday and again on Thursday. A spokesperson reportedly told the paper that, "we hired multiple cleaners that are working 24/7 to constantly sweep around the building as well as paying extra attention to the waterway entrance, we have already begun the process of creating a biodegradable sprinkle for our Sprinkle Pool that will be implemented in the near future."
But apparently this isn't the first time the sweet sensation has run into legal woes. The museum's second iteration located in Los Angeles (to date, the attraction has also served up scooped itself up to New York City and San Francisco, in addition to L.A. and Miami, with more locations promised to be on the way) faced criticism for similar reasons in October, TMZ reports. TMZ said at the time that the museum was in the process of developing a biodegradable sprinkle, and meanwhile, was encouraging guests to "double shake" before leaving the premises.
Still, maybe think twice before diving headfirst into this sweet, yet salty topping for the 'gram.
Related: The Full Scoop on The Museum of Ice Cream, NYC's Sweetest New Hotspot
The Most Instagram-able Art of 2017