The Paul Smith Pink Wall Was Defaced, Making It All the More Instagrammable
Bloggers clearly missed the point.
---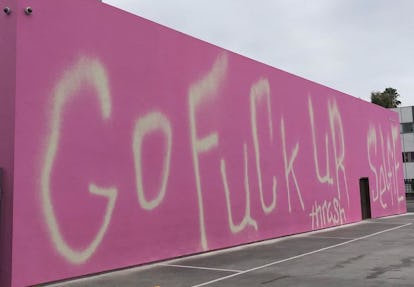 instagram.com/irabrianmiller
In Los Angeles, a city of Instagram backdrops, no photo is more desirable for the influencer set than one in front of the Paul Smith Pink Wall on Melrose. The Pepto-Bismol–hued wall has become its own landmark in this post-Instagram decade, to the point where a drive by at magic hour—as the sun is setting—hardly offers a view of it. There are that many bodies standing outside in the parking lot of the Paul Smith store taking selfies. It's comical, to the point that actress-turned-Instagram-celebrity Busy Philipps has made a habit out of sharing mocking videos of it. As ironic as that is, nothing is more ironic than the fact that it was just vandalized and that act somehow made it even more Instagrammable.
This morning, September 12, images started rolling in on Instagram of the beloved backdrop tagged with the phrase "Go fuck ur selfie." While no vandal has yet claimed the act to be their own, the graffiti is now filling up in photos under the building's geotag. For as many photos of the defaced building that there are, there's a growing number of photos of people still taking selfies in front of the wall.
Paul Smith, the designer of the brand, has yet to acknowledge the defaced wall. But that isn't too surprising. Back when Fashionista did a deep dive on the wall, the designer and company declined to comment on the ubiquity of it. They also have yet to reveal how much of a driving force the wall actually is behind sales—Fashionista found that just 0.17 percent of people who have geotagged the wall follow the brand's account. (Of course Instagram follows don't translate directly to sales anyway.)
Still, the Paul Smith Pink Wall is being used by the brand as a marketing tool. This past pride, the company had it painted in a rainbow design and invited its followers to visit it throughout the month of June. With this latest renovation, though, it will be interesting to see how long it stays up before it's painted over pink once again. In the meantime, it's one more special-edition Instagram to collect—for better or worse.